Did You Get Your Social Media Guides?
My friend Chris Garrett is working on a new social media course, and to get the ball rolling he is offering a bunch of free guides, reports, cheat sheets and the like.
In order to grab the stuff you just need to visit the Social Media Workbook website and sign-up for the free newsletter.
Another cool thing that Chris is offering there is a Q&A channel. When you sign-up there is form where you can write about one or more social media questions that you have, and Chris will answer them on the newsletter.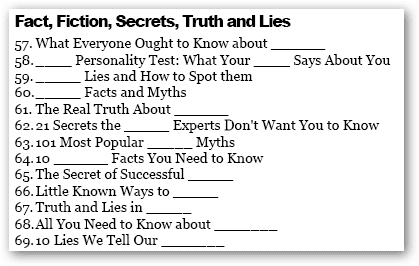 One of the reports that you will be able to download is the "102 Headline-Writing Formulas." As you can see from the screenshot above, it comes with pre-written headlines that you can use for inspiration.

As usual with Chris, it is all quality stuff, so don't miss it.
Browse all articles on the Promotion category
16 Responses to "Did You Get Your Social Media Guides?"
Chris

Excellent, thank you much!

Oliver

Good stuff here. Will definately be useful for me so I will have to sign up and see what I can get to help me. Thank for this.

Hesham

Good news daniel, thanks for the link, I am heading to there!

George Serradinho

A very nice catch if I say so myself. We need more people like Chris that give away things for free.

Daniel Scocco

@Lee, I would suggest chrisbrogan.com and techipedia.com.

GoBusiness101

Nice! very coll stuff eh!

GetBrowser

No, never.

Boerne Search

102 Headline-Writing Formulas. That would be real nice! 🙂

Kane

Lee Ka Hoong

The headline writing formulas seems cool, it gives inspiracy of what topic we can write as a new post.

When it comes to social media, I have no knowledge about that. Daneil, do you have any recommended well known blogger who writes about social media?

Thanks Deneil.

Regards,
Lee

V.C

Many hard questions to answer.
I don't know anything at all 8-}

LetUpdate

Thanks for sharing daniel.

Millard

There is so much misinformation about social media it becomes overwhelming.

Chester

Cool stuff again here. Agree with Blake. The headline formula sheet is awesome. Noted. 😉

Blake @ Props Blog

That headline formula sheet looks awesome. I always have a hard time figuring out what to write for headlines. I've heard it's best to stick with what works rather than reinventing the wheel.

Daniel Scocco

Let me know if you like the freebies Yuen.

Yuen

That's really nice as you are doing here Daniel! 🙂
Comments are closed.