Decker WordPress Theme Released
It is time to add another theme to our growing collection. Decker is a very clean WordPress theme, with two columns and a 300×250 AdSense unit integrated on top of the sidebar.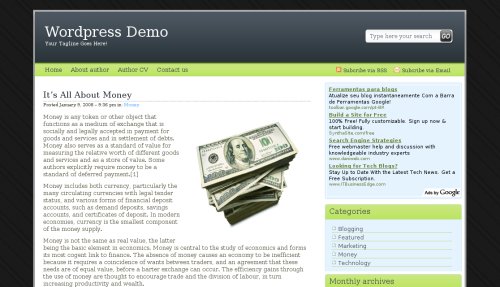 Here is the complete list of features:
Advertising Ready: The theme already comes with a 300×250 AdSense unit integrated. All you will need to do is to copy and paste your AdSense code on the advertisement.php file.
Widget Ready: The theme supports widgets, and it compatible with WordPress 2.6.2 as well.
Sectioned Footer: On the footer you have 3 separate sections to place your links, blogroll and s on.
Search Engine Optimization: The theme comes with title tags optimized, and it already displays only excerpts on archive and category pages, to reduce the duplicate content.
Visit our WordPress Themes page to download all our themes.
Browse all articles on the WordPress category
39 Responses to "Decker WordPress Theme Released"
Computer Tips

Hello.
First of all thanks for providing this wonderful theme for free. Now I have been using your theme since 2 weeks. I am facing a problem when someone pings on my blog. Posts that have pings do not load completely and an error is show at the botton.

Fatal error: Call to undefined function sandbox_comment_class() in public_html/wp-content/themes/Decker/comments.php on line 62

Can any one here fix this or I ask the author of this theme to provide any help

Craig

CORRECTION…

The images will only show in the previous theme.

Craig

Earlier today I decided to change my theme to Decker. I really do like it but I'm having a problem.

If you click on any of the side Categories listed on the home page, the correct page returns with the correct posts but without the images?

I've tried everything I know and can't seem to correct the problem.

Any suggestions?

I've tried changing themes and now they won't show in any theme. The home page does load fine in all themes, but the category pages all load the same, no images.

HELP!

bob

Great theme! Clean… just very nice.

Are you still answering questions on this?.. I hope.

I would like to change the font size (for pages) on this. Can you tell me what I change? Seems like I have tried changing everything but I must be missing something.

Also, in a response above you mentioned putting a 468×60 banner ad in the header. i have tried changing everything I could see but can't get it to fit. Any help?

Thank you very much! …for making the theme available (and for any help you could provide).

Mattias Geniar

To remove the trackback error, edit the file comments.php, go to line 62 and change the class where it now says "sandbox_comment_class()" to something else (ie; "some class" like in the comments).

Seems that's a left over from some debugging/testing phase, but it causes your blog to stop outputting as soon as it reaches Trackbacks to output.

Menol

Hi Daniel,

First of all, Great work!

I selected your theme after going through 100s of free themes for my blog.

Unfortunately it doesn't look as in your sample site for me.

Following is a screen shot:

http://www.ilearnttoday.com/files/problem.jpg

I use a windows IIS server and checked this with Firefox.

If you could fix this please try to drop an email so I'll use your theme again.

Good work! I hope I'd be able to use your theme.

Regards,
Menol

sam

love it when they are free. thanxs for making and sharing them

tweakwindows

It's giving error for trackbacks. how to fix it?

Leo

Wow! Really great theme! A custom header and it will look a little more personal. Thanks!
Comments are closed.