Decker WordPress Theme Released
It is time to add another theme to our growing collection. Decker is a very clean WordPress theme, with two columns and a 300×250 AdSense unit integrated on top of the sidebar.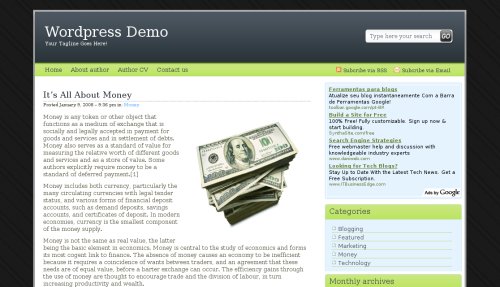 Here is the complete list of features:
Advertising Ready: The theme already comes with a 300×250 AdSense unit integrated. All you will need to do is to copy and paste your AdSense code on the advertisement.php file.
Widget Ready: The theme supports widgets, and it compatible with WordPress 2.6.2 as well.
Sectioned Footer: On the footer you have 3 separate sections to place your links, blogroll and s on.
Search Engine Optimization: The theme comes with title tags optimized, and it already displays only excerpts on archive and category pages, to reduce the duplicate content.
Visit our WordPress Themes page to download all our themes.
Browse all articles on the WordPress category
37 Responses to "Decker WordPress Theme Released"
Leo

Wow! Really great theme! A custom header and it will look a little more personal. Thanks!

MM

Thanks Daniel 🙂 and thanks for making the themes on your site free

Social Media Marketing

very nice theme …

Daniel Scocco

@MM, OK I just uploaded a new version with the bugs fixed.

It should display fine in all browsers now.

@MillionMaker, can you send me a screenshot of that problem?

Daniel Scocco

We are working on them.

MM

Hi Daniel, thanks for this theme. I see some errors reported in some of the comments. how do i know whether all have been fixed or not?

MillionMaker

Hello daniel

there is a error with the trackbacks.
the theme is not publishing Trackbacks correctly you should fix that

Greets

Daniel Scocco

@Himi, yeah, I am having a really high CTR on the demo AdSense unit already 🙂 .

himi

Hey Daniel, this one looks great! It's very simple compared to some previous themes, but simple sites bring the most money from adsense.

Good work!

vutha

that is nice theme.

izzat aziz

love it, but green doesnt fit it.. just my opinion.. 😀

Deineshd

Cool Template brother.I love to convert it into blogger so that blogger users also can enjoy it.

Daniel Scocco

@srdjan, you need to add your own links there. We opted for manually inserted links so that people can decide what pages they want to go on the navigation menu.

Daniel Scocco

@Medical, I will check that.

Medical Transcriptionist

Have I gone wrong anywhere? Dates of all recent posts in the footer turns out to be July 24th, 2008!

The footer coding too says: July 24th, 2008

Hussein

Damn it. What an awesome theme. I'll be blogging about this soon for my wordpress theme weekly.

Susan

I really like the layout of this theme and the colors.

Rarst

I like the attention to small details but it feels bit generic overall. I think such theme is perfect candidate for custom header – you have everything you need in place, only add huge personal spark. 🙂

Chris – Manager's Sandbox

Daniel,

As always, brilliant theme! I'm currently using a modified version of your DeepBlue theme and for the sake of consistency do not want to change my theme. If I were starting out again though, THIS would definitely be my theme. Great job!

– Chris

TechZoomIn

Ok 🙂

Daniel Scocco

@TechZomming, you could easily put a 468×60 banner there if you wish.

I don't code the themes, I work with designers that work for me. Not sure how long it takes for them, I just know how much it costs for me 🙂 .

TechZoomIn

Daniel,

How much time it will take for you to complete one theme?

Just wanted to know 🙂

TechZoomIn

Hi Daniel,

Good theme really.
My suggestion is: I feel most of the space going waste in header.May be appearing like this because of you left some space for outline 🙂

Daniel Scocco

@Mike, yeah I will see what I can do. Though this one should be easy to be implemented if you want also.

Daniel Scocco

@Sohail, yes should be compatible with IE. I will check again though.

Sohail

Nice design………looks broken for me in IE, Did you check it in IE?

Technotip.org

Best Free theme. I like the footer design.
Very clean, good looking theme.

Mike Panic

Really like the footer, it actually makes sense, something I rarely see anymore. Only suggesting for the footer is either an UP button taking you back to the top and / or site navigation as well.

Saurav

Nice theme, me thinking of designing a wp theme too.

Ben Evert

Nice design. Do you think it would be possible to offer a left sidebar option? I know that I can change the code but there are many others that can't. Also, it is a way to double the themes that you have to offer.

Just a thought.

Keep up the good work.
Comments are closed.