DBT Readers Have Blogs in All Sorts of Niches
A couple of weeks ago I launched a poll asking the niche of our readers. The idea for such a poll came from a reader, who was curious to know if the majority of my readers also blogged about blogging.
Over 300 people participated, and the result is in line with what I expected. That is, our readers have blogs in all sorts of niches. I would guess that just 1% or 2% of the readers actually blog about blogging. Why? Because one of the categories was "Internet Marketing", and that included Blogging, Social Media, SEO, Make Money Online and so on. All the bloggers in that category together made up only 9% of the total.
You can see the results by clicking on the image below (i.e., to view it in full size).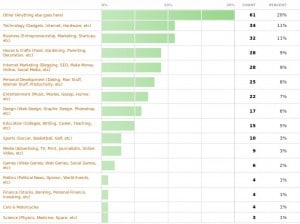 The category with the highest number of votes was "Other," with 20% of the votes. This means that most of our readers blog in niches that couldn't even be described by the mainstream terms like "Technology", "Politics" or "Education."
"Technology" and "Business" tied in the second place, each with 11% of the votes.
Another way of seeing it: 91% of our readers DO NOT blog about anything related to Internet marketing, blogging or making money online. I have more to talk on this topic, but it will be on a separate post, so stay tuned.
Browse all articles on the Blogosphere category
13 Responses to "DBT Readers Have Blogs in All Sorts of Niches"
Chris

That's very interesting. It shows that you get a good diverse pool of people coming here, which has to be a good thing. It also makes things more interesting.

Doug Cole

I gain a lot from the daily blog tips newsletter but have always felt that I was out in the fringe of the readers of this newsletter, not being directly connected to the professional blogging community. So, even California Dude Ranchers are "in the club"….saddle up and "write-on"…Doug

Pinoy @ How to blog

I'm included on those 9% that blogs about blogging 😉

Norm

I look forward to seeing your post on the "other" category. I write about environmental stories and my most comfortable niche is deforestation.

DesQue @ SocialDiets

I would expect more people to take the poll, as there are 44k readers here everyday….the sampling smal is too small.

A Multi Niche such as Reduce Anythin' & Everythin' just dosen't fit into any category

DesQue

How about a Multi-Niche category

Dana @ Blogging Tips Blog

It is because what ever niche the readers are, they do blogging indeed.

Bryan

It was difficult to choose when taking this poll. Blogging about AutoCAD design tools and features, as well as hardware, management, and news it wasn't easy to pin it down to just one category. Great poll though. I was starting to think that the only people that made money from blogging were the ones blogging about blogging or how to make money blogging or other ways to make money online. Looks like there are a lot others out there.

Chris Guthrie

That's what I would expect based on the size and breadth of topics you cover on your blog. That's good though that the segment only takes up a small portion of your readership.

Armed with that knowledge (albeit from a small sample size) perhaps you should restart up your bloggers face off with bloggers from a niche outside internet marketing / blogging like most of the old posts appeared to have been done around?

Chris

ppc tips

I missed the poll, but I see my niche is made up of 9% of the participants. Thanks

Vornado Zippi

I voted as design. I have the technology category but it is like aside category. I have to move on technology ?

manasi

Ha 🙂 I guess I was one of the 6 who are gamers ..imagine that. Cool poll, even nicer to see results that you wanted.

ImagingDesk

I voted as design and it takes 6%, very bad, I have the technology category but it is like aside category and it takes 11%, good. I have to move on technology ?
Any way thanks for this kind of Poll and result.
Comments are closed.