Cool Site To Measure Your Typing Speed
Around two years ago I mentioned I was learning touch typing (i.e., typing with all your fingers). Well, looking back it was one of the best decisions I could have taken, as my productivity with a keyboard almost doubled.
My typing speed used to be 60 words per minute or so, and today it's over 100 (last time I checked my average was 102 WPM). How do I know that? By using this website: 10-fast-fingers.com.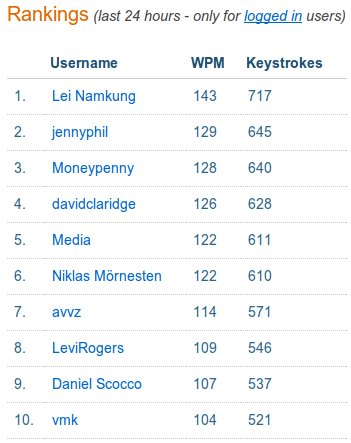 The site was recently revamped, and it has a lot of cool features now. If you login with your Twitter or Facebook account the site will track all your typing tests, presenting with with an average WPM count, the highest one, the lowest one, and you can also see your ranking in relation to all the other users who took a typing test in the previous 24 hours.
If you are slightly competitive you'll find the site is a bit addictive, but I guess it's a good addiction, as it will help you to type faster over time. There's even a Top 10 board, but getting there these days is impossible (I swear some of these guys must be robots…).
Browse all articles on the General category
16 Responses to "Cool Site To Measure Your Typing Speed"
jorge jacobo

I tried a couple of times, and……

I did 27, 38 and last 54. It was fun!

First one I didn't know how it would work, but I felt more comfortable.

Bad I know! I think it's good : )

Web Marketing Tips

102 words per minute …. good speed Daniel.

Michael

Wow – this is an awesome site. I always wanted to know how fast I could type. I messed up a bit but got 73 WPM. That's great compared to when I use to type with two fingers 🙂

Dan Thorley

I have never been a fast typer. I am a one finger on each hand man. I can see how this could be a really useful tool for many people though. You could use it as vital information on places like LinkedIn if you are after a job, or on elance if you are freelance. I can see this being rather useful, as well as being fun and addictive.

Marcus

Really addicitve site indeed! Got 78 WPM at my first try, can't help but wonder how many hours Lei Namkung has spent on improving his numbers…

Daniel

Wow! Not too shabby, Daniel.

This is something I wanted to get stuck into quite some time back.

I downloaded one of those free speed typing programs, started to really get into it, then I stopped.

The main reason was that the type of writing I was doing at the time(Screenwriting) did not involve speed writing(Typing).

Many very successful people in that field(The best) manage to do just fine, doing the old " two finger pecking technique".

Extreme John

Touch typing really makes a lot of difference in terms of efficiency and productivity. When my typing speed had improved, I have also seen that I can write easily and spontaneously thus increasing my productivity. Very helpful especially in managing my business.

John

Ups, sorry. I mean 60 WPM.

John

My typing speed is less 60 MPH 🙁
But, I try to improve the speed to pass 100 mph in next two weeks.
Nice tool, Daniel!

Rose

This would be more interesting if they add some "tone sound" when we type 😉

Jeremy Steele

Lol, I hate these darn addictive sites. Strange thing is I don't really do general typing very well (around 85-95 wpm) – since I'm a coder by nature I'm used to always having my hands near the brackets and special characters. Feels unnatural to type regular words.

Grace Oris

Yes, addictive site! I haven't needed to type a lot for a while except for blog posts, email, etc. It seems I'm stuck at 70 which was my speed years ago last time I checked haha. I ought to practice more though, it's never useless to develop a skill. Thanks for featuring this.

Samuel Samson

Man, I scored 42 WPM. Is this okay? I got a lot of problems with accuracy. I can't believe there were those people with 100+ WPMs. What are they robot?

Robert Boland

I can see what you mean by addictive anyway! I've also typed with touch typing, thankfully it was something I learnt when I was younger and it's stayed with me. However I'm afraid I couldn't beat you and only managed 80WPM

But personally I type a lot quicker when I'm not under pressure to type if you get met, if someone say's "type this as fast as you can" I'll more than likely end up making mistakes, I also type a lot quicker when it's coming from my head instead of reading random words off of a page.

Therefore I'm going to argue that my WPM is higher than 80 🙂

Daniel Scocco

@Himanshi, I am honored to have you as such a long term reader!

Himanshu Chanda

Daniel, I remember the previous post on touch typing. Dabbled it myself but didnt really take it to the end… But this post does bring a smile on my face. Its been more than 2 years I am reading DBT stuff 🙂
Comments are closed.