ComScore Released The Top 50 U.S. Web Properties List
ComScore just released their report with the top 50 U.S. web properties for September 2008. The list is based on the number of monthly unique visitors. The report also included a lot of useful information, from the analysis of the websites that scored the largest traffic growth to the break down of unique visitors by topic (not surprisingly politics is leading the race in terms of growth).
Here are the top 25 websites on the list: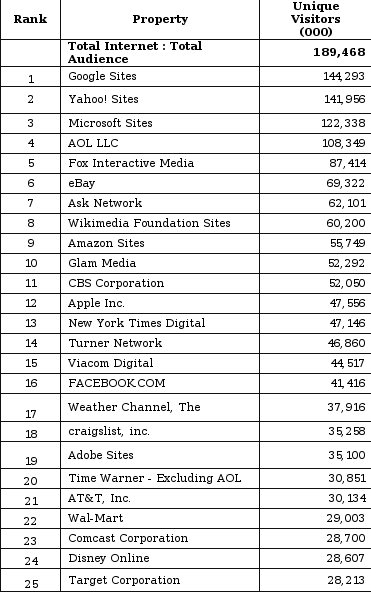 Some curious facts (that make me wonder if they are accurate…):
the Ask.com network receives more than 1/3 of Google's traffic?
Glam Media is larger than the CBS corporation online?
Apple receive just as much U.S. traffic as Wikipedia?
What do you think? Hat tip to Weblog Tools Collection.
Browse all articles on the General category
10 Responses to "ComScore Released The Top 50 U.S. Web Properties List"
Ted Murphy

AOL.com is shown as having 75% of the unique visitors that Google.com has? On Compete.com. AOL has 46% of Google's reach, and on Alexa, its about 11%. Must have something to do with the method of gathering the info (AOL's browser is far less likely to be reporting info to Alexa or Compete).

chinaboy

just check trends.google.com, you can see them all.

Ask Network has some dictionary website.

Glam is an ad net work, has 250 blogs or so. tricky?

Arjewtino

If only that list would have gone to 26, I might have made it.

Dave

Isn't Apple the default homepage for Macs? I can imagine a hefty number of hits would be generated that way.

axel g

It's seems stable at the top!

Interesting list…

Daniel Gibbons

Glam is ranked so high because their stats include all of the sites in their ad network. Actual traffic to Glam.com is an order of magnitude lower than the ComScore numbers.

Similarly, I think the Ask stats. include all of the sites in the IAC network, so Ask.com's actual numbers are under half of what is shown on the list.

However it's the Glam numbers that are the most deceptive, since I believe under five per cent of the traffic is actually to Glam.com and they're an ad network that owns a tiny percentage of the sites that make up the traffic. They market themselves to advertisers as the number one destination for women, but the reality is their network includes a massive range of sites (myyearbook.com for example).

SEO Genius

Very interesting strange that eBay is so low I thought it would of been higher than that. I didn't think Ask would be higher than wiki as well.

Anonguy

Fascinating how Comcast ranks in the top 25 huh? Here's why: the average Comcast customer doesn't know how to change their default home page. If you self install or have a tech install, they put that awful software on your PC and set your browser home page to comcast dot net. So the next time you wonder why there are so many *$*#'s on the Internet, keep that in mind.

ps. the #1 search term/phrase in the Search box on comcast dot net is "google". And Comcast uses a branded Google as their search. I'm not kidding. "Yahoo" is #2, "ebay" and "msn" trade places each month for #3. That's right, Comcast customers don't know how to use the Address bar of their browser.

Daniel Scocco

@Jeff, the numbers reported by WordPress are worldwide though right? While the comScore ones are U.S. only.

Still I find them a bit weird.

Jeffro2pt0

Thanks for linking to the WLTC article. When you consider the numbers that Automattic published for WordPress.com for the month of September:
Comments are closed.