10+1 Tips for Choosing a WordPress Theme
If you've ever spent time trying to select a WordPress theme to use for your blog you know that it can be a frustrating process. One of the great benefits of using WordPress is the fact that there are thousands of quality free themes available, along with premium and custom themes. But all of these choices can sometimes make the decision even more difficult.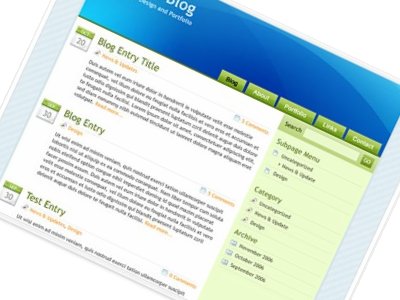 The first step is to decide if you want a free theme, a premium theme (one that you will pay for but will be used by some other blogs as well), or a custom theme (a theme that is designed specifically for you). If you have a little bit of design experience you can also make some changes to a free theme to create a more unique look for your blog.
Most new bloggers don't mind using a theme that is also used by others, so they choose to go with a free theme. Ok, so the first part of the process is down, now all you have to do is choose from the thousands of available options.
When choosing a theme, here are some things to consider:
1. Will you be making money from the blog? If so, you may want to go with a premium theme or a custom theme I order to make yours look as professional as possible. If not, a free theme should do. You'll always have the option to upgrade later.
2. How will the blog's look affect your success? For a personal blog having an original look is probably not that important, and free themes will do just fine. For businesses that are attempting to convey a professional image, spending the money for a theme design is justified.
3. How many blogs use the same theme? Some of the more popular free themes are used by thousands of blogs. Obviously this makes it more difficult to stand out, but sometimes it also has benefits. Some of the most popular themes are supported well, and if you have a problem it can be easier to find help.
4. Is the theme search engine-friendly? With free themes you will get a VERY wide variety. If you are not familiar with HTML and CSS it may be difficult for you to evaluate the SEO capabilities of a theme. In this case, a safe decision is to choose a theme from Courtney Tuttle's collection of SEO-ready themes. Court has taken a bunch of free themes and made some modifications to optimize them for search engines.
5. Will the theme fit your monetization plans? If you have any thoughts or intentions of monetizing your blog you should take this into consideration when choosing a theme. If you are going to be placing AdSense ads, text link ads, or banner ads on your blog, the theme should have a good place for them. Trying to stuff them into a theme that isn't intended to allow room for ads will create a very cluttered look that will distract and annoy readers.
6. Is support available? Some premium themes will include support from the designer, which can be a big plus. Some free theme designers will provide limited support and others will provide none. If you think you might need support somewhere down the road, take this into consideration. If you are familiar with themes and feel comfortable solving your own problems, don't worry about support.
7. If you have a logo, does it match the theme? You'll see a lot of free blog themes that have a logo added to the header that just doesn't quite look right. If you plan to use a specific logo or header image, choose a theme accordingly, or look into getting a new logo to match the theme.
8. Is it widget-ready? Do you need it be? If you plan to make a lot of changes to the sidebar and you don't want to mess with the code, choose a widget ready theme. However, a widget-ready theme still doesn't offer the same amount of flexibility and options as working with the code directly.
9. Are there hidden links? You might be surprised how many themes include some form of hidden link. Choosing a theme for a reputable source will usually help you to avoid the problem of hidden links.
10. Does the code validate? About 99% of bloggers probably don't care about valid code, but some do. Valid code will give you the best chance of giving your visitors a problem-free visit. A great-looking, valid theme is available from Jon Phillips, and appropriately it's named Simply Valid.
11. Will you be able to grow with the same theme? As your blog grows you may want new features or room to add new things. Some themes won't offer much flexibility or room for growth. Be sure that your theme isn't going to limit you.
Besides the places mentioned above, you can find free themes at:
The WordPress Theme Viewer
Weblog Tools Collection
And of course, Daily Blog Tips just released Deep Blue
Some of the best premium themes can be purchased from:
Brian Gardner
Rockin Themes
Unique Blog Designs
Browse all articles on the WordPress category
32 Responses to "10+1 Tips for Choosing a WordPress Theme"
Dave Doolin

This article was spun by a "web design" company and outranks this original article. Sending you email right now, Daniel. I found it because I quoted you in an article I wrote years ago, then searched on it. I didn't link the quote then, I'm about to now.

Liz

These are all tips to live by when it comes to choosing a WordPress theme.

I use to go with the free WordPress themes but the choices and options can get too overwhelming. Not to mention support and most of the items above can be an issue.

I finally sprung for the Thesis Theme and I've gotta say it meets all of your tips above, plus it's easily customizable for those of us that hate the technical stuff 🙂

Cliff

Is there a "theme search and match" site? I have clients who send me a link to a blog they really like (and they are most often WP based) and I go off searching and searching for a template that's close.
I guess I'm dreaming of something like the font match sites where you upload a graphic of the font you're trying to match and it returns a list of fonts, by name, that most closely resemble your target.

Piseth

I found it is a great resource and it's very helpful. Thank you for sharing this tip. Piseth

Susan Suarez

These tips are great, especially for newbies.

Steven

Wayne,
One problem I see sometimes with themes is that the sidebar content comes before the post content. It should be reversed, and most themes already have it this way, but not all. Also, pay attention to the headers. Most themes will use the title of the blog as h1, blog posts as h2, and then you get a big variation on what the sidebar titles are. I like to use h3's for things like "categories" and "recent posts." In my opinion, those items are not as important as a post title so they should not be h2's.

Armen

Daniel – Thanks, I'll do that.

I keep pushing the boundaries for my theme designing, which means when I look back on my older ones, I know they could do with some revision. I suppose that's a good thing though; it means I'm improving.

I think Bedrock Grid is worth investing time to support it. I'll be doing revisions of it, and helping those who buy it.

Steven – Thanks, I appreciate that.

Steven

Armen,
I like the theme. Looks good.

skarld

Plugins are a consideration as well. If the new theme uses specific plugins are they prepackaged with the theme, or do your have to hunt them down. Will your existing plugins fit in with a new design, and will there be any conflicts.

Daniel

Armen, that is fine, and the themes are looking very good.

Next time you create send me an email and I will check them out.

wayne

What are a few things to look for in a theme to be able to tell it is SEO friendly or the designer knows SEO?

I'm not a html or css or php expert, but I'm not afraid to get into the code either. What would I look for to confirm the designer knows and installed good SEO?

Armen

Hey guys. I'd like to recommend my new Bedrock Grid WordPress theme. It comes at a price of $20, but it's all going to charity, and if you prefer it to be unique, then the price will help.
It's valid, comes supported by me, and has a solid number of features.

I hope you don't mind me recommending it, but I really like it 🙂 I'm running a dark version on my site.

Sly from Slyvisions.com

That's exactly what I've done, but still need some work on it. Hopefully I can customize it enough to make it unique. 🙂

Steven

Sly,
I think you chose a pretty good theme. You could always make some customizations yourself if you don't find one that you want to buy.

Daniel

Yeah having a theme you are happy with is vital. I swear I would think about it every other day, it was like a buzz around my ear, and it did not let me focus on the content.

Sly from Slyvisions.com

I just actually moved from RapidWeaver (a Mac website software) to WordPress almost 3 weeks ago. Because I had to get used to the platform first, I actually chose a free theme. It's SEO friendly and actually looks pretty nice. But now I'm really thinking of purchasing a custom/premium theme. I'll just have to wait it out until I really find the perfect one that will last me a few years, which is what you've pointed out in #11.
Comments are closed.