Check Your External Links with This Tool
Incoming links (i.e., links from other websites pointing to your own) usually cannot hurt your search rankings, even if they come from spammy websites. This is because Google knows you can't control those links.
Outgoing links, however, can get you in trouble, because you are in direct control. If you link to malicious or spammy websites, Google might put a red flag on your website and reduce your search rankings temporarily, until it figures what is going on. This why links on blog comments have the nofollow tag by default.
Sometimes if you link to a website that links to malicious or spam content you can also get in trouble, so it's a good idea to keep an eye on the sites you are linking to. One tool you can use for this purpose is called Text Link Checker.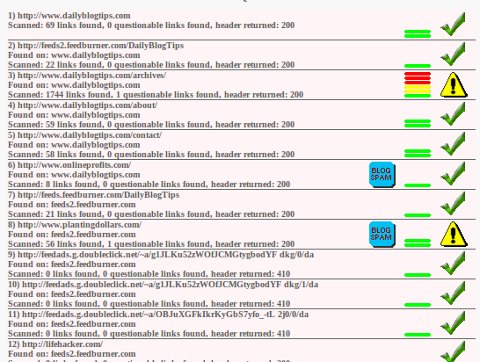 You just need to insert a URL (i.e., the homepage of the website where you want to analyze the external links), and the tool will start crawling all the links, up to three levels in depth if I am not wrong. After that it will build a little report with icons highlighting dangerous links.
Obviously you should use this tool only as a starting point of your analysis, because there are many false alarms. It's a useful thing to have on your tool-belt, though, so check it out.
Browse all articles on the Web Tools category
15 Responses to "Check Your External Links with This Tool"
Keith Davis

Sorry for second comment but I meant to show my results:

Total Links found: 2319
Unique Links found: 2139
Questionable Links found: 1
Pages scanned: 40

Very similar to Anastasias results.

What do I do about the questionable link – it's to a photo on Flickr?

Keith Davis

Wow
What a great tool.
Thanks for letting us all know.

Dean Saliba

Awesome tool. I have thousands of links to sort through.

Michael VanDeMar

@Eric (and others) – I am the author of the tool mentioned in this post. The tool is not meant to make decisions for you who you like out to, it is merely meant to help speed up the process of investigating. You still need to manually look at the sites that are flagged, but it greatly speeds up the process for you. There are many false positives, that much is true, but most sites only take a few seconds to rule out as being problem areas or not.

Eric C

Pretty cool, but I'm not totally sure how it works. Does it tell you if the blogs you link to have bad links on them? Because it seemed to highlight relatively mainstream sources (amazon, wall street journal, NPR, blogs I go to.)

Anastasia

Total Links found: 2691
Unique Links found: 2439
Questionable Links found: 1
Pages scanned: 40

Not so bad 🙂

But hardly I will use this tool.

revtrev

Thanks for this tool. It's timely for me.

I've noticed a few links on each of my sites for Pharmecutical sites. They appear right in my copy and are completely out of place. I'm searching online to figure out how to clean them out, but so far nothing.

You wouldn't happen to know how I can clean my site from spambots would you?

Randi

This makes me wonder about articles from article directories. Some of them allow the author to add a given amount of outbound links and not all of them are always even relevant. But, I never even thought about them being able to get someone in trouble with Google! This link checker could turn out to be real important for auto-posts!

Roger

Thanks, this is useful. Checked several of my sites, finding that there is always room to improve!

steve

Here's my result

Total Links found: 2125
Unique Links found: 1833
Questionable Links found: 10
Pages scanned: 40

DailyPhotographyTips

I gave it a try. I think it didn't do great job. Anyway Thanks for sharing this tool.

Naveen Kulkarni

Great tool.
I just checked for my blog and found below results

Total Links found: 1627
Unique Links found: 1180
Questionable Links found: 0
Pages scanned: 40

So I am relaxed since there are no questionable links 🙂

Lorie Shewbridge

Thanks for this information! I found out that I really have been pretty good with my links. There are a couple that are questionable, but nothing that are really anything that should cause me to worry. I had been wondering whether I was doing myself any good or any harm or just plugging along. I guess I'm doing pretty good. Thanks so much – you made my day!!

Margaret Adams

Thank you.

Another really useful post.

I'm hot in deleting anything that looks like spam when it appears on my site.

However, I ran the check on my website and found five questionable links. All five were in my blogroll.

I'm now wondering if I should get rid of this feature from the site.

MA

John Soares

This is especially important for people who have DoFollow blogs, meaning they allow a link out to everyone who leaves a comment. (WordPress default is NoFollow.)

I'm off to check my blog right now…
Comments are closed.