Check Out the Standout Comments Plugin
My friend John Chow is launching a premium plugin to manage the WordPress comment section, called Standout Comments, and he sent me a copy of the plugin to review.
There are many free plugins out there to help you customize the comment section in your blog, so my first thought was that this plugin should do some nice things, else people would not pay for it.
Well, the plugin does these nice things. Here is a screenshot of the admin panel (you'll see this right after uploading and activating the plugin):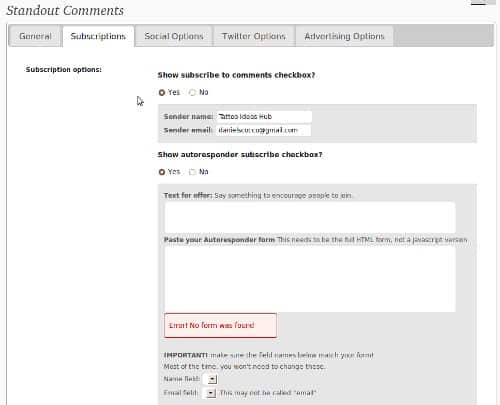 As you can see there are 5 main tabs.
General: This tab let's you choose if you want to use Javascript to display the forms, if you want to display a comment policy, and if you want to use an affiliate link to promote the plugin.
Subscriptions: This is probably the most valuable part of the plugin. It let's you subscribe your commenters to three different things:
To the usual "Get notified about new comments" list,
to your newsletter,
and to your Feedburner email feed.
The cool thing is that the plugin integrates automatically with your email software (e.g., Aweber) and with Feedburner, so you you can get more subscribers without adding more steps to the commenting process. The commenter also needs to tick a box to give his consent to each of these subscriptions.
Social Options: This tab allows you do display social bookmarking icons in your comment section. You can choose from a wide range of sites.
Twitter Options: This tab allows you to integrate Twitter in your comment section. You can display the @username of each commenter, for example, or display the tweebacks (i.e., people who tweeted about your blog post).
Advertising Options: This tab allows you to insert an ad in your comment section. You just need to paste the ad code and the plugin will display it automatically.
The plugin costs $67. They are offering a 30-day money back guarantee, so you can purchase and test it for 30 days before deciding whether it is right for your blog or not.
If you buy through my affiliate link I'll also give you a copy of my "Killer Domains" ebook, which used to sell for $17 and is out of the market now. Just email me with your order number and I'll email you the ebook.
Browse all articles on the WordPress category
17 Responses to "Check Out the Standout Comments Plugin"
nick

These plugin are really cool/…..the plugin are good for the word press users…

As said by Shalman, really worth more than $67 !!
Grrreat Review….;)

thanks for sharing…..

Mike

Its nice plugin, i have read that most blogger spend too much time in communication with comments etc and it will reduce this also

Harrison

Seems a little pricey considering there are plenty of free plug-ins to display Facebook/Twitter/etc.. options, send thank you email, even ask for someone to subscribe when they open one of your articles or notifies them when someone replies to their comment.

This plug-in might be best for people who are new to WordPress or who don't want to spend their time hunting around for plug-ins in which case maybe the price is worth the convenience but I'm not convinced yet.

If you're reading this site regularly you will probably be above the target audience.

Chester

Totally worth it for 67 bucks if you can install it in many blogs.

Lee Ka Hoong

I would say $67 is not worth the price, perhaps just for myself as I'm not using any autoresponder (i.e. Aweber), for the newsletter or comment subscription, I can use the wordpress plugin for free. Perhaps it's worth in a long run basis, but not now.

Glad to see that John has his own product now. When is your turn Daniel? 😉

Regards,
Lee

Melvin

finally chow released a product of his own. 😉

Dev | Technshare

Hey Daniel,
looks cool and plugin is really awesome. As said by Shalman, really worth more than $67 !!
Grrreat Review….;)

Thanks,
Dev

Alex Shalman

At this point, the license will allow you to put it on all your blogs and upgrade it. 🙂

Mark Gibson

How many of my blogs can I install it on? I can't seem to find that out on the site.

It looks great but it's expensive if it's only for one site.

Thanks, Mark

Daniel Scocco

I would guess on as many sites as you want, but please check with their support before buying.

Lee Ka Hoong

You can install in as much blogs as you want, John stated it in the blog post "$67 for an unlimited license. ". If this is the case, $67 is definitely worth it.

Adam

There is already a plugin called "Action Comments" which lets you place a newsletter subscribe checkbox near your comment box and it only costs $15 or $20 if I recall.

There is another plugin called "Comment Relish" which will send new commenters an e-mail when they leave a comment and you can customize the message, it's pretty nice. You can use that to ask/remind people to sign up for stuff.

Right now I use Disqus, I think it's good for people as they can kinda manage their comments and subscriptions…plus it's free.

Not sure if this really has any benefits over Disqus other than that you can get people to sign up for your newsletter in one shot. I feel like doing that kind of thing is sort of spammy though.

Jarrod@ Optimistic Journey

This sounds like a great plug-in to invest in. It seems to make it easier to implement a lot of the thing that we have to do many. (going into the CSS code and changing things ourselves, in order to make subscription forms appear after post/before comments, etc.) Thanks for sharing!!

Mathew Day

Cool looking plugin, John Chow is the man. Appreciate the great review. 🙂

Alex | Blogussion.com

Looks interesting. It's definitely not a service/idea I have seen anyone else get into. Not something I would spend $67 on though.

Daniel Scocco

Depending on how many comments you get per month it could be worth it, as it will help to grow your email list/subscriber base.

Alex Shalman

You have to ask yourself what the long term investment on this is. You're getting a plugin that has 'lifetime' free upgrades, so image the benefit of it over a year, two years, what about five or ten?

Dramatically helping you to grow your list and reconnect with both fans and customers is worth more than $67 in my humble, yet biased, opinion. 🙂
Comments are closed.