Check Out "Pro Webmasters" at Stack Exchange
In my opinion Stack Exchange is the best Q&A platform online. It started as a Q&A site for professional and enthusiast programmers (called Stack Overflow), but the success was so big that the founders decided to branch out to many other topics, including careers, money, maths, English and so on.
If you own a blog or website there's a section you'll like. It's called Pro Webmasters. There you'll find questions and answers about SEO, Google, HTML, CSS, web development, browsers, advertising, domain names, and so on.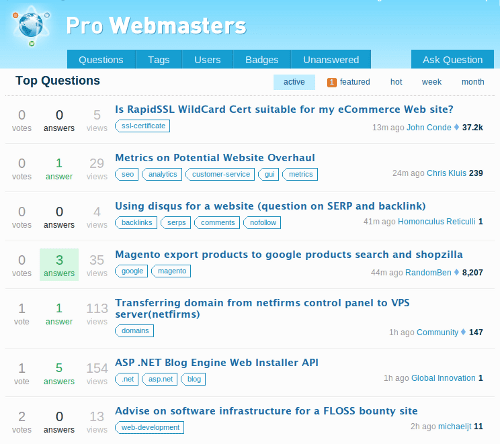 The section is not as large as the programming ones yet, but it's growing, and most questions get answered by at least a couple of users.
Another cool aspect is how they implemented a reward system based on user participation. Basically each user has a reputation (varies from 1 up to thousands), and you can earn more reputation either by asking interesting questions or by posting useful answers.
The more reputation you have the more privileges you get, up to being able to moderate the site and to edit the posts of other users. There are also badges you can earn and other special features that make the site more engaging than a traditional online forum or Q&A site.
Everything is completely free and the community around those sites is very welcoming, so check it out.
Browse all articles on the Social Media category
6 Responses to "Check Out "Pro Webmasters" at Stack Exchange"
Sujit

Nice, its really cool!!

Sarvanshu

Well I use facebook groups for my blogging questions…"Tech Bloggers, Bloggers Lounge " Plus point-problem solved in very less time and you can have a personal chat. Downside-can't be accessed in future by anyone

Meraj Khattak

It looks good. Hope it becomes a good resource for SEO and other related areas.

phanindra

Good Find Daniel. Will check out soon. Thank You 🙂

sokun

Cool, i'm checking it out

Mark Aylward

Thanks
I'd never heard of it before. I just checked it out and it does look very good
Mark
Comments are closed.