Check Out My Domain Name Generator
I have an excel spreadsheet which contains over 400 prefixes and suffixes, and whenever I need to find a domain name for a new project I use it to come up with ideas for available domains.
For instance, say I am planning to launch a website about photography. I would run through the list adding prefixes (e.g., BestPhotography.com, ExpertPhotography.com) and suffixes (e.g, PhotographyZone.com, PhotographySquad.com), checking whether the resulting domains are available or not.
The problem with this approach is clear: it takes a lot of manual work!
To solve the problem I decided to create a small web tool, called Free Domain Generator. It lets you choose if you want to add prefixes, suffixes, and what extension you want (currently it supports .com and .net only). After that it will check all the domains for you and return a table with the results.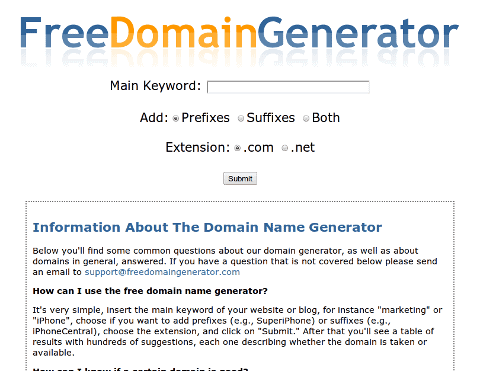 Keep in mind I coded the tool over the weekend, so there might still be some bugs around. If you find one just let me know and I'll fix it asap. Also, if you have suggestions for new features let me know as well and I'll try to add them.
Browse all articles on the Web Tools category
21 Responses to "Check Out My Domain Name Generator"
Kimberly Gauthier, Adventures in Blogging

That's a pretty cool trick. I wish I would have had this a few months ago – I actually went through the manual process. Yikes!

Trevor Watkinson

Great tool Daniel! I've been playing around with it for the last few days, searching for a great name for a blogging resource site.

This domain name generator must be the evolution of your post from 2006 where you listed 200 terms we could use with website names!

Excellent resource and a perfect use for your newly acquired programming skills. Well done!

Charles Specht

This is really cool. I'm going to use it right now. I've been thinking and prefixes and suffixes. 😉

Jamie Northrup

I like that's it's simple compared to some out there.

Would be neat to be able to enter several different words and it can find different combinations in different orders.

Daniel

I will have a look at the tool a bit later(when I return form running errands)

The last time I used name generation tools, was when writing screenplays(scripts). There are some great tools available in that area of writing, also.

suraj

Nice Domain name generator. Its very easy to use and we can select extension also. I just tried it and going to use in future during domain registration.

sharad

Very useful tool. I could finalize one of the domain names for one of my niches I have planned out for future.

Thank you

Anshul @Nichesense Niche Marketing

Nice tool Daniel. Nameboy is another great tool which has similar functionality and is one of my favourites.

Dan

Nice! I will try it & see if there is any thing left out there! I can see why so many are moving towards the .co, .ws domains now. .com's are just about fleshed out.

Steve

Nice tool! You are real good at programming!

Cengiz Taskin

Great stuff and works perfect

Greg Vaughn

If you find a domain name you like that is available, register it immediately. I came up with one but wasn't ready to commit to the plan. A week later I went to register the name and found that GoDaddy had grabbed it. They know what names have been searched and register those, hoping to sell them.

Young

Nice and light tool to find available domains!

Hella Thilde

Very nice and good tool. Easy to use & simple interface.
I come back 🙂

Phil Kent

Very useful tool – it's always hard to think of different combos.

Feng Yin

A very useful tool. I like it ,thanks.

Shlomo

Daniel:
Thanks for making this tool available.
I hope to create one or two niche websites in the next couple of months.
I think your tool will be very useful.
Shlomo

Leif G.S. Notae

Huh, cool! I wish I knew about this earlier, but my domain names have a lot of personal meaning to me. Maybe on my third venture I can give it a try. Thanks for the tip on the sight!

Ferb

Cool, that I have never heard of it. As you gave the domain names above I think those are quite long, here is my suggestion "GraphicZone.net"

Randy

I tried out your domain name generator. Very nice. It's amazing how many variations of domains are already registered! The sad part is that a huge number of the domains registered are by squatters.

Albert

A very good tool. Easy to use & simple interface.
Suggestion:
ability to use our own prefix or suffix or suggestion to add new prefix or suffix
Comments are closed.