Check Out IM John Chow
My buddy John Chow recently launched a new product, called IM John Chow. While I am not an affiliate (so I am not earning anything whether you buy it or not) I checked the members area and liked the content and the structure, so I figured it could be useful to write a short review about it (there's a bonus tip at the end too, so read on).
The main difference of IM John Chow is that it's focused on making money via email lists and affiliate marketing. I think this was a smart choice by John, as this strategy is one of the most profitable you can use, and it's also one that tends to produce the fastest results.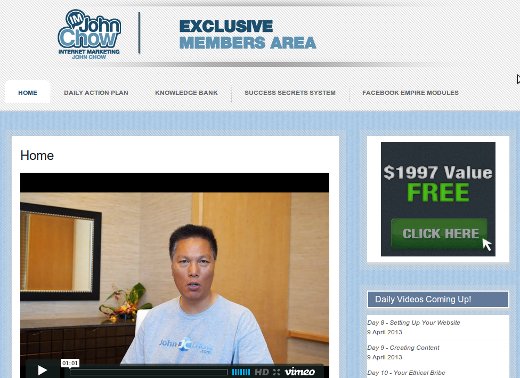 Inside the members area you'll have access to a "Daily Action Plan", which guides you through the process of picking a niche, setting up your webiste and auto-responder, picking products to promote and actually promoting them to your list. John will be running the program as an ongoing membership site, so every week or so you should have new videos and lessons, including some answering to questions from members.
On top of that there is a "Knowledge Bank" section, with tutorials about installing WordPress, SEO, list building and so on, a section with free templates you can use to build your lists, and a bonus section with tips and strategies you can use to get leads from Facebook. I checked some of the videos, and the approach is very straight forward, aiming to get members taking action in the right direction.
And here's the cool part: you can learn from John even by watching how he launches his products. For instance, you'll notice that on the sales page of IM John Chow he has a video explaining how the program works, but below it there's no "Buy It Now" or "Add to Cart" button. Instead there's an input box where you need to write your email, and a "Get Started" button below it. Once you register your email address you'll be redirected to the page where you can finalize the purchase.
With this strategy John is collecting upfront the email addresses of all the people interested in purchasing his product. Many of those will not purchase right away, but with the email addresses John will be able to keep in touch with those leads, and over time it's likely that many of them will get convinced to buy John's product. A simple trick that must be increasing his conversion rate a lot. Brilliant huh? Inside the program there's more stuff like this, so click here to check it out.
7 Responses to "Check Out IM John Chow"
Krishna Parmar

Well! John Chow's blog is one of the wonder i have seen which is sharing the knowledge about the affiliate marketing, its nice of him, and now he is coming up with the IM too, that's nice!

Andy Winchester

I like Chow's Blog , he is kind of funny when he express about things,
and you are funnier Dan , heheh
Thanks for the info

Arwin Adriano

Notice that one too. John is sure to be clever enough to harvest a lot of leads from there.

Lisa

What a teaser! Looks truly intriguing…

Daniel Scocco

@Eric, I am doing less and less of affiliate marketing these days. Focusing on building my own products/projects.

Eric Pangburn

Nice observations and input of what you saw. Its always interests me to see what the A list bloggers are doing to stay on top.

Just wondering why your not an affiliate?

Thanks for sharing,

Eric

jorge jacobo

I've seen John Chow's blog, I really like his honesty. The way he says things I love it.

It's funny how seeing you, Daniel mentioning it just makes me want to buy it. LOL.

But again, I have to say loved the invitation to learn with John Chow!

My recommendation will be the same as You for anyone that decides to buy it! And yes right now with Clickbank you have zero risk, if you're not happy they'll refund your money. As John will do the same (just inspires trust).
Comments are closed.