Check Out How Search Bots See Your Website
Understanding how search bots see your site is quite important for anyone interested in search engine optimization. This let's you know where your most important content should go, how the links should be structured and so on. A nice tool you can use for this purpose is called SEO browser.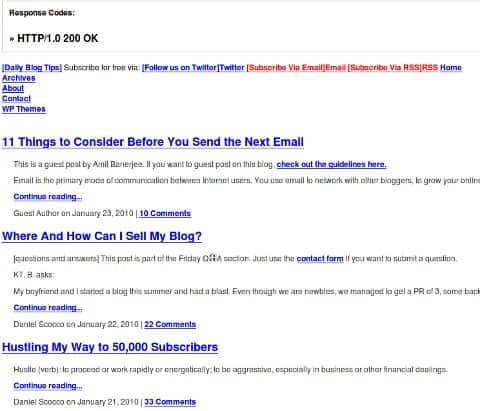 Simply input the URL of your site there and click on "Parse URL." The result will be how search bots see your site. One rule of thumb to follow is that your most important stuff on each page (e.g., the H1 tag and the content) should be as close to the top of possible.
You can also click on "Advanced mode" to get some extra details about the head section, the statistics of your content and links and so on.
Browse all articles on the Web Tools category
21 Responses to "Check Out How Search Bots See Your Website"
Semi Truck Financing

Wow, Great tool Daniel. I was using SEO Centro before this but I think this is a lot closer to what a bot sees. Thanks again! 😀

Free Money Income

Thanks for sharing this tip, now i know how i should optimize my site more.

Web Marketing Tips

Yes this is quite important for every blog owner to make his or her blog search engine friendly so that they can enjoy the benefit of search engines as well.

Hesham @ FamousBloggers

Amazing tool, I am comparing some blogs to mine, and I have solved a H1 tag problem, thanks a lot!

Linda Abel

Your information is fantastic!! Before August I had no idea how a website or blogs worked much less how to build them but with your blogs I learning. Please keep the good info coming!!!

Lucy Thorpe

Great, but how do I interpret the results ? What I got was the tags, the title and the links which is presumably what the bot 'sees'. Sounds ok to me. Am I missing something ?

Aglo

Amazing, now I can see clearly how they index my pages. Thanks, nice tool!

Melvin

cool tool. Never used this one before and I think its beneficial to a lot of bloggers

Vishal Sanjay

Well this is one interesting post, this is very useful for seo officials. Maybe such images can help us optimize for seo much better.

Selena Hodge

Wow, thanks Daniel this is really helpful for those of us who just started our blogs.

Christopher

Well that's pretty darn neat. Might be able to get a better idea of how it all works now. Thanks.

Daniel Scocco

@Sriraj, that is another option.

Dana @ Blogging Update

It is surely help bloggers to self learning the SEO. Thanks for the info daniel.

Sriraj

Why not try the 'fetch as Google bot' function found in webmaster tools? That would be the 'exact' Google's view of your page

Web Marketing Company

Google crawlers or bot can check the backend of the website. Specially view source of the code.

scheng1

interesting! The robot never pays attention to the google ads.

Chester

This is another great tool. Thanks for sharing. I will definitely try this one.

Segedoo

Awesome and very straight to the point.

I'd try it on my blog right away. The Value you add is phenomenal David that I had to link to you 🙂

Cheers,
Olusegun

robert

Neat tool. I noticed the results display excerpts of each post, so I wonder how this would affect SEO if you have links at the beginning of all your posts.

I also discovered my images could be optimized a little better. Thanks for sharing this tool.

Mathew Day

Cool SEO tool, thanks for sharing the link. I've never used it before and I've been playing around with it for a little while.

Easy to use and it's Free. It's very interesting and useful to see my sites the way the bots see them. I can see where I need to make changes and where everything looks okay.

It's another useful site going into my bookmarks.

harry raymond woltman

Now that's some helpful information. With the web growing all the time and the number of blogs growing all the time, what can be more helpful than learning how to place well on the search engines? Competition is fierce and an edge can come in handy. I'm going to go right now to see if I have it right.

Ray
Comments are closed.