Is Your Name Displaying Incorrectly on Your Blog? Here's How to Fix It
Every post and comment you write on your blog has your name attached.
And if your name is set to "admin" or "ali01" or similar, it's not going to create the best impression.
I made this mistake with my first attempt at a "pro" blog. For an embarrassingly long time – months! – my name showed up as "admin". Once I figured out how to change it, I was kicking myself for not doing it sooner.
Here's how to fix how your name displays on your blog. (These instructions apply to WordPress … but the same principles go for any blog platform; you need to make sure your name displays the way you want it to.)
Login to your WordPress dashboard.
Go to Users –> Your Profile
Enter your first name and last name, and change your nickname if you want.
From "Display name publicly as", select the form of your name you want to use.
Click "Update Profile" at the bottom of the screen.
Here's how my name information looks on DailyBlogTips: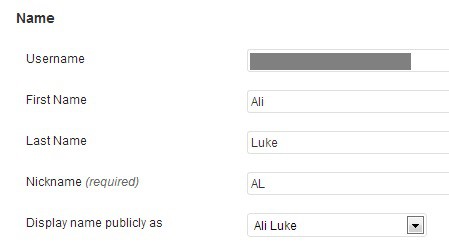 (I've blanked out my username for security reasons.)
It's as simple as that!
Did you need to change your display name – or have you been on top of this for months already? Let us know in the comments!
Browse all articles on the General category
5 Responses to "Is Your Name Displaying Incorrectly on Your Blog? Here's How to Fix It"
K. J. Williams

Thanks Ali!

I've obviously been blogging while in a trance. I think you'd have to drill down long and hard to even find my name associated with my posts. How crazy is that?

Now the connection can be made. Maybe someone will even read my blog!

Love your blog as well as DWT.

Ali Luke

Shawn, great suggestion. I agree a full name like "Ali Luke" is preferable to something like "AliLovesChocolate" 😉

Uju

I'm a new wordpress blogger but thank God I figured this one out from day one. Though, I had the same challenge of deciding to stick to a particular name as Shawn said, I went with full name after the debate

Vkool

Hi, Ali. I read your writing by chance. But then, I realized that my blog name is not ok. I fix it. Thank you for your great post!

Shawn Gossman

Good post for new bloggers, Ali! 🙂 One thing I would also recommend is deciding what username you want to go with and sticking with that username! I mean using it everywhere so that you can start to develop a blogging reputation for yourself. I recommend your full name as it tends to look more professional than a username especially in the niche blogging world.
Comments are closed.