Case Study: Digg vs. Copyblogger
Have you always dreamed about getting on Digg's front page? Well, perhaps you should dream of being featured on an authority blog on your niche, instead. People have discussed widely the fact that traffic from social bookmarking sites is "peculiar," but a couple of weeks ago I was able to track down the numbers.
Digg vs. Copyblogger
On June 18 I published the article "6 Foreign Expressions You Should Know." It received almost 800 diggs, and it was also stumbled heavily. The result was a massive traffic, and a bump on the number of RSS subscribers, as you can see on the picture below.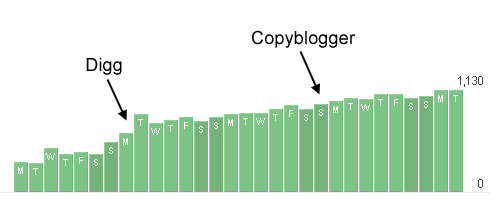 Two weeks later, Copyblogger mentioned Daily Writing Tips on a post titled "Saturday Night Link Fever." Judging by the picture, one could say that the Digg effect was much stronger, but was it really?
Analyzing the Digg Numbers
Digg sent over 20,000 visitors over the 2 days that followed. On monday, before the Digg front page, the blog was counting 647 RSS subscribers. The day after this number jumped to 857. Unfortunately, the next day the number dropped to 755 and kept stable at that level, meaning that the effective increase on the number of RSS subscribers was around 108.
Analyzing the Copyblogger Numbers
Brian published his "speedlinking post" on a Saturday, and maybe this influenced the number of visitors that he sent to my blog. A total of 400 visitors came from that link, 150 from the website and some 250 from the RSS feed.
The numbers are not even close to the Digg ones, but what happened to the RSS subscriber count? On Saturday, before Brian's link, the blog was counting 910 subscribers. On Sunday it jumped to 967, and on the following Monday (which probably was still influenced by the link since many of his readers would not be reading the feed on a Sunday) it further jumped to 1025.
Conclusions
Only 0,5% (less than 1%) of Digg users subscribed to the Daily Writing Tips RSS feed, while almost 30% of the visitors coming from Copyblogger did so. Out of 20,000 visitors that Digg sent, 108 became RSS subscribers. Out of 400 visitors that Copyblogger sent, 115 became RSS subscribers.
Digg, Stumble Upon and other social bookmarking sites still represent the best source of raw traffic. Don't get me wrong here, I do think the exposure you can get from those venues is simply amazing.
If you are trying to build a loyal readership and increase your RSS subscriber base, however, you should also focus on getting noticed by authority blogs.
Browse all articles on the Promotion category
25 Responses to "Case Study: Digg vs. Copyblogger"
Bang Kritikus

The winner is digg

Parth

Hey thanks man! I was wondering why my RSS subscriptions actually went down after so much traffic from Stumble upon. This is really insightful.

vinay

great comparision. never knew these things before, i havent tried digg not rss in my blog , i just started my blog and will do both , a long way to go. .

Danl

The article was great, it provides important facts about the benefits a blogger gets when recieving diggs traffic.
Now I know how digging all day long was such a waste of time, and
a link from a respected website might boost your traffic.

Thank you

William Profet from OneJobTwoSalaries.com

Hi Daniel,

I agree. From my experience I can tell that Digg users stay less time on my blog than users that came from other blogs.

The average time for Digg users is under 1 minute. The users that came from Lifehack, Zenhabits, Copyblogger and other popular blogs stay and read my site much more time and their average browsing/reading time is from 7 to 48 minutes.

So, really, if you want raw traffic – Digg is the best. From this point further everything depend of your content and how sticky it is. :)))

Chris

Here's one more way try http://www.15blogs.com

You need Stumbles, Diggs, and Links to really get traffic.

Jermayn Parker

Interesting point, I guess its not really a surprise to some. Digg etc are important but are more like a bandaide effect, a quick fix rather than getting quality fixing from bloggers.

Roberto Alamos

This is so true: I have been featured by Business 2.0 Magazine (which has authority but its just too big for my website) and received good traffic from them, but I received a lot more from a local authority site that linked to me when they saw me at B2.0M. Why? Because readers from the second site were the ones that liked what I did, while B2.0M readers, although being more, were not so focused on the same topic.

Ryan Shamus

Excellent comparison. I always thought that what you proved was right, but there is something so joyous about getting on the Digg front page….but overall, more long term RSS subscribers are way more valuable.

Again, good stuff here!

MT Herald Dot Com

While it is a mad rush of impatient visitors like a gushing river with Digg, it is a flow of cool headed guys from Copyblogger.

Better Blogging with Michael Martine

Diggers and Redditors both hate blogging articles. Other than overloading your server, there's hardly any benefit to them at all. Daniel's experience shows that relevancy is queen to content being king.

mihnea

Daniel, I have experienced the Digg traffic on my blog. I got on the front page two times. The first front page brought me around 50k visitors, but that traffic wasn't so good. Only few commented and subscribed at my feed.Furthermore, the earnings for that day were very low in comparison with the traffic. Digg doesn't help you too much unless you are a big site. And when I say big, i refer to something comparable with Engadget.

Dave

Getting related blog posts and reviews is the best way to build a solid audience. Digg is great for a traffic spike.

60 in 3

I used to try for diggs and such with every post. Then I noticed that simple referrals from smaller blogs within my own niche were much more effective. Those readers are coming to my site already interested in health and fitness (my topics). They're much more likely to become long time readers than some digg swarm that's just interested in a headline.

Gal

Daniel

Janet, that is a difficult questions, since there are several parameters you can use in to determine the "authority blog."

I think a blog can be called an "authority" if it has a wide audience (can be measured in traffic and subscriber base), if its content gets linked and mentioned on many blogs (backlinks, pagerank), and if it has an active community (comments, participation).

Those are 3 factors that can be used in my opinion.

Daniel

Meraj, that is for sure. This article was about promotion. You obviously need to have top-notch content to begin with, else the other efforts will be wasted.

Janet Green

Daniel and others – How do you determine which are the "authority blogs" in a given niche?

David Airey :: Creative Design ::

Someone who people trust linking to your blog is worth much more to me than the mass followers who make up a large percentage of Digg users.

Diggers and Stumblers can come and go in an instant, but that thumbs up from Copyblogger no doubt keep those readers around a little longer.

Keep up the great articles, Daniel.

Ramkarthik

Daniel, very good analysis. Surely that proves that Copyblogger readers are more worth than Diggers. Digg visitors don't stay for a long time. 30% is surely a big number. Hope my blog gets linked on a big site second time (First time already got linked by you).

Jamaipanese

amazing indeed

Meraj Khattak

I agree. However, it is also necessary that even if you utilize venues such as Copyblogger, you must present some quality and niche content on your blog/web site to keep your visitor grow and come back to you.

Because I believe most of the readers of the sites like Copyblogger are more serious in terms of business/learning than the average user who uses Digg/StumbleUpon.

OneYearGoal.com

Thanks as always for the valuable insight.
I've been at this for about a week now and hadn't even heard of copyblogger. I'll have to check it out.

Maki

Daniel,

I agree. Relevant, authority blogs should always be a priority when it comes to blog marketing. Why? Because they have exactly the readers you need to build up your audience.

Learning how to network within your blog niche is fairly important as well, given that links from authority blogs can be hard to come by 🙂
Comments are closed.