Tinyurl.com started the trend some years ago, and now URL shortening services are everywhere, from social bookmarking sites to mainstream media sites which have their own shortening engines.
In a web that more than ever moves at 140 characters at a time, those services are quite handy (especially the ones that let you track the statistics). Shortened links also have a drawback, however, which is the fact that you can't see where the link is pointing. Bring malicious users into the picture, and you can see the security risks. There are websites that will try to inject malware in your system as soon as you visit it. Others that will try to set special filters in your Gmail account and so on.
If you want to be safe, therefore, only click on shortened links if you trust who created them. If you must or want click on a link but don't know if it is legitimate, use a URL unshortening tool. There is one over at Sucuri.net that will reveal the real URL behind the link and make checks with Google and with SiteAdvisor to make sure the website is safe to be visited.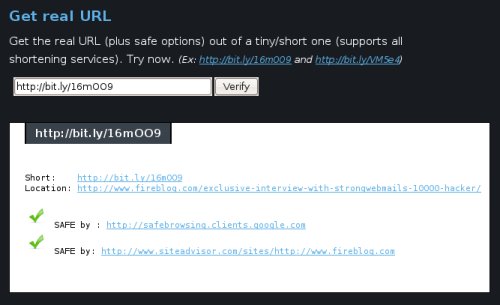 Do you know other tools that will do that? A Firefox extension that checks the safety of shortened links on the fly would be nice, but I haven't seen one around yet.