Careful with Those Shortened Links
Tinyurl.com started the trend some years ago, and now URL shortening services are everywhere, from social bookmarking sites to mainstream media sites which have their own shortening engines.
In a web that more than ever moves at 140 characters at a time, those services are quite handy (especially the ones that let you track the statistics). Shortened links also have a drawback, however, which is the fact that you can't see where the link is pointing. Bring malicious users into the picture, and you can see the security risks. There are websites that will try to inject malware in your system as soon as you visit it. Others that will try to set special filters in your Gmail account and so on.
If you want to be safe, therefore, only click on shortened links if you trust who created them. If you must or want click on a link but don't know if it is legitimate, use a URL unshortening tool. There is one over at Sucuri.net that will reveal the real URL behind the link and make checks with Google and with SiteAdvisor to make sure the website is safe to be visited.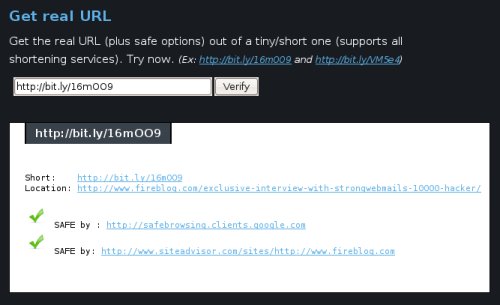 Do you know other tools that will do that? A Firefox extension that checks the safety of shortened links on the fly would be nice, but I haven't seen one around yet.
Browse all articles on the Web Tools category
37 Responses to "Careful with Those Shortened Links"
Blog Ebooks – Claus D Jensen

Great advice. I have personally never heard of such an url unshortening tool before. So thank you!

Greetings,
Claus D Jensen

Tom Bradshaw

Thanks i hadn't heard of Sucuri.net before now. TinyUrls are useful, although I don't like it when newspapers or magazines use them because you can never remember them.

Liane YoungBlogger

I was Twitter has that feature directly accessible in the account. Lots of cloaked spammy links now 🙁

Chester

This is very useful post. Thanks for sharing them.

GoBusiness101

This is not good for those affiliate marketers. which i think they are using it right now.

Tim | Inspiration Central

I never thought that someone would point a shortened link to a malicious URL. It's amazing what some people will do for almost no benefit whatsoever.

Thanks for the heads up.

Klaus at TechPatio

This reminds me. In a recent issue of the UK edition of MacFormat, a reader complained about TinyURL's, also mentioning the same you do. But also that you could easily mistype the URL, sometimes the URL's are case sensitive, so getting just one character wrong could send you to a bad site.

I actually prefer tr.im for my twitter URL's, it's very short and it will "auto claim" url's that you tweet when they are posted from your own twitter username. I don't know if other services do that as well, I suppose they might.

George Serradinho

I am also worried about clicking on short urls, you have absolutely no idea where you are going. Thanks for listing Sucuri.net, I will see how they work and might even post about it.

Zemalf

Thanks for the Sucuri.net tip. I wonder if TweetDeck uses that or similar service through API, as I've liked the "preview link" feature on that a lot, as it shows the end URL of the shortened link just like Sucuri seems to do.

cam

Thanks for the tip. Most of the tiny urls I come across are affiliate links but I will definately bear this in mind. Thanks again.

Ajith Edassery

Sucuri looks cool. Shortened URLs can be especially dangerous on twitter and email marketing services.

Retweeted 😉

Rocque

Most people have already commented exactly what I wanted to share about shortened urls. I am a member of Orange Leads and they have a service now, too. (I did not put my affiliate link or shortened link). If you want to check that out, it would be interesting to know what people thought of it. If you want me to add my link to mine just let me know, and I will.

Thanks for daily blog tips!

Brian D. Hawkins

I just ran across one of those tools yesterday. I wish I had thought of it.

Deception is a real problem with short URL services. I have a small tracking site and went to a 'paid only' service because of the abuse. It's a pretty bad feeling when an attorney contacts you representing a large bank about a major phishing scam that's using your service. I've had no problems since requiring a monthly fee via PayPal.

BloggerDaily

Yes, it's really dangerous to click without checking first what it is. Some shortened url brought me to malicious website and I really aware with shortened URL after that.

Thanks for the information! I really hope there's Firefox add-on to check the real source of the shortened URL.

Boerne Search

Very true. I have been using tinyurl.com for years. Then when Twitter came out I saw people posting about it like it was brand new. I trust them, as I said I have used them for years. But it is a good idea to look up some of the ones you have never seen/heard of before. Thanks for the heads up. In the words of Randy Jackson "Good lookin out" 🙂

Kane

Daniel Scocco

@Tony and Thoma, I will check that one out, thanks.

Daniel Scocco

@Tamar, thanks for sharing that one.

Melvin

you're right. In fact a lot of people are using those url shortening service to rickroll people… LOLz…

John

I only click shortened links that sound humanly created. In addition, I look at the twitterers past updates. If they look like spam, I don't click it.

Cheryl B

Thanks for the heads up on the danger and the solution. I hadn't even considered the danger. I do not understand those who create malware. I guess it's the internet version of vandalism.

Christina Crowe

Thanks for the tip! I see shortened links everywhere. It's good to know the dangers of such things and how to avoid them.

Dan Cole

If your running WordPress, then you can use post ids as short URLs. Then it has your domain name and your in control.

I personally don't care for short URLs as a visitor, because they don't provide any information.

Steve

Nice looking tool. First time I have heard of it.

R Edward Vernon
Thoma Daneau

LongURL Firefox Addon does that also :

Tony

Daniel, I don't know if you're familiar with Long URL Please (Firefox add-on). I've been using it for a while and it does the job – it works with a considerable number of shortening engines. It expands the url for you automatically so you can at least have a clue of where you're heading to.

Daniel Scocco

@Sos Gospel, I don't get what you mean.

Nicholas Z. Cardot

Thanks for the tip. I didn't know that was possible!

Sos Gospel

Do you ever think if one of this "URL shortening services" point the link to other URL, or remove old links?

InternethowBlog

I think this tool is really cool. To be honest I never trusted the shorURLs and always approached them with care. I never knew there were a tool which reveals the shortened URLs. Really cool. Thanks
Comments are closed.