Careful When Migrating Your Feedburner Feeds to Google
As you probably know, a couple of weeks ago Google decided to open AdSense for feeds to all publishers, and by doing so they also started the migration of Feedburner feeds to their own servers (Google acquired Feedburner a while ago, that is why).
In other words, people that wanted to start using the AdSense for feeds feature would need to apply for a migration, and get their feeds changed from feeds.feedburner.com/feedname to feedproxy.google.com/feedname.
The migration process is not smooth and automatic, as one would expect (it is 2008 folks…) Instead you need to manually send a request via this support page, and the Google team will handle the transfer for you.
When I saw how they were going to structure the deal, I immediately thought: "Hmmm, I think I will wait some time and see how it will work out for other people." Messing up with the RSS feed of a blog is not a small thing.
I am glad I did that, as there are many people complaining about the migration process.
Some experienced long downtimes on their feed pages. Others reported that Google Blog Search stopped indexing their blogs once they migrated their feeds. Just consider that if you search the Feedburner Help Group for "migrate or feedproxy" you will find 208 results – read 208 bugs or problems that people faced doing the migration.
My friend from HowToGeek.com also sent me an email mentioning that after he migrated his feed he became no longer able to see the list of email subscribers. That feature just vanished from "Subscriber Management" page, as you can see on the screenshot below: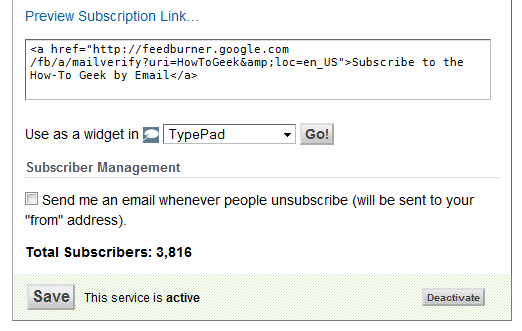 He told me that he has over 4,000 email subscribers, so this is not a small problem.

Apart from losing the details about your subscribers, this missing feature also locks you with Google's email service. On Feedburner you could still switch to another email delivery service, say Aweber, by exporting the list of email subscribers and importing it on the other side.

If you plan to make the migration soon, therefore, I would save and export the list of email subscribers forehand.

Hopefully Google will fix those problems soon. Until then, cross your fingers!
Browse all articles on the Web Tools category
39 Responses to "Careful When Migrating Your Feedburner Feeds to Google"
Buffyfest

I have no idea what's going on. I just started using feedburner a couple of days ago for my blogger blog feed. Yesterday I started using the adsense for feeds and used the google login for that. Little did I know I was using 2 different accounts and the adsense one was not the one my feed was redirecting to. i kept trying to delete the google login one to no avail. I also just wanted to change the name of the other but of course it said the name was already taken (by me!!) Is this the same thing everyone here is talking about??

So finally I realized about the migration thing, but I don't know how it's going to work out. I don't really care about the ads anymore I just want the feed to be straight.

Chris Reeder

My feeds migrated with no problems.

Shelly ||| BRICKS-n-MORTAR.com

Dear Daniel,

Thanks so very much for your helping hand (reply comment!).

Yupp, the control panel of the newly established feedproxy feed can truly be reached from feedburner.google.com
I could login through my google ID only. And yes, IT VERY MUCH IS NOW SHOWING THE email subscribers list there (though its only the new STATS sans the old feedburner stats)

But, my fears came true as this new feed brought me face to face with the cruel reality of the fact that the new feed has accustomed NOTHING from the older feedburner feed… no subscribers, no details, no welcome message, nothing at all…. ITS SIMPLY AN ALTOGETHER NEW BORN FEED even not having the milk teeth (read previous stats!)

Hope the guys at google will help solving these teething problems of the new born feeds of all of we users.
Thanks Daniel once again for prompt reply. You are so very dependable, I must say 🙂 Muaaaah!

Daniel Scocco

@Shelly, I think the new control panel is on feedburner.google.com

Martin Jones

One of my larger sites was migrated and it's had a few challenges.

Most things appear to be returning to normal, with a couple of exceptions. RSS subs are down by about 1200 and no access to my email subscriber list. I have however been told to give it some time and these things will be resolved.

I did find one BIG work-around for those no longer indexed after migrating. If your using the Feedsmith Feedburner plug-in with WordPress, turn it off when writing new posts and leave it off for about an hour. Don't leave it off however or your sub count will drop (at least mine did) For some reason when it's off, new posts are picked up and indexed, when it's activated, they aren't. I've emailed everyone you could think of about this, but have not received a response on an updated plug-in or fix.

John

For those of you not migrating, google will force it on you eventually, and it will probably be soon.

My complaint is that I asked to be migrated two weeks ago and still nothing.

yatot

is it okay not to migrate feeds to google? im afraid i might loose my very few subscribers if they will not know that i already migrated my feeds and i feel like it would be back to zero feeds if I do that…

Shelly @ BRICKS-n-MORTAR.com

Reading again the comments, I think my condition was somewhat same like @HairySwede (comment no.-8 above).

Shelly @ BRICKS-n-MORTAR.com

Hello Daniel and everyone else!

Not intending to point a finger in any whatever way, it was Daniel's earlier post about google's feedproxy feed giving away the direct link, which I also followed and ended up getting my feedburner feed being transferred to the google's feedproxy servers. Looking back, I think I should have better adopted Daniel's strategy of 'Wait & Watch' only.

Instead though being a non-IT background cum amateur cum adventurous gal that I am, kept on clicking on, and on, and on the links and finally found a new feed burned on feedproxy… didn't think of the consequences that time 🙁

Now the list of problem…
1. I do not see the link to this new feedproxy feed link in my feedburner's homepage.
2. Don't know how to and where from land to the "Manage" this new feed
2. My blog has become an experimental mixture… having the RSS syndication customixed as the new feedproxy feed URL; but having the readers count of the previous feedburner feed (this 'coz I do not know how to land up to 'Manage' page and change the HTML code of new Readers chicklet.

Too bad…
Hope Daniel, other readers of this blog-post and google guys will come up with a suggestion/ tips/ hints for this young confused lady now!!!

Adam Pieniazek

Yeah, I learned long ago that waiting is the best policy for all technology related products (software andhardware). Sure, you might miss out on the excitement and buzz of having something new but you'll also get to find out if the product is buggy or it actually matches it's hype.

I'm still on Mac OS X Tiger, the non-3G iphone, feedburner, etc. and don't have to deal with the headaches of bugs, glitches and other issues.

Thanks for the heads up Daniel.

Ari Herzog

After reading similar stories on other blogs, Daniel, I'm glad to see you report on it, too. I don't run any AdSense and have no immediate plans for it, so will stick with my feedburner the way it is.

Rarst

By the way at least three feeds for different blogs that were transferred to google give me "The server encountered a temporary error and could not complete your request. Please try again in 30 seconds." when I try to open posts today.

Yeah, that transfer seems to go reeeeally well. 🙂

TheAnand

I had sent a mail to them back then and got moved. The only difficulty I now have is the awareness API which has stopped working for my. Everything else except for the above problems is fine! (what am i saying 🙁 )

Dan @ PowerDosh.com

I try to let everyone try these new systems first before I jump on the bandwagon. Let them iron out the kinks first before I start using them.

For this exact reason I waited for the more stable WordPress 2.6.1 to come out, rather than try and use the buggy 2.6 version.

Rich Owings

Thanks for covering this. I too decided to wait and see because it sounded kind of sketchy, but I hadn't seen anyone else address the resulting problems. Thank you!

Rarst

"Blogs should be about its readers and not make it so obvious that you are trying to make money."

Something wrong with trying to make money? 🙂

I think bloggers choose their intent. Readers can only vote with (not) reading blogs.

Blogging Millionaire

I think that these ads in feeds are really annoying. It just makes me want to unsubscribe from those blogs. Blogs should be about its readers and not make it so obvious that you are trying to make money.

Rarst

They said they are moving everyone in the end. So adsense simply became a carrot for willing beta-testers. 🙂

Jason

Hairy,

It states that you may need to wait 24 hours for feed data to show accurately. Not sure if you deleted both feeds now…

Ben,

You don't really need to email Google. Well you do, but it's more like submitting your Feedburner login and Google email, and bam you're done.

Ben

Originally, I wanted to move all my feeds to the new feedburner but was too lazy to e-mail Google. So, I decided to burn new feeds for two of my newer blogs and to incorporate adsense for feeds.

Now, I'm kinda' glad that I didn't migrate. The ads at the bottom of a feed makes it look pretty "spammy" and I'll probably be removing them real soon. I usually use the bottom portion of my feed to promote my blogs and the adsense seems to overpower that promotion.

At this point, I plan to keep most of my blogs with the older feedburner until most of the migration bugs are worked out.

Parth

Guess I'll stick to feedburner.

Markus

That's weird. I switched to Google Servers the first day they announced. I can see every email subscriber and I can export them in CSV or Excel format.
I guess it depends on which google server you're on 🙂 Perhaps it's like they rollout new gmail functions 😉
The feed ads aren't performing very good for me.

HairySwede

Alright… so I, without putting much thought at all into this, decided to click on AdSense for Feeds. I already had a feedburner account thats treated me quite well. Not really paying much attention I just hit burn a new feed and plugged in the address to the feed I already have, it then popped up as a new feed with google which showed I had 0 subscribers and 0 visitors and basically was a completely new feed. I chose to delete that feed immediately, but am now worried that my original feedburner feed will also be deleted…

anyone else pull a stupid stunt like this as well? any tips?

and I thing daniels on to something here… theres something to be said for waiting a bit and not always bein gan early adopter.

SEO Genius

Google seem very unorganised currently with everything, are they trying to bite of more than they can chew? I think so…

Rafael

I did the migration, but it was useless, the adsense doesn't work in my account…

Martin

I think I'll hold-off moving my feed until they get some more of these issues resolved…

Jason

Hello Daniel,

First time to comment here, but have been reading your blog for awhile now. The migration was pretty smooth for me. After entering my feedburner account and Google email address, I got a success email the next day, and everything seemed to be running the same as before.

I'm sure Google will fix any bugs, but like you said, if you have a large subscription base, it's probably best to wait for a bit.

Daniel Scocco

@Mayooresan, I need a translator for that 🙂 .

Mayooresan

Whatz wrong with Google folks?

though the detailz are not given mails are sent rite?

Max

Exactly, and after all the hardwork of transferring the rss, and you don't get the ads show up in your feed. I think this is the worst thing that came out from Google.
Comments are closed.