Book Review: The Purple Cow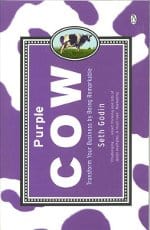 I am a bit late with this book review, but from now on I'll try to stick with the schedule, which is one review every two weeks. Anyway today's book is a short but powerful one: Purple Cow. It is my first read from Seth Godin (what a shame, I know), but after going through it I already placed three of his other books on my to-read list.
1. The book: The Purple Cow is about being remarkable (and how this is essential to make your business prosper). Have you ever seen one, after all? If you had you certainly wouldn't forget it! The book has 137, and it is very easy to read. Seth
2. The content: Initially I thought that writing a whole book to give out a simple message (i.e., you got be remarkable) was a waste of paper. After reading it, however, I can say that it is not the case.
Seth did a wonderful job explaining the whys and hows of being remarkable, including real life examples and case studies to help you understand his points better.
I also really liked his writing style. It is clear and succinct, which is the style I strive to achieve with my own text.
3. What I liked: What I most liked in the book were the real stories that Seth shares. For example, he tells you how Herman Miller managed to transform a somewhat commoditized segment – office chairs – into one with space for premium products. He did that by creating a purple cow, the Aaron chair.
4. Who would benefit from this book: Anyone who has or is planning to build a business. Be it an offline or an online business. The message of this book is one that all entrepreneurs should learn by heart.
5. Favorite quote:
You can't make people listen. But you can figure out who's likely to be listening when you talk, and then invent the right combination of Ps to overwhelm them with the rightness of your offer. Even if someone is listening your offering of "a little bit cheaper," "a little bit better," or "a little bit easier" is just a waste of time. The influential sneezers, the people with a problem to solve – they're open to hearing your story only if it's truly remarkable; otherwise, you're invisible.
Browse all articles on the General category
5 Responses to "Book Review: The Purple Cow"
Jens P. Berget

I read this a while ago, it was my first Seth Godin book. And it's the reason why I have bought all of his books. It was amazing.

scheng1

Cute! I thought this book is about genetic engineering.

Web Marketing Tips

Seth is certainly one of my favourite author. He gives boost to your thoughts and while reading you will feel that you are having thousands of ideas.

So I would suggest while reading keep note book with yourself … no I am not kidding.

Sheila Atwood

I picked this book up just the other day …so far I really like it. Gocin keeps things so simple.

I remember when I was first introduced to Godin – it was his sliced bread video. I thought -Who dressed this guy…his bald head stands out! He doesn't miss a beat.

Sheila

Matej

I liked the book, it was a great and fast read with some really good real-life examples that makes you REALLY understand the message. I think we always learn the best that way.

Learned also a lot about early adopters , sneezer etc. which was really valuable for me.

But I must say, title itself is far better then actual content in the book, it not " remarkable ". I don't say it has to be, there's no bullet point that will teach you to be purple cow, you need to figure out that yourself I suppose.

The book has a great title, which is why I first chose that book as my 1st Seth's book but I believe there are much better ones. Tribes interests me but I first need to finish pile I ordered before 🙂
Comments are closed.