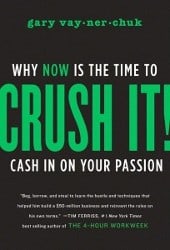 I just finished reading Gary Vaynerchuk's first book last week, so lets get on with its review. The title is Crush It!: Why NOW Is The Time To Cash In Your Passion.
1. The book: Crush It! is a book about finding your passion and profiting from it online. Gary V. did just that, and he wanted to share with other people how to follow on his steps. The book has 132 pages, which means you could read it within a week.
2. The content: The beginning of the book is about why you need to follow you passion, and how Gary did it with his wine business, taking the revenues from $4 to over $60 million annually. After that Gary talks about the important of personal branding, the online platforms you must use, and the strategies you should use to promote yourself and your business.
3. What I liked: I already have a good experience with online marketing, publishing platforms and other web tools, so that part of the ebook was pretty trivial to me. What I really liked, however, was the energy that Gary is able to transmit through the text. He does that in video, so it should be no surprise. In fact it was this book, and Gary's approach to business in general, that motivated me to start hustling. You can grasp that from the quote I used below.
4. Who would benefit from this book: People who want to start using social media tools to promote his business and people who want to get motivated about succeeding with an online or offline business.
5. Favorite quote:
I've said over and over that if you live your passion and work the social networking tools to the max, opportunities to monetize will present themselves. I've also said that in order to crush it you have to be sure your content is the best in its category. You can still make plenty of good money if you're fort best in category, or ninth best, but if you really want to dominate the competition and make big bucks, you've got to be the best. Do that, be that, and no one will be able to touch you.

With one exception. Someone with less passion and talent and poorer content can totally beat you if they're willing to work longer and harder than you are. Hustle is it. Without it, you should just pack up your toys and go home.