BlueSensation WordPress Theme Released
Last month we missed the free WordPress theme release, but the one for July is available now. BlueSensation is a clean theme with a traditional look: large content column on the left and a single sidebar, ready to display 125×125 ads.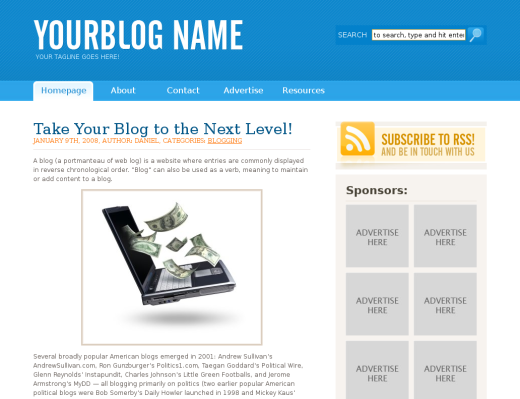 Here are the features of the theme:
Advertising ready: The theme comes with 6 125×125 blocks styles already. The sidebar could also fit 300×250 and 120×600 units.
Big RSS Icon: On top of the sidebar you have a big RSS icon, making sure that visitors will get encouraged to subscribe.
Logo integration: The theme has a text logo out of the box, but it already comes with the possibility to use a custom image (420×60) as logo, by simply changing a line on the CSS file.
Comments styling: The comments section has been styled to change background color on alternating comments.
Search Engine Optimization: As usual the title and meta tags are already optimized, and theme displays on post excerpts on all the archive and category pages.
Visit our WordPress Themes page to download all our themes.
Browse all articles on the WordPress category
64 Responses to "BlueSensation WordPress Theme Released"
Bob

De demo site does not display the 4 advertisements correctly in FF 2.0.0.16. It displays the 4 boxes after each other, complete out of the borders.

joebai

Nice theme. good work

Jon

Great Theme! What line of CSS has to be changed to display my 420X60 logo?

Mike

hello. the same bug via opera. how to fix it, please?

psaico

thanks, looks nice 😀

G

Anything like red, black, or WhiteSensation? Haha j/k

Daniel Scocco

@Vishal, no its fixed width.

Vishal

Hi Daniel,
Does this theme adjust the size of elements in the page according to the resolution of reader.

Daniel Scocco

@Livius, should be.

Todd Andrews

Very nice looking. Will likely put it to use, thanks!

Rajeev Edmonds

I must say, this theme is by far the best ever produced by dailyblogtips. Simple, clean, elegant and fast download.

LiviuX

It's widget ready?

web about money

sidebars is too small. I like theme has 3 sidebars .hehe

Iwill write It on my blog!

Daniel Scocco

@Pras, I have a version where colors are inverted if you are interested. Background is slightly cream color, and sidebar is white.

fahry

nice template I like it

ithemes

great wordpress theme

Matthew

Cool! I like the navigation bar tab style!

Pras

Hi Daniel, Except sidebar, everything else looks good. I feel, sidebars could have been made much more better. Are you planning to release any other versions of this theme ?

abhishek

nice theme.color combination is great

Ajith Edassery

I am still using a modified version of StudioPress for my blog and I am pretty happy with it. This one looks great but I have the following comments…

– Usage of images for the RSS subscribe section could be avoided. Most people would want to change that part
– I am not sure why people are hooked on to the idea of providing two rows of 125×125 ad blocks 🙂 This trend is spreading like a virus and is somehow becoming a standard for WP based blogs.

Rest look cool… The blue shades and orange is a deadly combo on post titles!

Cheers,
Ajith

sikantis

I like it when there is only one sidebar. Great! I tried different designs, now I'm happy with my blog.

Blog Marketing Journal

Simple but very nice! 🙂

James

This theme looks great. I like the colors. I might try this one out on my blog.

Daniel Scocco

I am working on the Opera bug guys, should be a small thing.

It is working on IE6, IE7, FF2, FF3 and Safari though.

Technotip.org

Nice theme.

I checked it opera. The logo, tags, 1st posts title and the navigation bar and the subscription buttons goes upwards, then their actual position.

Hope there is some miner problem with the css.

In firefox, everything works fine.
But still, my favorite theme is StudioPress, in all your free themes.

Anyway, great work Daniel.

Adam Singer

I'm still using (and loving) StudioPress =)

Ganha

Hi, i was thinking today that you did not release any theme for a long time, aniway the theme is to simple for me and i have some problems seeing it with opera browser i tought you would like to know that.
Great work aniway

Groovy Vegetarian Blog

Nice! A large left content box and one big sidebar, is a welcome change in wordpress theme designs.

Two narrow sidebars are no longer cutting it. Too small.

SEO Genius

Oooo i like that theme lots 😀 especially liking the advertising blocks and the big rss subscriber icon.

Good job 🙂

Napster

Wow, great theme!
Comments are closed.