Blogging, Patience and Persistence
Most blogs (and websites for the matter of fact) require a lot of time and dedication to become successful ventures. This fact is trivial but many bloggers ignore it, getting discouraged after they realize that it might take more than 6 months to build the next TechCrunch…
Darren Rowse carried a research some time ago and discovered that the Top 100 Technorati blogs had been online for 33.8 months on average! The conclusion is straight forward: blogging requires patience and persistence.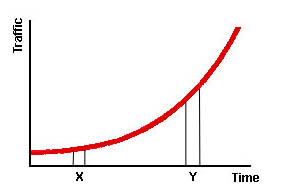 Another reason to have patience comes from the fact that most successful blogs or websites follow an exponential growth line (some have huge spikes, but the "line of best fit" is always similar to an exponential graph). Suppose that at the picture above both X and Y represent the same time lenght, for instance 3 months. If you measure the traffic gain during the X period and during the Y period you will see that that blog gained much more readers during the latter.
The question then becomes: do you have patience and persistence?
Browse all articles on the Blogging Basics category
19 Responses to "Blogging, Patience and Persistence"
Imagewest

Seth,
We understand that traffic leads to traffic, but how do you get traffic in the first place? Are there ways or sites that help you promote your blog, especially in reaching the intended audience?

seth

Exponential growth is right… Starting your blog is all abut publishing as much quality content as you can and then it seems like your blog takes off and continues to increase. The beauty is that traffic leads to traffic!!!

Bang Kritikus

Yes i agree with you. The exponential grafik is the ideal grafik for a blog.

p@ssion

Agree with you:
Write articles on a regular basis, be patient and a have a bit of luck.

Abhishek Kumar

I am also a new blogger, posted more than 100 articles on my blog, still waiting for good traffic…

Leroy Brown

Eileen, you make a good point about offline businesses. And you're right, no one expects them to be profitable at first, but we as online entrepreneurs ( sic ) are impatient. We need to constantly remind ourselves that it's a long-term venture, and to have patience.

Eileen Gravelle

I agree totally with your post – experience from the most successful bloggers shows that we have to stay in it for the long term. A need for patience and persistence unfortunately doesn't fire up many people starting out in web publishing – especially when overnight fortunes and quick profits are sold as the norm. Nobody would expect an offline business to show any kind of profit in its first year. Businesses have to be built over time especially if they are going to last. One thing's for sure though – do the right things and traffic will grow.

Andrew Timberlake

You are right about the time investment. I think the biggest hurdle is that period of time after the initial excitement recedes and you don't have the traffic or community to spur you on. It's during this time that tenacity and perseverance are going to be most needed.

Daniel

Tracy, it depends how you define success. If your objective is simply to share your ideas and receive some feedback then a personal blog could be really successful for you even without a large readership.

Now, if you want to make money from your blog (for instance to be able to quit your daily job and dedicate to your writing because you love it) then you will need to write about stuff that has value for other people.

Actually your question just inspired me to write a post about this topic, I will publish it early next week.

Tracy Thompson

Great information. Do you find that blogs that are personal in nature are more or less successful then blogs which are content/subject centric such as this blog?

Leroy Brown

Brian,
That's a reasonable number, if a bit on the short side. A lot of it depends on luck ( hate to say it! ), and whether or not your content really gets into people's heads. 6 months to a year is more realistic in my book; by then, you'll have a solid collection of archives to offer your new and loyal readers.

Brian Auer

Thanks for the tip, it makes me feel much better when I check my stats and see my visitors per day hovering at around 20 or 30 — though I've only been blogging for about 3 weeks.

I heard somewhere that most blogs don't really start gaining much of any readership until about 3 to 6 months. Any truth to that?

Leroy Brown

Don't get me wrong, I'm hard at work on blogging front, and don't intend to give it up anytime soon. I sometimes just wonder if I'm really on the right path, and if I should be working on something else instead.

Daniel

Leroy, I guess there is no "best" way to earn an income online, it depends on your experise and on what you love to do.

Blogs have many advantages over traditional websites (they create communities, they rank well in search engines, and so on), but it takes hard work to earn money with them all the same.

With that said there are many bloggers out there making a 6-figure income from their blogs.

Leroy Brown

It almost makes one wonder if blogging is really the *best* way to earn an income online. The time requirements are enormous, and don't pay off for a looong time.

Daniel

Thanks Leo, recently I discovered your blog also, good stuff!

Leo Paiva

show o artigo!!

tou gostando das mudanças no layout! 🙂

abraços!
Comments are closed.