Most blogs (and websites for the matter of fact) require a lot of time and dedication to become successful ventures. This fact is trivial but many bloggers ignore it, getting discouraged after they realize that it might take more than 6 months to build the next TechCrunch…
Darren Rowse carried a research some time ago and discovered that the Top 100 Technorati blogs had been online for 33.8 months on average! The conclusion is straight forward: blogging requires patience and persistence.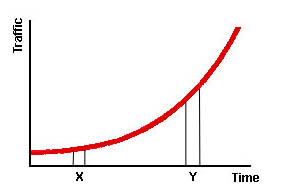 Another reason to have patience comes from the fact that most successful blogs or websites follow an exponential growth line (some have huge spikes, but the "line of best fit" is always similar to an exponential graph). Suppose that at the picture above both X and Y represent the same time lenght, for instance 3 months. If you measure the traffic gain during the X period and during the Y period you will see that that blog gained much more readers during the latter.
The question then becomes: do you have patience and persistence?