Blogging Content Matrix
Blogs emerged on the Internet as personal diaries where people would publish online their daily activities, personal experiences or comments about events. As the phenomenon evolved, however, many blogs started to focus on niches, providing services or information for readers and blurring the line between blogs and traditional websites.
Many people, specially those considering to start a blog, wonder if blogs oriented around personal stories can be successful. The answer is yes and no, depending on your goals and on your definition of success. If your objective is simply to share your experiences and to have a virtual place where friends and family can keep updated with you, a personal blog can certainly be successful.
On the other hand, if your objective is to promote your ideas, market your business or make money with your blog then you should choose a more specific topic. Ideally you will have some expertise and passion around this topic, and it will also provide useful information for your readers.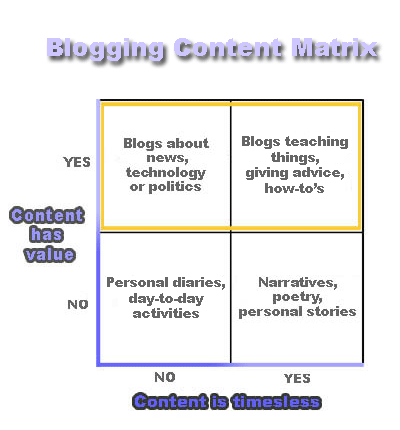 The Blogging Content Matrix is a two-by-two matrix illustrating 4 possible types of content. The vertical axis divides content that has value from content that has not. Bear in mind that value here is defined as being useful to a large number of readers. Personal diaries or poetry, for instance, will obviously have value for a certain segment (i.e. Friends), but that segment is too small to be considered. The horizontal axis divides timeless content from content that is time-bound like news or current events. Below you will find a description of the 4 possible cases:
Content is valuable and timeless: The first case refers to content that is valuable to the reader and does not depend on time. Blogs in this category usually give advice, share tutorials or explain how things in a certain field work. Alternative they can also provide entertainment or create a community around the topic. Examples include Copyblogger, Creating Passionate Users and Guy Kawasaki.
Content is valuable but time-bound: Blogs in this category will provide useful information for the readers, but such information is useful only for a certain amount of time. Those blogs usually publish several posts daily and the topics range from general news to technology, politics and celebrity gossip. Examples include TechCrunch, PerezHilton and DailyKos.
Content does not have value and is timeless: The third case refers to blogs that publish personal ramblings, poetry, narratives and the like. As mentioned before, this content will certainly have a value for some people, but those segments are too small to generate enough traffic. Bear in mind that some bloggers achieved tremendous success sharing personal experiences (i.e. Steve Pavlina), but the focus of their content is always on how those personal stories can help the reader and not on the stories per se (meaning that the personal experiences actually have value for many people).
Content does not have value and is time-bound: The last case involves the classic online diary where someone will share his daily activities. Famous people and celebrities could probably make a successful blog using such a model, but this is not the case for the average blogger.
In conclusion, if your objective is to promote your ideas, your business or make money through a blog you should be structured around the first 2 cases.
Browse all articles on the Writing Content category
25 Responses to "Blogging Content Matrix"
Daily Good Tips

My blog has general content..sometimes i write technology, mobile phone, blogging, software, etc. May be it has 50% good content and 50% bad content. Hi..hi..hi

Bang Kritikus

How to make good content…?

SEO Genius

I do agree that news blogs do not have timeless content that will be read continuely but they usually do have content which will be uploaded daily and a never limited supply of articles to write.

CPBJ

It is such a great article for content writer.

limewire

Hi boys!d98abff7a2b023f2cc6b953ebaa3a144

AL

Thanks for the explanation. Good to know where I stand as a blogger and focus on creating better value in what I do.

Daniel

Sarit, it would be my pleasure to be featured on your blog. Also feel free to use the matrix picture.

Sarit

Daniel, I'm an Israeli blogger and I would like to write about this post in Hebrew. Would it be ok if I tranlsate parts of this post, in order to write a summary and then link to your post?

Thank you,

Mark Alves

A similar grid could help demonstrate a blog's comment policy by highlighting the types of contributions you consider high value on one axis and relevant on the other.

Daniel

Jim, definitely, the examples of content I used on the quadrants are not strict rules, some of the content could be located anywhere as you pointed out.

Dawud, of course the concept of "timeless-ness" is not a clear-cut (even some physics theories could be proven wrong 50 years from now), but overall I think we can arrive to an agreement as to what is timeless and what is not for the majority of the readers.

Thanks for everyone commenting, the ideas are surely honeying my views about the issue as well.

Jim

Like the other commenters, I think you've got this basically right. As you say, there will always be exceptions and the boundaries aren't always clear cut.

On my site I recently made a foray into a quadrant I normally wouldn't aim for by hosting an academic poetry contest where the goal is to produce the best haiku summarizing original research. I normally would've steered FAR away from poetry (it calls to mind too many Angelfire and GeoCities personal websites), but in this context it's an entertaining way for academics (grad students, professors, etc.) to rethink their work and, in a way, advertise it to others. And I threw in a cash prize to boot. (Read: entertainment, community building, value.)

In other words, the examples of content that you provided in your typology (e.g., poetry and narratives) are not necessarily locked into particular squares. I think your mention of Steve Pavlina illustrates this well–it's what you do with the material that counts.

Rhys

As somebody who considers himself to be a "personal blogger". I feel that whilst bloggers don't traditionally make a lot in the traditional sense (i.e. adsense and the like), we do more than make up for it in the non traditional sense.

For example, a few of my stories have been picked up by media outlets. I've yet to actually make money from them, but the exposure my personal experiences have given me have had a knock on effect with higher adsense earnings etc. There have been cases (particularly in areas of the UK) where people have written books.

I do agree with what you are saying as well, good content will always be popular. I suppose it's easier to write a good guide than a good story….

Dawud Miracle

Overall, I agree with your chart. I might tend to lean a bit toward Wendy, though, as well, but with a different guise.

I think one of the beautiful things about the web is that there's something for everyone. If you're building a business – it's there. If you're into parenting or gaming or tennis – you'll find it. Saying what is timeless content is a bit like making that decision for people. While many would agree that personal diaries hold little long-term value, others might disagree. How about those doing cultural research 50 years from now. Or how about moms being able to look at other moms' experiences to help them work with their own. I could go on and on, but I think I'm making my point.

The idea of content being timeless or having value is really in the eye of the beholder.

And I like Guy, Copyblogger and some of the others you've mentioned as well. But in five years their approaches and marketing knowledge may be arcane as well. So we can't assume just because someone is on the top of their game now, that things may not shift dramatically on the web and much of Guy's ideas become useless.

Daniel

I corrected it, thanks for pointing out.

Wendy Piersall :: eMom

PS – there's a typo in your graph. 🙂

Great post!

Daniel

Wendy, for sure there are many exceptions and many different possibilities to have success with a blog.

But if you look at the Technorati Top 100, for instance, you will see that some 85% of those blogs fall on the top quadrant of the matrix.

Good point anyway, thanks for commenting.

Wendy Piersall :: eMom

OK, I'll bite. 🙂

I think that generally speaking, you're right on the money. But Dooce, Amalah and Finslippy are mom blogs writing about everyday life. Certainly, they are the brunt of many mommy blog "jokes" in the blogosphere – with insults thrown at their lack of substance and daily drivel.

Yet, Dooce made the 'almost there' list for the Forbes top 25 internet stars a few weeks ago. And all three are bringing in plenty of cash.

And in the bigger picture, 100 years from now, I would hope that the wisdom of the greats such as Brian, Kathy and Guy would be more common knowledge as their ideas spread. Their blogs would not stand out from the pack in the future.

But cultural archeologists will have a field day with the day to day diaries of now.

Sure makes it a bitch to monetize them, though, when their highest value can't be found in the author's lifetime. 😉
Comments are closed.