Bloggers Face-Off Roundup
We have already completed 10 editions of the "Bloggers Face-Off", and the feedback was outstanding. Just think that some of the matches received over 500 votes.
Instead of featuring a new edition, however, I decided to do a roundup this week. Below you will find a link to the previous face-offs, with the winner highlighted inside the brackets.
There is also a voting session to declare the overall winner of the first 10 editions. Notice that there are 12 candidates because there was no voting on the first edition and because we also had a tie. Next Tuesday we will have a fresh face-off, stay tuned!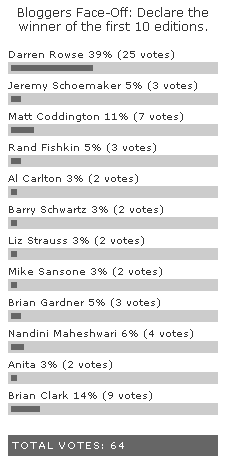 Browse all articles on the Bloggers Face-Off category
10 Responses to "Bloggers Face-Off Roundup"
Collis

I must admit I always thought this was one of the cleverest viral techniques I've seen in blogging.

Anyways Daniel, when are you going to ask me to face off with someone 🙂 Find another freelance blogger!

Daniel

thepaperbull, this would be nice. The only problem is actually getting two high profile blogs to do that hehe.

thepaperbull

The faceoffs were a clever idea though it maybe time for a little different spin.

Like pick two high profile blogs and give them the same subject to blog about. See which one can create the biggest stir / comment pile.

Community Building Blog

I was a little late getting into the blogosphere to fully enjoy the first face-off.

I can't wait for the next installment!

– Martin Reed

Paula Neal Mooney

I love these face-offs!

The ones that included blogger salaries helped me created this post:
Paula's List of Blogger Salaries…Are you on the list?

Thank you so much.

I hope to be featured in a future face-off!

Paula

Daniel

Thanks Shawn. It started really casually from the idea I had to create double interviews, and people really liked it.

Hopefully the next 10 editions will be just as fun.

Shawn Blanc

I think your blogger face-off is one of the best things you've got on this site.
Comments are closed.