Bloggers Face-Off: JohnTP vs. Everton Blair
This Tuesday we have two experienced online entrepreneurs on the Bloggers Face-Off. They have been playing on the Internet for quite some time, and it is no surprise the amount of money that they are making from their websites.
JohnTP is the man behind the homonymous blog, which is very popular on the technology news and blogging tips sphere (in fact the blog is ranked on the 12th position inside the Top 25 Blogs About Blogging list).
Everton Blair is our second blogger. He owns two blogs, the most popular being Connected Internet. If you are interested on technology, gaming, mobile news and gadgets this is a must read blog. Now to the interview!
| | JohnTP | Everton Blair |
| --- | --- | --- |
| 1. How long have you been blogging? | Since November 2005 | 2 Years |
| 2. How many hours do you dedicate to your blog daily? | It varies as I have 3 other sites that I have to work on too | An average of 1.5-2 hours per day. This doesn't include time spent reading industry news, feeds etc |
| 3. Do you make money with the blog? | Yes. Main income source is AdSense. I earn around $5000 from my blogs | Yes. In 6 months I've managed to increase my earnings from a few hundred dollars a month to currently around $8k per month |
| 4. How many page views does it generate daily? | Around 9000 | About 17K per day |
| 5. What is the biggest blogging mistake you did? | Not commenting on other blogs…I stopped when someone started making bad comments on other blogs in my name | Not buying a .com domain when I started, I really underestimated the global nature of the web, and the overalldominance of the US |
| 6. How long should a blogger wait to monetize the blog? | A blogger should wait until he has around 500 unique traffic per day | Start as you mean to finish….I really don't buy into the argument that you should build up traffic first. Good content is what will make your readers stay, not the lack of ads |
| 7. Digg, Stumble Upon,Delicious or Netscape? | None. I prefer Blogg-Buzz , a Digg like site for bloggers | Digg can deliver impressive spikes, but SU delivers much more nicely balanced traffic and 'nicer' readers |
| 8. How many RSS feeds do you track daily? | Around 100 | About 70 now. They aren't all tech-related |
| 9. If you could give an advice for a novice blogger, what would it be? | Do not blog just for money and do not monetize a blog too early | Find similar bloggers who you can grow with and form partnerships i.e. share tips and constantly link to each other |
| 10. How important is the design aspect? (0 to 10) | 6 | Less important these days, as there are dozens of well thought out WP themes like TypoXP Reloaded available 'off the shelf' |
| 11. If you could read only one blog, which one would you pick? | Problogger.net | Techmeme. It never misses the important stories |
| 12. What is the secret of your success, expressed in one word? | Content | Experimentation |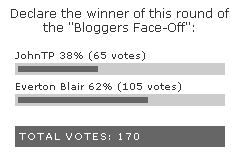 Browse all articles on the Bloggers Face-Off category
33 Responses to "Bloggers Face-Off: JohnTP vs. Everton Blair"
Peter

Nice face off. Both of them have good strategy to build their online income. btw vote for johnTP 😉

Bang Kritikus

Yes, agree with Ibrahim make a category Bloggers Face-Off

Thilak

You are a Sane ! Your blog Sucks !

kabalweg

Post like this inspire me to blog more. I hope I can sustain blogging for life.

Daniel

Thanks Ibrahim!

Ibrahim

Hey, I know this is not of my business but I think you should link to the main category that Daniel use. Bloggers Face-Off

TechZilo

Thanks for the heads up, Daniel.

I'll link to source duly.
But, which post should I link to? Do you have a central page where you list all comparisons?

Daniel

Sure!

TechZilo

Daniel,

I am thinking of doing a comparison series, on hack bloggers. Can I? I thought I should get permission from you before I do, since it is modelled on it.

Garry

I voted for Everton. I couldn't decide between them, but John looked a bit miserable, even though he earns $5k from his blogs, so Everton won it.

scottalk from Swamble

Things are certainly heating up here, may the best man win! This friendly competition would be perfect for Swamble! What's are you guys willing to put up for stake? EB? John TP?

Get your Swamble on,

Scott (aka scottalk, BIG scott)

kuanhoong

I started with John's blog. But now I found Everton's blog.

IMHO, Both are equally good 🙂

Everton

my 1.5 hours doesn't include time reading news, which I do throughout the day on my PC and N95.

I also spend time during the day thinking about what I want to post and say when I get home, which saves time, as I just spend my time writing and getting my thoughts onto the site.

horisly

well, JohmTp is a good guy. vote him

Thilak

Everton's posting frequency is awesome, can't believe he spends just 1.5 hours per day.

And JohnTP has a super cool community around his blog. I won't vote on this one 😉

Everton

Thanks to everyone who has voted so far, and I'm glad that our answers are proving helpful

I think it's also good to introduce the ads straight away so that the loyal readers you've built up who are used to no ads don't get alienated. E.g. I think Daniel might have difficulty if he decided to introduce ads in the future as so many people are used to no ads on this site.

I think he should do it though, but they would have to be introduced very slowly and carefully.

Dennis Bjørn Petersen

Great idea and good answers. I am still not sure when to moetize our blog, but I will go with Everton's suggestion. I don't feel like the ads are "scaring" people away.

Vincent Chow

Voted for Everton, although I subscribe both of them.

GoddessCarlie

I voted for Everton!

I love these posts, it gives a nice insight into them. 🙂

sindhu

my vote > john!! 🙂

Daniel

John thanks for participating.

Ibrahim, yeah they have some similar stepping stones, but they also used different strategies sometimes.

Ibrahim

Oh….My vote will go for….Everton! 😉

Ibrahim

great post!
Everton's and John's blogging career is almost the same.

JohnTP

Thank you Daniel for featuring me in the wonderful Bloggers Face-Off series. I just love the idea 🙂

listikal

Gotta go with Everton on this one. He really communicates with his readers well and he helps me out quite often.

John does all of the same as well, but Everton has helped me out more since the beginning.

Daniel

Thanks for participating Everton! I had a lot of fun as usual. And on this edition the two bloggers had opposing views on some of the questions :), which is nice.

Everton

Just spotted the pingback – thanks for featuring me!

"homonymous" – definitely my new word for the month! I had to look it up lol
Comments are closed.