Bloggers Face-Off: J. D. Roth vs. Trent Hamm
The "financial advice" niche is a very popular one. If that was not enough, those two guys are also the crème de la crème there. Together they count more than 35,000 RSS subscribers, despite having started their blogs just over one year ago.
J.D. Roth is the man behind Get Rich Slowly, and Trent Hamm is the author of The Simple Dollar. Both blogs are focused on personal finance and money tips. If you want to solidify your financial position or make investment plans, you should definitely grab their RSS feed.
There are many interesting points on their answers, check it out!

J. D. Roth

Trent Hamm
1. How long have you been blogging?
I've had a web site since 1994. I started my first web journal in 1997. I started my first blog in 2001, and have written almost daily ever since.
I've experimented off and on since 2003, but I didn't start seriously until November 2006
2. How many hours do you dedicate to your blog daily?
I probably spend six hours a day on blogging related tasks, of which four hours are spent on Get Rich Slowly
3 to 4 hours
3. Do you make money with the blog?
Recently I've made a couple thousand dollars per month. That's not enough to quit the day job, but it's enough to give me hope
Yes. My average month since inception has put about $500 in my pocket; it
grows every month
4. How many page views does it generate daily?
Get Rich Slowly generates just under 15,000 pageviews per day
About 20,000 on an average day
5. What is the biggest blogging mistake you did?
For a while, I used copyrighted photos with no regard to the law. One photographer discovered I had used one of his photos and confronted me. I was wrong, and I admitted it
I mis-formatted all of my links to Amazon for at least three months. It was a really terrible move, since I review two books a week and occasionally reference other ones
6. How long should a blogger wait to monetize the blog?
There's no one right answer to this question. Some blogs can be monetized immediately. (This is, in fact, the best way for most blogs, I think.) Some should never monetize
Do it right at the start, but don't do anything that you personally find annoying on other blogs. Readers will find it annoying on your blog and not come back
7. Digg, Stumble Upon,Delicious or Netscape?
Not Digg. The others are fine, though I tend to prefer del.icio.us
Out of those four, StumbleUpon. If you included reddit, that would be
near the top, though
8. How many RSS feeds do you track daily?
Let me check: NetNewsWire says that I'm reading 188 feeds. I need to
weed some of those out. I've been feeling overwhelmed lately
Only J.D.'s feed. Just kidding – I read about 100 a day using Google Reader
9. If you could give an advice for a novice blogger, what would it be?
Practice, practice, practice. Success does not happen overnight. In fact, it may never come. But if you're passionate about your subject and you write well (and often), readers will find you
Write good content above all. You can tweak your design any time, but great content is timeless and will always bring in readers
10. How important is the design aspect?
Zero. I've seen some butt-ugly blogs that have fantastic content. I've seen some beautiful blogs that are worthless. Too many new bloggers spend all their time tweaking their WordPress template. Knock it off. Go write
Six. Don't be offensive with the ads. If you start to get popular and you're not incredibly comfortable with design, hire someone to design custom for you
11. If you could read only one blog, which one would you pick?
Tough question! Believe it or not, I'd probably choose kottke.org
Copyblogger
12. What is the secret of your success, expressed in one word?
Dedication
Content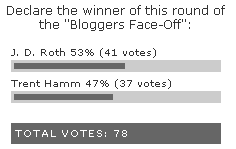 Browse all articles on the Bloggers Face-Off category
20 Responses to "Bloggers Face-Off: J. D. Roth vs. Trent Hamm"
Bang Kritikus

Dedicated just not content

Kathy

Trent Hamm is a liar and a plagiarist. No one should read his totally contrived website. In fact, he's facing civil litigation from one of his plagiarism victims.

Daniel

Well I guess there was no rivalry between you guys so it was a calm face-off.

When people get heated they voting goes crazy, we had previous face-offs with over 500 votes :).

J.D.

Well, a huge lead in proportion to the vote, but never bigger than nine votes. 🙂

Trent

This vote ended up being closer than I expected. J.D. had a huge lead early on, but I kept picking up votes over the long tail.

Stop Swimming

Man, this is hard! Both are my faves!

60 in 3

JD, you need to changes your last name to Eggs. Then we could get you both to run for president under the slogan:

"Hamm and Eggs in '08!"

Just kidding 🙂

Love both your blogs,
Gal

Armen

One of the best Face Off's so far. Top bloggers!

Ben

Great face-off, these are two of my favorite sites! I think these guys are good examples of how great content is the key to any successful blog.

Ramkarthik

Oh this is cool. But I don't know whom to vote. Let me go through their blogs and then vote.

Daniel

Haha you guys do look like the "personal finance" twins!

voting session is open until Friday by the way.

Jamaipanese

interesting post, learnt a lot 😀

GoddessCarlie

It's interesting reading people's views and stories in these posts. I love them!

J.D.

Trent will probably win. I voted for him.

Trent

J.D. will probably win. I voted for him.

Grace

JD Roth is winning… it will be interesting to see who is the final winner.

John Wesley

Great match up, though I wish it was a 3-way with Ramit Sethi thrown in the mix as well.

Danny at Money Socket

Two of my favorite bloggers!
Comments are closed.