Bloggers Face-Off: David Peralty vs. John Cow
It was about time to kick start the 2008 Bloggers Face-Off season, and I have two very successful bloggers lined up for this one.
If you read blogs you probably came across David Peralty's work already. He worked and wrote for several blog networks, and currently he is the marketing man of Splashpress Media, the company that controls Performancing and several other blogs. His most recent project is Xfep.com, a blog aiming to help online publishers to succeed online.
John Cow needs no introduction either. He created JohnCow.com, a parody to the original John Chow blog. Despite how it started, his clever ideas and marketing strategies quickly projected the blog as a resource for online marketers and bloggers alike. If you are trying to make money on the Internet, you should check it out.
Now to the interview!

David Peralty

John Cow
1. How long have you been blogging?
2.5 as a full time paid blogger, and 5 as a whole
Nearly a year now, although JohnCow.com is just over 6 months old
2. How many hours do you dedicate to your blog daily?
Ten to fourteen
It depends on our mood really. Some days its bedtime before we know it, other days we just press publish on one of the posts in draft and we go do other stuff
3. How many page views does your blog generate daily?
8000 on Xfep.com, at least ten times that through all the sites I write on
Looking at Alexa, about just as many as you Daniel 🙂
4. Do you make money with it?
Xfep.com is going to bring in $300 this month, though my blogging pay is a little more than ten times that
Yes, Private ad sales and sponsored reviews make us an average of $3,500 p/m and some affiliate marketing which can vary from $100 to $1000 per month
5. What is the biggest mistake you did along the way?
The biggest mistake I made might have been not sticking with Darren Rowse. I think I could have been in b5media right from the start.
That has yet to be made
6. How long should a blogger wait before monetizing his blog?
Monetize right from the start, helps users understand what to expect
We've jumped in from the get-go, setting the rates pretty high from the start, especially for a new blog, all to get across that we meant business. It just seems that a blog without ads is like a cow without spots these days
7. What will be the biggest social bookmarking site at the end of 2008?
I really hate to say it, but I think Digg
We don't see Digg going anywhere, despite the critics. Its just gotten too big too stop
8. What is the best way to gain RSS subscribers?
Repetition. Continually let them know that you have RSS, what RSS is, advantages of subscribing, how your subscribers are growing. Eventually, they will want to subscribe too

Bribes

Contests. Absolutely the number one method to gain subscribers. Beware that this is quantity over quality though. The twist here is that if you gain enough subscribers with contests, other people will follow due to an impressive amount of signups
9. If you could give one advice to a novice, what would it be?
Network with people. The more people you connect with online, the better off you are going to be. Job connections, breaking news, friendly advice will all pour in from solid connections you have made
Network. Make sure you're signed up for blogging communities and be active in commenting on their blogs. Other than that, read JohnCow.com
10. How many RSS feeds do you track daily?
I have finally pushed it down to 175 feeds. Of course this is thanks to TechMeme, PopUrls, and other such sites aggregating content for me
Our RSS reader (Vienna) had about 75 feeds before we reinstalled Leopard. Now we've got about 15, adding a few each day.
11. If you could read only one blog, which one would you pick?
My interests are so varied that no one blog would fulfill my needs. I guess I would pick Sarahintampa. Great blog that covers a wide variety of the things I am interested in, though she doesn't post nearly enough
JohnCow.com, not just because we love ourselves, but if we wouldn't be able to read it, what would be the point of writing it?
11. What is the secret of your success, expressed in one word?
Persistence
John Chow (oops, thats 2 words)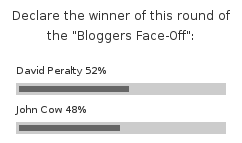 Browse all articles on the Bloggers Face-Off category
21 Responses to "Bloggers Face-Off: David Peralty vs. John Cow"
walter french

Hi, John, I just started reading your johncow.com bus op,I started out with
enthusiasm and read up to the first 26 of the 134 pages but twice up to now
you mention the word domain, do I take this as a webpage domain, reason I
ask is that I have sent off for many biz ops and they always require you to
have a website.I have read so many things that my brain seems to be in
meltdown and I would like to start on one thing and see it through as simply
as possible, hope you understand. Walt
Ps, the reason I haven't started anything to date is that I have not yet
found out how to create a web page

Gerard

Haha. I like the way JohnCow answers. That's the kind of person I would be interested to know whats going on in his head!

Adam

I don't see how David could win. He's boring. Reading his blogs is like listening to John Kerry give a speech.

-Adam

Muhammad Siyab

Nice face-off. Loved reading it.

P.S: Daniel, what about interviewing new and upcoming bloggers? It'll
help them become more confident bloggers, i think. 🙂

Jest my two cents!

Fat Kid Unleashed

I voted for the cow. His nonchalant attitude is always entertaining and his success has grown far behind John Chow's shadow. He has made his own "brand" 🙂

Coryan

Has there ever been a more honest answer then Cow's secret to success?!

But to add to the truth, John Chow might be the reason they visit…but content is the reason they come back, me included.

Derek

Nice face off. My vote went to David, just because I found his hard work a tad more inspirational… but I tip my hat to both of them.

sir jorge

John Cow is impressive just because of the age of the blog

CatherineL

Interesting Face Off – the Cow seemed pretty reluctant to let us know exactly how much traffic he gets though. Alexa isn't the greatest guide.

But there seems to be a massive difference in the amount of cash made from each blog. And it seems like sponsored ads and paid reviews bring in the most cash.

David

Thanks again for featuring me Daniel.

cohopk – Depends on the price you want to pay. Mosso and HostGator have been great to me… One is expensive (but I share it with 3 friends) and one is cheaper.

Daniel

chhopk, hosting a website or a blog is won't make much of a difference. Sometime I wrote about it, you can find it here:

cohopk

What do both of you recommend in terms of web hostings and blog hosts. Do you both use different hosts for each?

Daniel

Yeah I was also surprised to find such similar answers given that they have different backgrounds and different approaches to blogging and online marketing in general.

Nick

Wow, great comparative article!
I'm happy to see that these bloggers both share some of the same insight that I've heard from others. Mainly that networking is key!
As a new blogger, I find that finding people in your niche is key.
Thanks for the article!

Sucker

Haha that was a pretty good read, and even though Cow threw in a few jokes, some of the answers were very similar. (My guess is that Cow will win this one.) 🙂

Vikram

We have bloggers from two totally different back grounds here. It shows, you can be a successful blogger, if you adopt either ways described.

David here is Old School, who has come up with lot of hard work and consistent networking and blogging.

John on the other hand taken the path of a smart marketer. You should appreciate that fact that although anyone could have adopted the name that looks similar to John Chow, but to pull it off, with intelligent humor, is what Cow, has done really well.
Hats off to him there!

You both inspire bloggers from different backgrounds…..Thats why this would be a tough face off!

Good one Daniel!
Comments are closed.