Bloggers Face-Off: Danny Sullivan vs. Barry Schwartz
Welcome to the fifth edition of the Bloggers Face-Off. A couple of weeks ago we featured Rand Fishkin vs. Lee Odden, two SEO experts. The duel received a lot of positive feedback therefore I decided to do another round with SEO bloggers.
The two guys I am about to present are icons for the search engine industry. Danny Sullivan created the Search Engine Watch in 1997 and today it stands as one of the most important SEO websites on the Web. Late in 2006 he left the site and started writing for Search Engine Land where he is currently the Editor-In-Chief.
Barry Schwartz is the man behind the Search Engine Roundtable, another authority blog on the SEO segment, and he is also the News Editor of Search Engine Land. Those guys know their way around the Internet so I am sure you will get an interesting reading out of this face-off, check it out:

Danny Sullivan

Barry Schwartz
1. How long have you been blogging?
I've been writing on the web since 1996, but I've only used a proper blogging platform since 2004
Since December 2003
2. How many hours do you dedicate to your blog daily?
About 8 hours per day
No less than two hours per work day. Sometimes as much as four hours
3. What is your favorite social bookmarking site?
Delicious
I regularly use Delicious and Stumbleupon, but also enjoy Digg and Twitter
4. How many page views the blog generates daily?
We had about 6,250 on average in January 2007
On average about 20,000 pageviews per work day (not including any spikes)
5. What is the optimal URL structure for a blog?
That's tough. some people love keywords, but I prefer a date-time combination to make what I call rebuild-safe URLs
I use what I started with, domain.com/archives/
article-id.html (works well)
6. Do you make money directly from your blog?
Yes, we sell ads
Yes
7. Is Alexa a reliable measure of traffic?
No, it easily skews purposely or accidentally due to a variety of reasons
Not really
8. Do .edu and .gov backlinks carry a higher weight?
I believe so, to some degree
I think so
9. How many RSS feeds do you read daily?
About 200
I have about 350+ feed items (including feed searches)
10. Should the average blogger use sitemaps?
It's pretty easy to spit out an XML sitemap with blogging software, so why not?
Depends if they are having a tough time getting indexed. I don't use it for indexing, but I love the reports.
11. If you could read only one blog, which one would you pick?
For search SearchEngineLand, but at the moment I'm probably enjoying Pronet Advertising the most
SearchEngineLand
12. What is the secret of your success, expressed in one word?
Inclusiveness
Consistency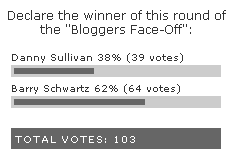 Browse all articles on the Bloggers Face-Off category
19 Responses to "Bloggers Face-Off: Danny Sullivan vs. Barry Schwartz"
Bang Kritikus

Delicious is delicious…?

kelvin newman

I'm loving these quick interviews, they give a nice bit of persoanlity behond the bloggers.

Manta SEO Solutions

err, jip, got it wrong there, mixed up time spent blogging with time spent RSS reading..

thanks Daniel, i think i'll spend the rest of the day looking for my lost mind…

Daniel

Manta, I am pretty sure they spend around 1 hour also reading feeds. Where did you get the impression that they spend 8 hours reading feeds hehe?

Question #2 refers to how many time they spend blogging, which includes writing articles, networking, sending emails and everything else that is directly related to the blog itself.

Manta SEO Solutions

I'm amazed at how many RSS feeds these guys are reading on a daily basis…

I allow myself to scan the feed titles on my reader for at most an hour a day. That leaves me with only 7-8 hours of work. If I spent 8 hours reading feeds and articles, no work will be done. 🙂

Perhaps it should be said whether they spend so much time reading those feeds or analizing them for their own blog posts and opinions…

Daniel

Todd, by the way when are we going to see you sitting on the Face-Off? I think instead of doing another round with 2 SEO experts we could feature you against a Tech or Gadget blogger!

Let me know when you have some free time, I would be glad to feature you.

Daniel

Roberto, I did not ask directly how much money they are making because their primary field is SEO, and the blog usually acts as a business vehicle (but yes the sponsorship plans on those 2 sites must cost a lot :)).

Barry, thanks for clarifying!

Todd

I asked Barry how I could possibly vote for him when he voted for Danny by answering "search engine land" to: 11. If you could read only one blog, which one would you pick?

He answered that he would only read his own posts 🙂

Barry Schwartz

I don't prefer Yahoo over Google. 🙂

Roberto Alamos

I miss another thing: An estimate of how much money are these two well-know bloggers making out of their blog/websites. It's good information for those of us that arrived later to this world of blogging.

Daniel

I might be wrong, but if I had to guess I would say Danny likes Google while Barry likes Yahoo! 🙂

Although since Google represents like 90% of online search I guess any SEO expert needs to work hard on learning how Google handles stuff.

Jerry

Didn't you miss anything? I'm sure the whole blogosphere is curious to know what search engines the top SE experts objectively prefer.
Comments are closed.