Bloggers Face-Off: Dan & Jennifer vs. Gayla McCord
Blogs became so popular because they are eclectic. You can write about virtually any topic and be successful, provided you have passion for it. The bloggers presented today illustrate this well.
Dan and Jennifer form the charismatic couple behind AskDanAndJennifer, a blog focused on dating, relationship and sex tips. Apart from being a very popular blog on that niche, it is also a creative one. Recently they started incorporating videos into the blog, with good feedback.
The second blog on this edition of the Bloggers Face-Off is Mom Gadget, authored by Gayla McCord. Gayla is a b5media blogger, and on Mom Gadget she writes about gadgets and working from home on the Internet. Check it out.
| | Dan & Jennifer | Gayla McCord |
| --- | --- | --- |
| 1. How long have you been blogging? | Just under a year | 3.5 years total |
| 2. How many hours do you dedicate to your blog daily? | 3-4 hours | Blogging is my career. I invest 8 – 10 hours per day in all my blogs, networking or promoting to some degree |
| 3. Do you make money with the blog? | Yes. $2000 in May. Sources include Affiliate Programs, AdSense, Text Link Ads, CPM Ads, Sponsored Reviews | Yes. mainly through direct ad sales |
| 4. Do you think any niche can be popular? | Absolutely, there's always demand. As long as you differentiate yourself within the niche and do something that no one else can do better than you | Absolutely – if the author is passionate about the topic |
| 5. What is the biggest blogging mistake you did? | We were estimated to get a PR 6 but we slacked off on promoting about three weeks before the update and our ranking dropped to a 5.8 | Not keeping my platforms current. I lost an entire blog and 2 years of content by not updating |
| 6. How long should a blogger wait to monetize the blog? | You can start monetizing your blog as soon as you start driving traffic! It's encouraging to see real money coming right away from doing something you love | Depends on the popularity, traffic and methods of monetizing. Subtle monetization can be done within a couple of months of a blogs launch |
| 7. Digg, Stumble Upon,Delicious or Netscape? | Amen! And Amen again! Our personal favorite is Netscape | I'll Stumble for Ya… |
| 8. How many RSS feeds do you track daily? | About 15, via NetVibes. | Currently I'm addicted to 120 blogs |
| 9. If you could give an advice for a novice blogger, what would it be? | Just get started – find other successful bloggers and do what they're doing. Don't sit around dreaming about what "might be" – DO IT! | Don't let anything stand in your way. No one is perfect and if they are they should practicing walking on water not blogging |
| 10. How important is the design aspect? | You don't need a custom designed theme, but your blog needs to look professional and give you credibility | If a design is tacky, cluttered or boring, they'll lose me from post one! |
| 11. If you could read only one blog, which one would you pick? | Steve Pavlina | Problogger |
| 12. What is the secret of your success, expressed in one word? | Promote, Promote, Promote! | Faith |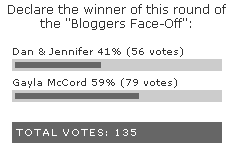 Browse all articles on the Bloggers Face-Off category
19 Responses to "Bloggers Face-Off: Dan & Jennifer vs. Gayla McCord"
Bang Kritikus

Fast acceleration for dan jennifer

Garry Conn

I am just now starting to follow both their sites. I have seen both poke their heads in on my blog a few times. This face off is a difficult one. I am glad that the votes are private, because I really like both. 🙂

Dawud Miracle

I'm just getting to know Gayla and really love her. My experiences with Dan and Jennifer have all been great and I hope to get to know them better in time.

I'm just not sure who to vote for…

Jennifer

Wow… Thanks so much for all of the wonderful comments and sentiments.

We are truly humbled!

Thank you all for participating.

Gayla McCord

I never thought about an answer quite like Aaron's, but it's a good one!

A draw option might not be a bad thing — after all, thanks to blogging, the world is getting much smaller, communities larger and friendships stronger 🙂

Thanks again for the fun Daniel!

And for the votes — everyone – regardless of how you voted 🙂

Daniel

You guys made me wonder if I should include a "Draw" option from now on :).

Daniel

My pleasure guys. You do have a loyal fan base eh!

Guess it is because of the great work you do, so keep it up!

Everton

Got to be Dan & Jen for me. Two of my most loyal readers, and the only dating and relationship content I have ever found interesting and engaging

Hans

Good luck to ya both, perhaps if we could vote twice, then we could vote for each one, solving the problem Wendy is having 🙁 and me too 🙁

Shaun

I think that was a very equaly balanced face-off, my vote went to Gayla though. Good luck to both.

Steven Aitchison

Great answers to some great questions. Dan and Jennifer have to get my vote, they have been a great help to me in promoting my blog.

I wish you both the best of luck.

Steve

Dan and Jennfer

Wow, thanks a lot guys. 🙂

And thanks, Daniel for the feature and the kind words. It's much appreciated.

Have an awesome day!
Dan & Jennifer

GoddessCarlie

I also agree that both gave a good, equal review. So I gave my vote to the person/people whose views are closest to mine 🙂

Today is that Day

Oh no, there will be no voting here!

I have found Dan and Jennifer to be of exemplary character as well as professionalism, and I would send anyone with relationship issues directly to their site, do not pass go, don't even go to Google!

As for Gayla, I have known her on a personal level and I have also looked at many of the things that she brings to the blogging community, and my respect for her has never been higher.

Sorry, but this contest is a DRAW as far as I'm concerned! 🙂

– Aaron

Char :: Essential Keystrokes

I agree with Wendy – this one is tough, both blogs are part of my daily reads. But I voted!

Wendy Piersall

Good thing you have anonymous voting because both of these blogs are written by dear friends! How could I ever choose? 😉
Comments are closed.