Bloggers Face-Off: Brian Gardner vs. Cory Miller
Daily Blog Tips was recently redesigned therefore I decided to match two bloggers that work as web designers. We all know that the design of a website is a key success factor. This edition of the Bloggers Face-Off should be interesting both to aspiring web designers and to bloggers aiming to improve the look of their blogs.
Brian Gardner is the man behind my current theme, and he also has an awesome collection of free WordPress themes around the Internet. Cory Miller is another great WordPress designer, you can find most of his work on the RockingThemes blog.
| | Brian Gardner | Cory Miller |
| --- | --- | --- |
| 1. How long have you been blogging? | I started blogging about 8,760 hours ago | Since July 2006 |
| 2. How many hours do you dedicate to your blog daily? | At least one, whether it be writing, or redesigning | In the early days, 1-2 hours a day or more. Now, about 20 minutes |
| 3. How important is the design of a website? (0 to 10) | 5 – Sites like MySpace drag that number down | 8 – As they say, "Content is king" but I believe it must be gift wrapped in a nice package |
| 4. Is the blog your main marketing tool? | Yes, especially my porfolio section | Not really. My free WordPress themes are the best marketing tool I have as a designer |
| 5. How long do you take to design a WordPress theme? | In some cases, when I'm on a roll, 2 hours. Others usually take 4-6 | I plan on 4 hours minimum |
| 6. Do you think Adsense units make a blog look unprofessional? | If they are placed in the right spots, and with the right colors, no | No. Properly designed, I think they can look professional |
| 7. What is the most common mistake on blog designs? | A lack of SEO and proper validation | Designs not based on your core strategy and objectives |
| 8. Fluid width themes are a good idea? | Never designed one, never will | For some, but I prefer fixed |
| 9. How much will I need to spend for a custom theme? | Depends on who does it. Mine usually run between $300-$500 | Minimum $200. But realistically, for something rockin' … at least $500 |
| 10. A theme should have one, two or three columns? | All of the above. Depends on the site's intent | Totally depends on your strategy, subject, goals, preference and blog personality |
| 11. If you could read only one blog, which one would you pick? | Whoorl | Impossible to pick just one |
| 12. What is the secret of your success, expressed in one word? | Perseverance | Grace, which means "I ain't that smart" |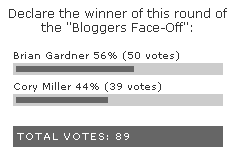 Browse all articles on the Bloggers Face-Off category
13 Responses to "Bloggers Face-Off: Brian Gardner vs. Cory Miller"
Dave – Belize Real Estate Expert

I voted with my wallet….I bought Brian Gardner's Revolution theme (1st gen) as soon as it was introduced….probably one of my best investments ever! I can't remember, but I"m pretty sure I discovered Brian Gardner and Revolution through this site either by direct recommendation by Daniel or by a box ad on the sidebar.

Ken Ivey – Murfreesboro Web Design Czar

Yes – I'll vote for BOTH, as Brian and Cory each have some very powerful and good-looking work out there. I've bought from both and have been very satisfied. They make me look good! 🙂

Arun Basil Lal

Oh man! Brian looks hot, I have never seen him this hot, usually he is a cool guy in pics!

🙂

Bang Kritikus

The useful face-off

Jim Edward

I think I would vote for Cory Miller. Brian Gardner looks mad. Probably because his revolutiontwo.com website is down again. I'm mad too because I just paid $150 + dollars for non-existent WordPress support.
I will give him the benefit of the doubt since he offered his WordPress themes for FREE and his traffic spiked. I suppose his server has crashed??? Hope your server company backed-up your db.

Kim Calakoutis

Brian, Whoorl is your favorite site, that is really funny! I need to send that link to my dad too!

Daniel

Andrew, the table was created with HTML.

Actually I am trying to that over CSS cause HTML tables are not optimal at all.

George

Those design prices are very fair, considering I have seen them range from about 200 dollar to 1500. With most designers charging over 500 for a custom theme.

Apparently, I wasn't looking in the right places.

Daniel

Yeah that face from Gardner is very serious :)! Although I can not say much, go to the about page and you will see my expression there is quite similar…

Brian Gardner

Randa, it's my Theron Parlin impression. No offense meant, I dig Theron and he knows it.

Randa Clay

Impossible to choose. Both guys are great at what they do. Brian looks as though he could use some cheering up though – so serious and full of angst! 😉

Brian Gardner

Hey Armen. Vote for us both – then you won't feel guilty, but can say you voted! 🙂

Armen

Man…that's a tough one! Both of these guys have helped me in some way of another.

It was nice of you to give these guys more exposure Daniel.
Comments are closed.