Bloggers Face-Off: Brian Clark vs. Chris Garrett
Welcome to the 10th edition of the Bloggers Face-Off. The feedback for this project was beyond my expectations, and the double interviews are becoming a corner-stone for Daily Blog Tips.
I am also very happy to bring two heavy-weights of the blogging scene this week. Brian Clark is the author of Copyblogger, an extremely popular blog with copywriting and online marketing tips (he needs no presentations, I know…).
Chris Garrett is a veteran on the web. He has been developing websites and online ventures since 1994. Recently he launched Chrisg.com, a blog about new media and blogging. Despite being 3 months old the blog already counts more than 2000 RSS subscribers. Let the battle begin!

Brian Clark

Chris Garrett
1. How long have you been blogging?
Using blog software for marketing purposes since 2003, blogging "proper"
since late 2005
9 years (Feb 1998 according to archive.org)
2. How many hours do you dedicate to your blog daily?
1-3
At least 4
3. How many page views the blog generates daily?
400-500K a month
Too few
4. What is the best marketing technique you have used?
Copywriting
Word of mouth
5. Do you make money with the blog?
Just starting to get into sponsorships. Copyblogger was not originally
designed to make money
Indirectly
6. What is the biggest mistake you did on your blog?
Letting Chris Garrett guest post. (Kidding!)
Going away on vacation without ensuring internet access
7. How many RSS feeds do you track daily?
100
It varies as I binge and cull, it has been over 1000 but probably around
400 now
8. If you could give an advice for a novice blogger, what would it be?
Focus insanely on your target reader
Your readers are human beings with real feelings, interests and needs,
treat them as such
9. Digg, Stumble Upon or Delicious?
Yes, thank you
Stumbleupon but Del.icio.us will always have a special place in my heart
10. Do you think Adsense makes a blog look unprofessional?
It depends on the blog. I didn't find it appropriate for Copyblogger
Too much of any advertising looks spammy
11. If you could read only one blog, which one would you pick?
Seth Godin
Scott Adams Dilbert blog
12. What is the secret of your success, expressed in one word?
Copywriting
Caffeine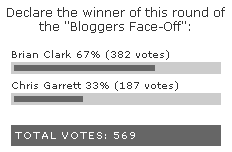 Browse all articles on the Bloggers Face-Off category
20 Responses to "Bloggers Face-Off: Brian Clark vs. Chris Garrett"
Debbie Ferm

Eek! They are both so generous with their content, and equally cute of course:)

I voted for Chris because he was getting trounced, and I always root for the underdog. Lame. I know.

Bang Kritikus

To be copywriter must have high ability in promotion language

Barry Morris

Chris gets my vote.

A.M.Sall

I'm in a terrible quandary. This is real torture! I honestly don't know which one to vote for! They are both colossal! Can I vote for BOTH!?

Art of Speaking

Voted for Chris especially because of questions 6, 9 and 10

Cristi

He has (as you say in sports) "the touch"

Daniel

Yeah you got to love Dilbert's blog!

Actually I am not such a fun of Dilbert itself, but Scott Adams do share some interesting stuff on his blog.

Chris B

My vote for Chris because of the Dilbert answer 😛

Chris Garrett

What can I say, I read copyblogger myself and I knew going into it I would get soundly thrashed. Fun though 🙂

Daniel, the "other" Chris Garrett is in fact a blogger also but younger and better looking 😉

Daniel

Another Chris Garrett? And you are also an online publisher? 🙂

Jack

Voted for you Chris, though I do like copyblogger too…I do read chrisg.com first.

Chris Garrett

Gotta be the man CG… and not just 'cos he has the same name as me…

Mike

Brian wins on the basis of the fact that I've starred more of his items in Google Reader than Chris…but only just!

Damn them and their infinitely readable content…

Daniel

Adam, yeah that is a point. It is like Jeremy Schoemaker, if I am not wrong he said he blogs for 1 hour daily on his face-off, yet he makes $10,000 monthly from the blog.

Adam Kayce : Monk At Work

I dig 'em both. Both are in my Reader.

I'm not saying who I voted for, because who cares? I'm commenting because of Michael's "analytical" comment…

"#2: Dedicates more time" ? I'd award that one to Brian, then. (I wouldn't want to spend all day blogging, personally… not if I could get the job done in less time…) Just my $.02.

David

I came across Copyblogger through Chris via Sean D'Souza of 5000bc. So Chris gets points for that. But being a writer who's learning copywriting, I just have to vote for Brian Clark because of the powerfully simple way he teaches copywriting. It's been a really blessing to me, and his blog has a firm place in Google Reader.

Daniel

Roberto, yeah I discovered Brian's blog about 1 year ago and it is one of the feeds I would not remove from my reader.

Then again I also read Chris' stuff daily hehe.

Daniel

Michael, that is a very analytical interpretation :)!

Michael Sass

Comparing the answeres to the questions, Chris wins. Here's why…
1. Blogging longer
2. Dedicates more time
3. Loses this one
4. Better technique
5. Tie
6. Wins by default
7. Tracks more RSS Feeds
8. Tie
9. Wins by default
10.Tie
11. Tie
12. Loses
Results:
Chris=6 wins 4 ties and 2 losses

George

Hey, that is one the best face-offs by far.

I guess it will be a close one also.
Comments are closed.