Bloggers Face-Off: Anita vs. Juergen
It was about time to bring some comedy-entertainment bloggers inside the face-offs. The humor-comedy niche is an interesting one, while some popular blogs like Boing Boing do bring entertainment stuff into their content there are few blogs focused exclusively on that.
Anita is the founder of Say No To Crack, a humor blog that is growing very fast. It was created in 2006 and it won the 2007 Weblog Awards under the category "Best New Blog". Juergen is the author of Random Good Stuff, another very popular blog that talks about gadgets, games and weird things. Check it out!
| | Anita | Juergen |
| --- | --- | --- |
| 1. How long have you been blogging? | Since October 2006. Before that, I didn't even know what a blog was | I started blogging one and a half years ago but refused to call it "blogging" back then |
| 2. How many hours do you dedicate to your blog daily? | Up until the end of March, I'd spend about 4 hours, seven days a week. Now I spend 1-2 hours daily | Way too much time – let's say 3-4 hours a day, so people don't think I'm crazy |
| 3. Do you make money from it? | We've been experimenting with a few different ad vehicles but we are still in the early stages of testing | Yes, it's mostly generated by affiliate sales |
| 4. How many page views the blog generates daily? | In March, the site averaged about 15,000 pageviews per day | The last couple of days have been pretty good, around 7000 |
| 5. What is the best promotion technique you have used? | Commenting on savvy bloggers' blogs. This ensures my interesting posts get submitted to the social networks | I run competitions from time to time but building up a network to other bloggers really helps |
| 6. How many RSS feeds do you read daily? | About 20 daily, 200 weekly | It's well over 200 |
| 7. What is your favorite social bookmarking site? | StumbleUpon | Stumble, because they have the most link love for RGS |
| 8. If you could give an advice for a novice blogger, what would it be? | First focus on building a loyal community, then on building traffic, and finally on monetizing your site | Don't give up. If you really want to make it, you can. Look at RGS: I'm German, and my English spelling and grammar is a nightmare, but people love it |
| 9. How important is the "fun" factor for a blog? (0 to 10) | 6 – It really depends on the purpose of the blog. I think any successful blogger has a sense of humor though | If it's not fun it's not RGS, so I'd say "11" |
| 10. Do you think there is an ideal posting frequency? | At least once per day, but posting should be limited to 1,000 words per day | I try to post 4-5 stories a day |
| 11. If you could read only one blog, which one would you pick? | Neatorama.com | Notcot.org |
| 12. What is the secret of your success, expressed in one word? | Content | "Blogging addiction" |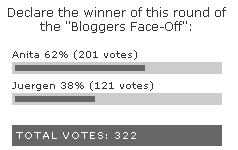 Browse all articles on the Bloggers Face-Off category
22 Responses to "Bloggers Face-Off: Anita vs. Juergen"
Bang Kritikus

Content quality and quantity in our blogs make success

drew

they're both really good quality sites, but say no to crack is just really wordy, so my vote goes to rgs

tanguy

RGS… not as good-looking as Anita, but his content is more appealing to me.

Anita

Haha, I wish Maki. Maybe I'll post a newer picture sometime and see if you think the same thing 😉

Maki :: Dosh Dosh

Anyone else think Anita look like Scarlett Johansson? 🙂

RGS

Thank you all for who voted for RGS and also a thank you for the SNTC readers who might have subscribed to my site..

Deputy Dog … I am working on the looks .. got couple of sharp knifes and found this great site " Look better in just 10 cuts"

DeputyDog

It's gotta be Jeurgen, great site and really welcoming.
Just a shame he doesn't look like Anita.

Rhea

I enjoy both sites, but I read Anita's regularly these days.

Daniel

Looks like Juergen is making a come back actually, I guess his supporters are starting to vote hehe.

yash

voted for Juergen……..coz RGS has a bit wider range of coverage as compared to Say No To Crack….however, Anita with pretty good photo but won't work here coz it's Juergen who'll lead the way…get goinnnn Juergen…. 🙂

Nandini

This face off is really heated up, but it would be really tough for Anita to beat Jurgen (surprisingly she is leading at the moment). Jurgen has a great sense of humour and it reflects in his posts. Go Jurgen Go!

Daniel

Chris, I was expecting that she would earn lots of votes for the photo alone… 🙂

I read both sites and I think they are great, but any weapon goes!

T4td

I vote for RGS – it has a much greater variety of content than say no to crack.

Chris

I'd have voted for Anita anyway, but after seeing her photo…..Can I vote twice?

😉

Daniel

Rishi, that is true, sites that bring something new into a segment usually have success, that was the case with Say No To Crack. They already have 1300 subscribers also.

Busy Mom

I love both of those sites, but, I'll vote for Anita.

Rishi

My vote for Anita. Say No To Crack is something very innovative.
Comments are closed.