Bloggers Face-Off: Al Carlton vs. Vic Da Silva
After featuring Probloggers and affiliate marketers, online money making gurus and SEO experts it was time to introduce some gadget bloggers! Gadget blogs represent one of the most popular niches on the Internet so this edition of the Bloggers Face-Off should be stimulating.
Al Carlton started Coolest-Gadgets about one year and a half ago, and the blog is already generating over 30,000 page views daily and counts more than 20,000 RSS subscribers. Vic Da Silva is the owner of UberReview, a popular gadget reviews blog (which is also very well designed). Let the face-off begin:
| | Al Carlton | Vic Da Silva |
| --- | --- | --- |
| 1. How long have you been blogging? | seriously for 18 months | 2.5 years |
| 2. How many hours do you dedicate to your blog daily? | Varies a lot, some days if I find a lot to write about I do 5 hours or so | 3-4 hours |
| 3. Do you use paid writers? How many? | Yes, I currently have 5 paid writers, and I am currently looking for more *hint hint* | Yes, I have 2 great writers |
| 4. What is the average number of daily posts on the blog? | Between 10 and 15 I think | 5-6 posts |
| 5. Have you ever invested money in promotion? | I paid for an advert in a newsletter once when CG first started | Never |
| 6. How many page views the blog generates daily? | 30,000 | 7,000 |
| 7. What is your favorite social bookmarking site? | Probably Stumble Upon for consistent traffic but Digg is cool for the big spikes | A combination of Digg and Reddit |
| 8. What is the blog's monthly revenue? | $10,000+ | Enough to keep me happy |
| 9. What is the main revenue generator? | Adsense but I have a nice spread through other programs and private sales | Text Link Ads |
| 10. Is Alexa a reliable measure of traffic? | Nope, it's useful to compare similar target audience sites I suppose | One of the worst tools to use |
| 11. If you could read only one blog, which one would you pick? | From a gadget and tech news point of view it would be Gizmodo | Gizmodo |
| 12. What is the secret of your success, expressed in one word? | Persistence (bastard question though, thanks Dan) | Moxie |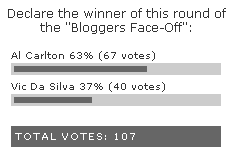 Browse all articles on the Bloggers Face-Off category
15 Responses to "Bloggers Face-Off: Al Carlton vs. Vic Da Silva"
Albert

I would have liked to know how many RSS feeds they subscribed to. This is probably the best question to ask these 2 people! since they run gadget blogs and obviously require many streams of info. Can you please get that info and add it on for me DBT? I've subscribed to this thread's comments.

Herupotter

Nice web please exchange link
my web emo-egold.com

Mike Panic

Vic,

Glad to hear it has positive effects, I'll be updating the just published post on my site, Big ass RSS icons suck =)

Daniel

Vic, thanks for sharing that.

Perhaps I need to increase the size of my buttons also 🙂

Vic

Hi Mike,

Thanks for visiting the site and for measuring the RSS button. I actually had no idea what the official size of the button was until now. I think Dan is right, it depends on the site and in my opinion the large RSS button suits the site just fine. We use large images, big titles and the sidebar has more than enough space to accommodate it.

Why is it half way down the page? We have 2 RSS buttons on the site. A custom one at the very top right and the one half way down. I feel when people are reading, they naturally scroll down and it's easy to spot when you are done reading. Now here is the real secret about using the larger button. The day I placed the large button on the site was the single greatest jump in subscribers and that pace has not stopped ever since.

George C.

Great Post Daniel Good work! Keep it like that.

Mike Panic

I think you mean this one which he doesn't use on a daily basis. But seriously, the Uber icon is nearly below the fold on his blog, why make it big if its not viewable when you first go to the site?

Hmm… expect a rant about this in the next day or two, lol.

Daniel

Mike, haha its a matter of preference and whether it fits the blog or not. If I am not wrong John Chow created the biggest RSS button ever, I will look for the link.

Mike Panic

Unrelated: Ya know, I'm starting to really wonder how big an RSS icon needs to be. I thought that The Raw Feed had a huge one at 128px but Uber is at 153px!
Comments are closed.