Blog Rush Opens for Beta
Blog Rush (referral link) is a blog syndication network. It works around a widget that the blogger needs to put in his website, and the widget displays headlines coming from the blogs on the network.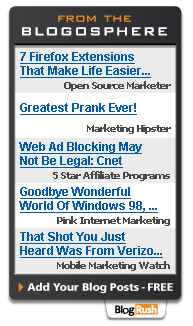 The goal of service is straight forward: to give you more traffic and readers.
There have been many similar services in the past, but Blog Rush is introducing some interesting innovations. First of all you earn "syndication credits" every time the widget is loaded on your website (i.e., one credit for each page view). If your blog has 500 daily page views, your headlines will be displayed on other blogs using the widget 500 times daily.
Secondly, you can also earn credits by referring people. Every time the widget is displayed on the blog of your referrals you will also earn one credit.
Personally I will not use the widget because I am trying to keep the design on DBT as clean as possible. If you are trying to find new readers and the widget fits into your template, though, Blog Rush could be an alternative.
Browse all articles on the Web Tools category
40 Responses to "Blog Rush Opens for Beta"
medyum

There are some posts about Blog Rush violating AdSense Policy.

Edward

I have it on my site and over valentine day I noticed that my traffic jumped through the roof. Still trying to figure out what happened but I think blogrush might be the culprit. Too bad I cannot check links from widgets yet on my site statistics.

blogr

nice thing. i too signed up.

Jacob Sikais

Blog Rush is on the right track and it seems like a great widget… I am spewing though that WordPress.com doesn't support Javascript widgets… we need to fix that right away!!!

Small Potato

Even if it fits your blog's design perfectly, you shouldn't try Blog Rush. Don't get wamboozled.

JTPRATT's Blogging Mistakes

funny thing about this widget is – the concept is basically "borrowed" from the adult industry (trading traffic, widget, etc.)…it only seems novel in the blog world.

TitoB

Hmm sounds interesting, will have to give it a go

take care & thx

Mike Panic

Scoot – John Chow has one on his site.

Daniel

I don't think so Lincoln, that is one of my main concerns as well.

Lincoln

Can the widget be resized? Inquiring minds would like to know before signing up. 🙂

Marko Novak

There are some posts about Blog Rush violating AdSense Policy.

Does anyone know if this is true?

JoeTech.com

I added it to JoeTech.com. It will be interesting to see if it brings any additional traffic. One upside is that it could bankroll overnight digg traffic if one of your articles hits the front page.

Scoot
Scoot

I HAVE TRIED OFF AND ON ALL DAY TO FIND ONE BLOG ON BLOG RUSH WITH THE WIDGET AND HAVE NOT FOUND ONE. I think we should all step back and think about weather we have been duped.

Mike Panic

I'll pass, I'd rather just do link exchanges with other quality writers and focus on making quality content.

Geoff Foster

Thanks, Daniel,

I put it up immediately I saw it!

Now all I have to do is wait and see …

Danny @ Blogs For Money

Interesting idea – I'll have to go sign up.

I like how you're not displaying the widget but by linking, earning credits and getting your blog shown ;D

WarriorBlog

Already signed up and ready to go! I didn't add their widget yet though…

Daniel

thewild, you can earn credits by referring people are as well. Also they might have used the widget and them removed it afterwards.

thewild1

I have it on my site. It seems like a good idea, but we will really see in the long run.
I clicked on some of the links that showed up, and these people didn't have the widget on their site.

Scoot

I kind of like the idea that it may help to spark a fire in visitors to my site, that there is a lot out there to read about, and so inspire them to get into this whole blog thing. In my area there is not a lot o' bloggin' goin' on out thar.

pearl

Its a nice widget and I think I'll add it for a few weeks and then take it out…

Daniel

Yep Everton, I thought it was clear enough, but I just added a parenthesis aside on the link to make it more.

As you know I am 100% transparent with all the stuff on my blogs.

Technobuzz.net

Nice widget

Everton

is that a referral url I see before me Daniel? 😉

Jamaipanese

nice widget but I'll pass for now

Rahul

Nice idea.. will use it on my new blogs.

Daniel

Another good strategy is to leave if for some weeks, in order to build a referral network, and then remove it if you think it clutters your blog.

Shankar Ganesh

Very interesting concept. May be I can put it in my blog's footer.
Comments are closed.