Best Firefox Add-ons: Screengrab
If you are tired of using the old Print Screen command to capture screenshots you should check this extension out. Called Screengrab, it allows you to take screenshots with much more flexibility.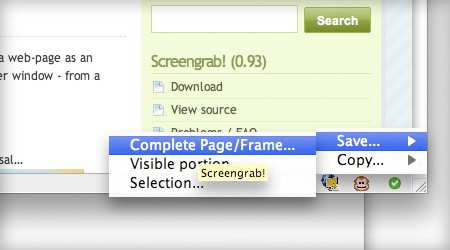 First of all you'll be able to take a screenshot of the entire page you are visiting. That is, the screenshot will contain even the parts that were below the fold.
Second, you can also manually choose a section for the screenshot, which is useful if you just want a small picture of the website to use in a blog post, for instance.
Finally, you can choose if you want to save the screenshots to the clipboard or as a file.
Recommended for any blogger and webmaster.
Browse all articles on the Software category
28 Responses to "Best Firefox Add-ons: Screengrab"
Nicholas

WOW! good find. This is a gread addon. I have always been using the print screen buttin, I guess I am old fashioned.

Paul

Thanks what a great addon. I had been using another one which works great but for a quick screen shot it is great. My other one doesnot capture the whole page, just what you can see or a selection within.
Thanks you always have great tips and they are FREE.
Paul

Rajnish Kumar

I am using Screen Grab form a long time and the best thing I like about that the function of full page screen capture, because none of the other screen capture add-ons providing this function.

Kakasab

Sadly, there's a bug in 0.96.2 with Firefox 3.6 (due to a deprecated API call – oops!) that causes a crash on any page containing Flash or Applets if you have Java enabled (sort of the reverse of the last major issue). 0.96.3 is finished and waiting for Mozilla approval to be released. That usually takes a few weeks.

Harsh Agrawal

Looks neat and clean but I would suggest use Snag It.. It has all the feature which you look for an screenshot software.. though it's not free but worth every single dime you spend on it..

Web Marketing Tips

Daniel I think you should start only one thread about the great plugin and simply adding new plugins at there.

Will be great resource for the new bie.

Ronald Redito

Before I use the hassle print screen on my keyboard. Thanks for this info. There are also cool free screen capture out there.

Kannan

@Himanshu,

I agree with your words… Fireshot is also the firefox plugin to capture the shot of the entire screen. I too use this one

Robert @ Techinfo-4u.com

Another great way to take screenshots if using the capture tool in Windows Vista and Windows 7. An even better one is Snagit though

Alex Dumitru

I've been using it some time ago, before I switched to Chrome and it's really good.

Web Marketing Tips

so for chrome which similar plugin you are using at the moment.

Many people is seeking for this kind of plugin in chrome.

Gary Deetz

Don't forget, "Grab" is included with every Mac, no plug in required.

Web Marketing Tips

all people are not using mac, so this one is quite useful to those people who are on pc.

Himanshu Chanda

I use a similar plugin called FireShot. It does pretty much the same things but has more features and is available on many browsers. Comes with a premium edition too, for those looking out for more.

Web Marketing Tips

will you please tell me what other facility fireshot is providing

Josh Garcia

Hey Daniel,

I've been looking for another plug-in the one I have I don't like it so much. Thanks for pointing this one out!

Chat with you later…
Josh

Devesh

Great Add-on. Hearing first time about it.
Will going to download it.

Thanks for sharing.

Web Marketing Tips

this is a firefox plugin not a software. But this one is time saving that fur sure.

Ankur

Nice Share.

I personally like the inexpensive SnagIt 10 from Techsmith for screen grabbing needs . It does this and beyond…

Web Marketing Tips

second person saying about snag it, so would love to give it a try. Though i am quite comfortable with this one so far

Mary Hunter

wow. this one looks great. really awesome. I could have used this one multiple times this past week.

With the last couple of firefox posts, you have (almost) convinced me to put firefox back on my laptop. (Older laptop, not much harddrive capacity, firefox got removed when I switched to chrome.)

Mary

Web Marketing Tips

i am sure you will find similar kind of plugin in chrome as well. Otherwise firefox is always there for us.

Sudeep

Had been a huge fan of print screen option but was it had limits.. I will try this new one and see how it works. Thanks for the reference.

Web Marketing Tips

believe me this one is going to save your huge time and this one is quite easy to use as well.

Curtis Andrew

I am a big fan of SnagIt, but I have not tried out screengrab. It looks really convenient. Thanks for the recommendation!

Web Marketing Tips

snag it that is also a new thing to me. Will try that one as well.

But so far i am quite satisfy with this one.

Joshu Thomas ( OC webmaster Blog)

Wow..that is new information for me Daniel !!
thank you again..

warm regards
Joshu Thomas

Web Marketing Tips

yes this one is quite useful. Now grabbing screen shot is a matter of few clicks.
Comments are closed.