Best Firefox Add-ons: LastPass Password Manager
If you are a web geek you certainly have dozens of passwords from different services and websites. Gmail, WordPress, Twitter, Facebook, cPanel, GoDaddy, you name it.
On top of that you also need to make sure that each password is unique, and preferably long and complex, else they would become a security risk.
How do you manage all that without going crazy? With a password manager, obviously. Password managers are programs that will store your passwords securely (i.e., with encryption), and you just need to remember the master password.
There are many desktop based managers, but there is also a Firefox add-on called LastPass that gets the job done.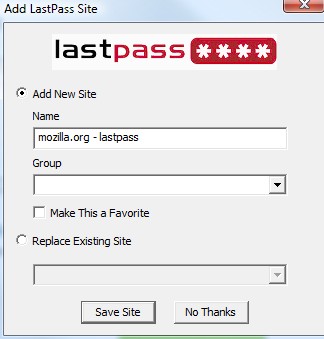 The advantage of using the extension is that you might sync it with different computers, and that you'll be able to auto-fill login forms, logging into your favorite websites with single click. It works on any operating system where you can install Firefox.
Browse all articles on the Software category
13 Responses to "Best Firefox Add-ons: LastPass Password Manager"
Kim

As my number of site logon's increases this has become a serious problem. I am still concerned about what happens if these sites are hacked so am storing my "less sensitive" logon information such as forum id's there. For other more sensitive information such as internet banking I'm going to stick with my memory.

Sheila @ Avaguide

This is nice but is this really safe? Are we sure that this won't have any security risks? I mean people who developed this, won't they have access?

Harsh Agrawal

You should also try xMarks addon..If you like to try new stuff..You would like it.,.!!

Harsh Agrawal

Daniel I would suggest give a shot to xmarks addon…It works for Firefox + Chrome and It syncs everything..That is one addon which I have been using for long time..!!

Barb

I've been using LastPass for months! What a huge relief! I have tons and tons of passwords to remember. Some for work, some for home, some for school. I even need three separate passwords to sing up for my exercise class! I had a little notebook with lists of passwords – one day I couldn't find it and had a panic attack!…..then tried to organize passwords – certain passwords for certain types of sites. It became a huge nightmare! I love LastPass! The whole password issue is a non-issue!

BlogTipss

This is my problem . Have dozen pasw and cant remember they all. 🙂 Thanks for great tip. i hope its secure add-on

Robbin Thorat

Remembering the password is vary complex story…….This is a nice tool and it is helpful to everyone…..

Samuel

Awesome add-ons Daniel, Thanks a lot for sharing this i will give it a try. Have fun.

zaki alakhdar

it is inconclusive to have a password manager as a Firefox add-on, because we mustn`t log in to our account from public computers, add to that where the passwords will be saved? in secure place?

Omer Greenwald

It looks like a decent add-on. However, as a web developer I really rather combine add-ons as often as possible because FF tends to be slow with so many extensions, this is why I used x-marks until now which also manages and synchronizes the bookmarks.
I have no experience with LastPass and it might be more secure than x-marks, also, with the soon coming FireFox 4.0 that should be as twice as fast as the current version, it can be a great solution.

Samir@Indihow

It's a great addon, but the problem lies in trusting third parties. Personally I'm not comfortable sharing my passwords with third parties, be it to import email contacts, save passwords or import other information.
The best way, in my opinion is to create a backbone for all your passwords and then modify it intelligently according to the particular site so that it is strong as well as easy to remember!

Daniel Scocco

Well you'll not be sharing your passwords. They stay stored on your PC locally and encrypted.

Harsh Agrawal

Daniel they store a copy of it online..Though in encrypted form..And such 3rd party sites encryption method is strong and trustable…
Comments are closed.