Best Firefox Add-ons: FoxTab
If you like visual effects and want to add some new tab management features to your Firefox, then this add-on is perfect for you.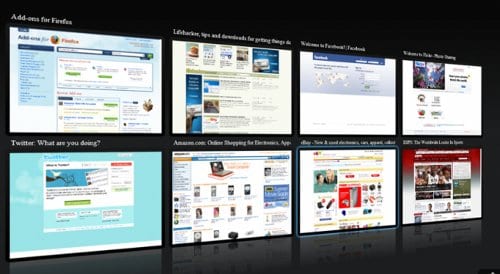 You'll basically choose between six different 3D layouts, and then the extension will give you the following features:
Top Sites: for quickly accessing your favorite web sites.
Tab Flipper: to easily flip between opened tabs using mouse or keyboard gestures.
Recently Closed Tabs: for reopening a tab that was recently closed.
You can also customize the keyboard shortcuts to use the extension, change the size of the extension panel and so on. Here is the official page to install it.
Browse all articles on the Software category
7 Responses to "Best Firefox Add-ons: FoxTab"
Web Marketing Tips

i must say that most of my firefix add ons came from your reference.

Ishan

Nice addon. I love eye candy and this is something that I could use.

To bad I use Firefox only 1% of the time! I hope they soon make a port for Chrome that I can use.

Web Marketing Tips

hey ishan … What is the reason that you do not use firefox ….

James

Firefox just keeps getting better and better. The sign of a great organization is innovation and since it's inception Firefox has gone from strength to strength. I love this addon.

Web Marketing Tips

credit should also to those people who design these kind of add ons and provide free of cost to us.

Open source really rocks.

Simon Dodd

Thanks for that, I have been looking for something like this since I found cool iris for browsing media. Now I can have the same effect while browsing tabs! My only worry is that I will end up with even more tabs open than I have already!!

Thanks again for this!

Simon

Josh Garcia

Thanks for sharing this add-on. There are so many great add-on tools for Firefox. That is why it is the best browser. Some of the add-on really help out tremendously.

Chat with you later…
Josh
Comments are closed.