Best Firefox Add-ons: FastestFox
It's Monday, so time to review another useful Firefox add-on. Today I'll talk about FastestFox, which intends to make surfing the web with Firefox faster and more efficient.
A come across this extension a while ago when I was using my brother's computer. I browsed down to the bottom of a Google search results page, and Firefox automatically loaded the second page of results below it (i.e., without the need to click onto a second page). I found the trick really neat, and then I discovered it was FastestFox doing it (not to be confused with FasterFox, an add-on used tweak network and rendering setting in Firefox).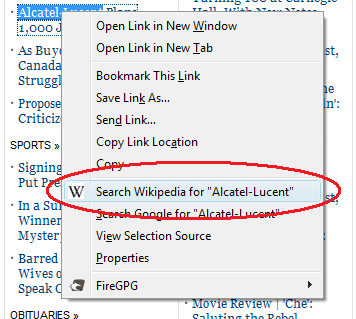 There are other useful features too, including:
The ability to add related search results from other search engines inside Google.
The ability to see definitions of specific words and terms just by highlighting them (you can either use a pop-up or open the respective Wikipedia page)
Improved searches through the URL bar (now you can see results in real time, ala Google Instant).
An efficient bookmark interface called qLauncher which allows you to quickly open your favorite sites.
Browse all articles on the Software category
10 Responses to "Best Firefox Add-ons: FastestFox"
Christian Guico

Definitely I'm gonna install this one. Thanks for sharing. 🙂

Virtual Character

This is nice hmmm I think I'll go back to firefox because of the updates and improvements. But I still love chrome, like what Bec said it is fast.

Bec

Thanks for the info. Have always liked using FF but have switched to Chrome for the speed, now I have an excuse to give FF another go! 🙂

suraj

Is it helpful for slow net connections like 20 to 50kbps (Don't mind it's my mobile net speed which I connected to PC)?

Alex Dumitru

I've tried it a while ago, but I didn't found it very useful. Anyway in the meantime I switched to Chrome, which is much better 🙂

Fatah

its very usefull tool, but then I got warning from google that I send automated queries then i must enter captcha every time I search.

Daniel Scocco

Simply disable the related search results then.

BlogTechOnline

Thank you for sharing a usefull tool,I am going to give it a try.

Josh Garcia

Hey Buddy,

Thanks for this tool. I'm going to installed it to see how it works.

Kamal Hasa

With Google Instant it's faster than ever on the web searching for the stuff you need. 🙂
Comments are closed.