Best Firefox Add-ons: Copy As HTML Link
If you are a blogger or webmaster, you certainly need to copy and paste links from around the web. A lot! Examples include writing blog posts where you need to link to related resources, creating pages within your site linking to other pages and so on.
The normal way of doing this is very cumbersome. You need to create the anchor text first, then go the page to copy its permalink, and then go back to paste it (or to create the link tag manually, which takes even more time).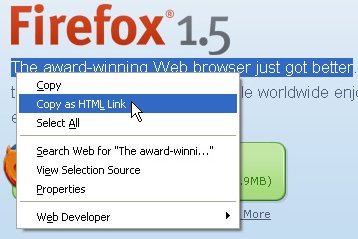 Is there a better way? Yes, and that is what this Firefox add-on is all about. Copy As HTML Link does exactly what its name says. It lets you copy and paste links with the HTML code on the fly. You just need to highlight the text you want to use as anchor text (e.g., the page title or any phrase inside it), right click on it, and then choose "Copy as HTML Link." Once you paste it on the other end you'll have something like this:
<a href="http://www.domain.com/page-you-wanna-link.htm">Words you highlighted </a>
Neat huh? I have been using this add-on for years, and it saved me a lot of time. It is compatible with virtually all Firefox extensions too, so try it out.
Browse all articles on the Software category
22 Responses to "Best Firefox Add-ons: Copy As HTML Link"
Ron val

411 Credit Online can provide you with the best possible rates and terms
available regardless of your credit history. Allow us to get you approved
today! Our trained professionals will work with you no matter your credit.
With over 20 Banks and lenders we guarantee the best rates available.
Good Credit? Special programs are available for those with Good Credit.

tony gott

Hi Daniel
This is a great tip! Dropping links into my blog posts is one of the resons why I don't post as often because I really do fire it tiresome. The only thing to consider for me is that I have about 11 firefox add ons already and I'm not sure if having too many will slow my site down?

Jimmie

THANK you! This is a great tip that will save time. Love it!

Dean Saliba

I like fun little add-ons like this. 🙂

Arijit Das

Awesome tool… I used to feel very difficult to copy & pasting links in the html format but this firefox addon really helped me a lot!!

Thanks Daniel for sharing. 🙂

Mike

Hey Daniel,

This tool rocks! It saves a lot of time on my end 🙂

harly

This is the nice tool for any web marketer. now i looking for this tool.Thank sfor share it with us.

BlogTech Online

Hi Daniel,
Great tool which will help bloggers by saving time.Thank You.

Damian Smith

Hey Daniel,

Amazing find, can't believe its been around for years and I have never come across it!

I will be adding this for sure, even as a web designer who does occasional blogs this will be highly useful for linking websites from other sites, for instance a links (resources) page.

Infact I could use it in day to day life with emails etc…

Thanks for making my life easier!

carolee Sperry

That would certainly save me a lot of time!

Robert @ Techinfo-4u.com

Now that is handy because im just to lazy to make it a html link half the time! thankfully wordpress does make this a bit easier though

Treathyl FOX

For website, I provided the link to MY Google Profile because I have several websites. RE: Best Firefox Add-ons: Copy As HTML Link. That ADD-ON is cool but has Firefox figured out the best way to stop crashing? I'm not trying to be negative. I'm just stating facts based on my recent experiences. That crashing is a nuisance and counter-productive. I don't really like IE browser but at least it doesn't constantly crash!

Sean Matthews

Another great blog post! This blog has some of the most useful post in my opinion. Thanks for all the work you put into it. I'm also a huge firefox user so these plugins will help.

Thanks

Sean

Hal Brown

This is something I will certainly use a lot. And this is why FF is my browser of choice. Of course Firebug, another great addon is indispensably for developers.
Thank you.

Ankur Jain

+1

I was actually thinking of such a utility some time back and you showed me the way.

farouk

pretty useful , i love firefox, thank u:)))

Luciano Passuello

Another similar extension that I like is CoLT.

With CoLT, you can customize formats and, for example, make them text only (for sharing via email), add "nofollow", use Markdown, or do anything you like.

Dev – Technshare.com

Hey Daniel,

Another great share dude. Really awesome tool.
Very Useful Tool.

Thanks for sharing.

~Dev

Dinesh

Yes, Its cool.
If it has one more option to make it with nofollow option with single click, it would be much great.
What you say?

I'm lazy to add it.

Daniel Scocco

Yes this would be a nice feature, and pretty easy to add too.

Nabeel | Create Your First Website

Well this is certainly a useful tool. And not just for bloggers, but any Internet Marketer.

Kindest,
Nabeel

Web Marketing Tips

Boy firefox adds on are really rocking.

Thanks to you and thanks to the person who created this.
Comments are closed.