Best Firefox Add-ons: BugMeNot
Ever tried to read an article on some newspaper, only to get bugged to register a user account in order to do that? We all have been there, and it's quite annoying.
To solve this problem a service called BugMeNot.com was created. You just need to specify the website you are trying to access, and the site will give you a list of member created users/passwords you can use. Examples of supported sites are:
New York Times
Washington Post
MegaUpload
YouTube
IMDB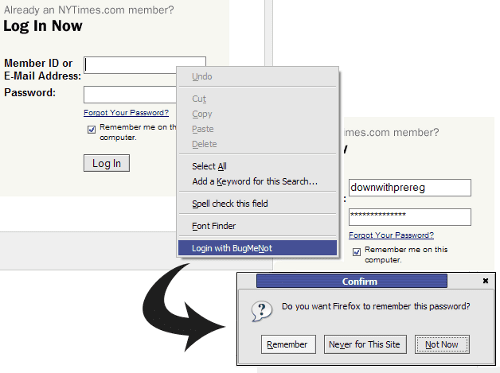 And the cool thing is that you can install the BugMeNot Firefox add-on, too, which will make the process even faster. Once the add-on is installed you'll just need to right click on the user/password field and it will fill it out for you automatically.
Browse all articles on the Software category
5 Responses to "Best Firefox Add-ons: BugMeNot"
Virtual Avatar

This is cool! 😀 It is really a bug me not way, so glad they were able to develop this. Registering takes time especially if I'm in a hurry. Thanks!

Web Marketing Tips

thus one is really looking interesting to me. Would love togive it a try.

jason

Woah! That sounds really awesome. I often have this problem with news sites online, and definitely will be checking bugmenot out. Thanks for the tip.

John Bakken

Nice add-on! I could use that.
just a shame it doesn't exist for Google Chrome wich i prefer to use.

Thursday Bram

I've been using BugMeNot for several years now and it's fantastic. The same folks created RetailMeNot, which is equally useful. I'm just holding out for a Chrome plugin from them.
Comments are closed.