Best Firefox Add-ons: Autofill Forms
Leaving comments on other blogs is a pretty efficient way to promote your own blog, especially in its early days. The problem is the time you need to waste filling the comment form with your name, email address and website URL every single time….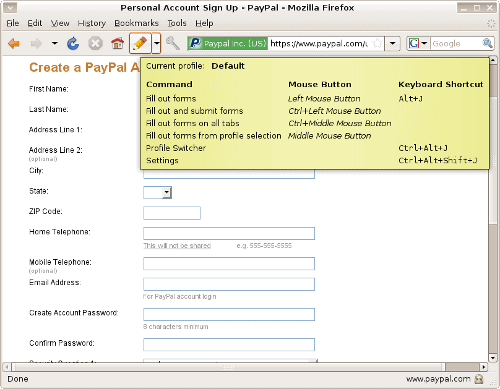 Is there a work around? Yes, and it`s called Autofill Forms. This Firefox add-on is easy to configure, and after that it will automatically fill the forms for you. In fact in can do a lot more than auto-filling blog comments. Here are some other features:
Different profiles with different auto-fill rules.
Assign different profiles to different websites.
Customize the auto-filling rules with JavaScript.
Works with input fields, textareas, selections, and checkboxes.
You can bind the auto-fill to keyboard shortcuts.
Check it out.
Browse all articles on the Software category
20 Responses to "Best Firefox Add-ons: Autofill Forms"
bharat

I have Installed this plugin but not showing form autofill what should I do? please help me

Vivek Krishnan

I am addicted to this Firefox Add-On. But you feel handicapped to comment without that add-on once you use it a few times!

Simon

I love my auto fill addons! The amount of time I have saved from these is almost immeasurable! Another tool I use is LatPass, it stores all of my passwords with one master password. Any site I have visited is stored there and it will also randomly generate secure passwords for me if I choose.

Thanks again for a great post!

Droogs

I'm running Chrome but with the amount of commenting I do each day it would definitely be worth switching back over when I'm in my "blogging mode" 😀

Web Marketing Tips

Just look around and I am sure there must be similar plugin for chrome as well.

Erica DeWolf

This is a great tool- thanks so much for sharing it! I'll definitely be using it soon!

sujith

I use the auto-fill feature of Google toolbar in Firefox.

Dive Safari

Yeah agreed ,so love fire fox and chrome as well …I've been using ROBOFORM for my auto-fill stuff one of the best add-ons on fire fox!

Thanks for sharing Mr. Daniel keep it going !

Vince

Seems to be a good Firefox add-on. But I wonder if it is not a security risk for your computer.

I've been a victim of hacking before that's why I prefer to have a more secure pc and working on it in the long cut than having a short cut only to find out later I will have to be working on it all over again.

Usually, when it saves something on your computer, especially email addresses, passwords, websites login details, etc, it becomes more open to hackers.

Mike King

Long time ago, I used to stick to Roboform. But now, I'm addicted to this Autofill Foms 😉 It's easier, faster and totally free 😉 What a great plugin!

Allan Ward

Thanks Daniel,

I've been using Firefox for the past 6 months and I'm amazed with the plugins that are available. I'll use this one for sure.

SEOQuake and Firebug are my current faves.

Have a great day.

Allan

Web Marketing Tips

Yes before few days Daniel told about firebugs and if you are coder than this plugin is must for you.

jason

I'm not big on Firefox, but I will try it out when I use it. Thanks!

Web Marketing Tips

So which web browser you are using ?

Alex Dumitru

One more plugin I've been using back in the days of Firefox 🙂

Samuel

This is great! Thanks for sharing. I will check it out.

jehzlau

This feature is already integrated to Google Chrome right? O_O

Web Marketing Tips

Google Toolbar do have this option as Autofill but I do not think that such option is so powerful.

Jane@Find All Answers

Yep! I'm already using it. It is great and now I can't imagine working without this add-on. The addiction is so strong that if I am browsing on a different computer other than my laptop, I am stuck!

Thanks for sharing.

Web Marketing Tips

Yes this kind of plugin can make you dependant on them … so you must gave substitute for it. Because without this our work will take more time.
Comments are closed.