AdSense Profits Interview: TucsonOnTheCheap.com
As I mentioned a couple of weeks ago I'll be posting interviews with some of the people who took the AdSense Profits Course back in June. Below you'll find the second interview, with Kate Reynolds. She owns TucsonOnTheCheap.com, which is a website dedicated to finding the best deals in her city. She pretty much doubled her AdSense earnings within months, so check it out.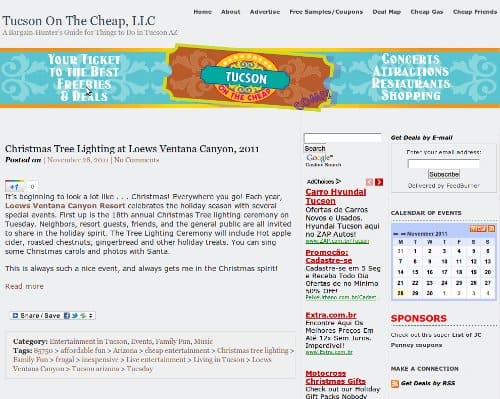 1. When and why did you start TucsonOnTheCheap.com?
I'm a freelance writer and belong to quite a few online writing groups. About three years ago, an online friend in one group starting writing about her blog, Atlanta on the Cheap. Her inspiration was to post bargains and deals attractive to Atlanta visitors. Well, a bunch of us thought that sounded like a great plan–especially since this economy is rough on freelancers–and we formed a group. We call it Cities on the Cheap (http://CitiesOnTheCheap.com), and it's a network of hyper local bloggers. All of that is how TucsonOnTheCheap met the world. Here's one interesting gem we all learned: we may have started by thinking our blogs were intended for visitors to our individual cities, but we quickly learned that our true customers were local. It's good to be flexible and observant. We found our niche.
2. What goals did you have for it initially? Were you planning to make money?
To answer the second question first: You bet. I knew exactly nothing about making money from a blog, but I knew it had been done. Initially, I wanted to post only ephemeral sorts of deals (a dinner bargain at a local restaurant good for only three days etc.). I later learned that people were using my blog to find fun things to do in Tucson that don't cost a lot. So it became a blog that highlighted not just passing deals but also inexpensive ways to have a blast (festivals, cheap but good Mexican restaurants etc.). A tip: Try to make your blog useful to someone. That's the key element that determines what I post. Is the information useful?
3. When did you decided you should start monetizing it, and did it go for the first months?
I put up AdSense ads about two months after starting the blog. Nickel after nickel rolled in until I had earned a whole dime. I'm kidding, of course, but quite seriously it didn't go well. I recall that I didn't earn my first check from Google until about four months after putting up the AdSense ads (Google only sends out checks after you earn at least $100). After that, I regularly earned the minimum each and every month. So AdSense has been kind to me after a slow start.
4. Do you know HTML/CSS? What other technical knowledge do you have?
I do know HTML but not CSS. But I cheat: my husband is a computer guru, and he helps when I need something special. I try not to bother him too much. Knowledge of CSS would be a plus, however my blog is on WordPress, and CSS is not essential.
5. How do you promote the website?
For a while I put up AdWords, but I stopped when I realized that AdWords is a better tool for people with an actual product to sell. In my case, I give away information and hope people will click on my ads or buy from my affiliations. I do regularly tweet and make Facebook status changes. I try to engage with my readers on Facebook and have become friends with some. Twitter and Facebook are huge for me. StumbleUpon is ok, but the people who come via that route are not my target audience and they don't stay or come back. So Twitter an Facebook are fine traffic sources, but organic search is better. Some people may not understand that good SEO is also good website promotion–in fact, it's vital to getting the word out. What good is an excellent blog on any subject if nobody knows your blog is there? Most of my visitors come from organic Google search.
6. How much were you making before you joined the AdSense Profits course?
Here's the breakdown on the months just before I took the course:
March 2011: $355.36
April 2011: $418.87
May 2011: $328.35
The average was around $360. As for traffic, I was receiving around 15,000 unique visitors per month.
7. How did your earnings increase after it?
On the months that followed the course I noticed a big increase in earnings. Here's the breakdown:
July 2011: $855.94
August 2011: $669.95
September 2011: $713.39
The average is $740, so you can see my earnings pretty much doubled in a matter of months. My traffic increased as well.
8. What concepts/strategies did you learn from the course that had a positive impact on your earnings?
I had not understood the value of ad placement and size until I took Daniel's AdSense class. Daniel personally looked at my site the first week or so of the class. He made personalized suggestions that I implemented immediately (talking about ad placement & size here). I kid you not: within maybe two or three days I had earned so much more than usual that the entire cost of the class was covered. My AdSense revenue has remained solid since then.
But that's not all I learned. I had no idea about the world of buying and selling websites/blogs. I was simply stunned. Not only that, but I have decided to sell Tucson on the Cheap soon and plan to use methods I learned in the course. Who knows? I might wind up buying and selling websites for a living now!
9. What tip do you have for beginners that are just getting started with Adsense?
Tip # 1: The more specific your blog niche, the better Google will be able to target your site.
Tip #2: Learn where to place your ads on the page. It matters. Really.
Tip #3: STUDY the AdSense rules. Google takes its services seriously and will throw you out if you do not follow the rules. So sit down, read them, and learn.
Tip #4: Grow your audience before placing ads. In the first place, Google shows preference to older sites, and it also shows you to be a reliable blogger who isn't looking for an easy buck. All that matters to Google–and to you, too.
10. What plans do you have for TucsonOnTheCheap.com, and how much do you think it can potentially earn per month?
I think TucsonOnTheCheap can be a highly profitable blog, and someone can make decent money with a couple of hours of work per day. That someone should be a person who understands marketing (not one of my strengths). I think my blog might potentially earn several thousand dollars/month. But I am ready to move on, and I am hoping to sell TucsonOnTheCheap soon as I mentioned.
Do you want to start making some real money with AdSense as well? Then click here to join the AdSense Profits Course (doors stay open until Friday only).
Browse all articles on the Monetize category
21 Responses to "AdSense Profits Interview: TucsonOnTheCheap.com"
Amandah

Thanks for the tips on AdSense. I have a few blogs I'd like to monetize. I wonder … how much time do you spend working on your website? How many times do you post a blog per week?

Kate

Ehsan,

I update my blog several times a day, BUT I don't believe that is necessary for everyone. My blog features short posts containing information on current deals. I don't spend a lot of time on each post, and I think most bloggers really do. So my format may be quite different from what you are trying to do.

That said, I do believe Google rewards blogs with lots of updates. I have pretty good SERP (Search Engine Results Page) listings, and I credit two things: the first is that Google seems to like local blogs and the second is that I update a lot (though I am planning a break).

I think the key is providing useful content that attracts visitors. That's how to improve your AdSense income.

And take Daniel's class ; >>>

Edgar

Not sure how your making so much. My site generates double your traffic and I am making a lot less.

I guess I have to take the course lol. Thanks for Sharing Daniel and Kate.

Shyam |Sri Lankan History

After reading this second interview, I'm very satisfied about this course too. I hope to joined this course as soon as possible. keep doing this great service. Love it!

Thanks!
Shyam

Ehsan

Hi Kate

Thanks for your reply, I have one more question.
How many posts do you make on your blog daily?

Actually I update my blog ones in a week! So will I be a good Adsense earner? or updating daily is needed?

Joe

Thanks for this post

I'm the owner of a french fashion blog, i make 500 000 pages view /month and about 1500$ – 1800$ look on my blog can you tell me if i can do more ?

Daniel Scocco

@Matt, with 7500 uniques per month you certainly should be making more than $20.

John Burnside

Thanks for the interview. I always find the format of interviews transcribed on blogs really nice because you've got good questions and answers to questions that bloggers want to know. How much are you earning is always nice to find out and it sounds like this adsense course is really good.

Humayun

To generate traffic to your site you need to provide some useful elements for others. All you need to write some articles with helpful information. Moreover you can gather helpful elements for your site to generate traffic.

Daniel

Congratulations, Kate.

I think a travel oriented blog would be geared towards a decent amount of traffic, and offer a decent amount of opportunities for converting that traffic into profits.

I think with some Blogs and websites, due to the niche chosen, Ad-sense would not be of much use.

I sometimes go to forums where the amount of traffic spoken of, often by every person in the thread(visitors, page views,etc) is staggering.
Yet, those sites are not talking up any great earnings figures.
Without a great amount of targeted traffic in a reasonably high paying niche, Ad sense is a waste of valuable website real estate.

jorge jacobo

I loved the review. The only thing missing was a picture of how it looked before.

Thanks Daniel, and I am fan of you site!

Matt Grabusky

So, I'm guessing that with 7500 unique visitors a month, I should make more than $20? Is there a general rule on how traffic should relate to income?

Mike

I really enjoy this kind of post, I am always interested in better monetizing my websites.

Keep posting stuff like this and I will keep coming back!!

kate

Hi, Galina,

Thanks for the kind words. I think your reasoning is exactly why Daniel decided to interview the students and share the answers. Nothing beats real life experience. I've learned a lot from books, but my blog and my readers teach me the most.

And I wish YOU every success, too.

Kate

Galina

I like this type of interviews, I admire them. Since they are about real life. I am sure it is quite necessary to make your blog useful to someone, to write posts with useful information for people. That should actually be a key element for posting. "Is the information useful"?
I wish you every success.
Galina
PS: I will certainly take studying AdSence rules more seriously. Thank you.

SA @ Price India

Yes @Grant I'm agree with you, I also don't understand that why people want to sell their profitable blog?

Kate

Hello, Grant,

Thanks for taking a look at my interview with Daniel.

You're right in many ways. The work isn't too bad (a couple of hours/day) and it's a reliable income stream. But I enjoy trying new ventures, and I just feel that it's time for me to go. My husband will be laid off in January, and maybe he and I can enjoy life a little!

I don't think a person has to live in Tucson to find good local deals . . . that's the joy of the Internet, right? I also post some not-so-local deals, since they are quite popular.

Take care!

Kate

Kate

Hi, Ehsan,

I get backlinks from commenting on other blogs and also I get quite a few from other local Tucson blogs because they like my focus. I am now getting approximately 30k visits/month, so call it about 1,000/day now. My readership has increased after promoting my newsletter. I use a popup to ask people to subscribe, and those things really work.

Thank you for reading my interview. Take care.

Kate

Grant Hughes

I don't understand why he would want to sell a profitable blog when with a little work it will continually bring in money, I assume he lives in Tuscon so it shouldn't be hard to update with news and events.

Jim

Thank you for these. I am wanting to monetize my blog sites as well, and looking for information on how to do it best.

Ehsan Ullah

There's some other questions which I wanna ask from Kate,
Where do she promote her blog and from where she get backlinks?
How much daily visits TucsonOnTheCheap gets?
Comments are closed.