AdSense Profits Interview: TheCraftyCrow.com
First of all an announcement: the AdSense Profits Course was supposed to go live today, but I am still adding some bonuses and more material to the members area, so I postponed the launch to next week. The official date is February 21, next Tuesday.
Today I have the last interview with past students (you can see the previous ones by clicking on the "Related Posts" below this post). Cassi Griffin is the owner of TheCraftyCrow.com, a site she built from scratch and that is very popular now.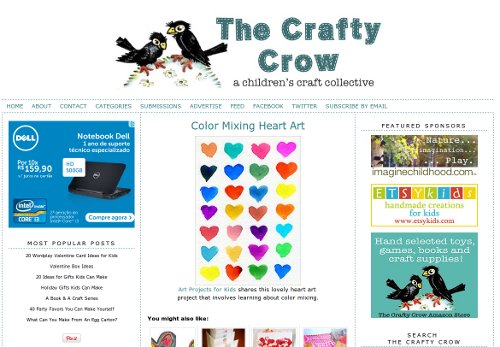 Before joining the course Cassi was making around $250 monthly with AdSense, and she managed to quadruple her earnings! Below you'll find how.
1. When and why did you start your blog?
I started my craft blog, Bella Dia, in 2004. Four years later, in 2008, I started The Crafty Crow, a children's craft blog. I was very involved in the crafting community and was always coming across great art and craft ideas to do with my kids but got tired of having to bookmark them or store them in my files. I created The Crafty Crow because it fulfilled a need of mine – keeping track of great kids crafts in an organized manner – and I knew that it would be helpful to others as well.
I began blogging to keep a record of my work and to be part of a community of crafters, but when I started The Crafty Crow, I was also hoping that I would be able to make some money from it.
My first blog is still active but the majority of my time is spent on The Crafty Crow. In the last thirty days, I've received over a million page views and more than 200,000 visitors.
2. How did you pick your niche?
Personal interest and need. My background involves working with kids of all ages and I felt that if I could use a resource like this then other people could too.
3. Were you planning to make money with the blog when you started it?
Yes. Having already blogged for four years before starting this one, I knew it was a lot of work and there would have to be some sort of income from the blog to justify the time spent.
4. When did you decided you should monetize it, and how did the first few months go?
I monetized it from the very beginning with AdSense and as an Amazon affiliate and then added a few other affiliates along the way. As my readership grew, I added direct sales ads. My first year with AdSense I averaged about $150 a month. Then, I made a domain change and my earnings dropped to an average of $40 per month for the next two years. It started to go up again at the end of 2010. I certainly didn't think it could be a source of any significant income until I started doing some research, but even then it was exhausting trying to learn the best way to implement it. That's what was so nice about Daniel's course, having someone experienced to explain everything and being available to answer questions is priceless.
5. How did you promote the website, and what strategies worked well to increase your traffic in the past?
When I first started The Crafty Crow, I received traffic from promoting it on my other blog and within the crafting community that I was already involved with. Also, because I feature other people's work, my posts generate traffic for their sites and then they generally link back to me. A nice win-win for all involved. So, I promoted within the crafting community.
When readers come to my blog I want them to see quality content consistently provided so it will keep them coming back. I regularly post 5 days a week with at least three different ideas each day and I always post with one person in mind – the parent at home with their kids and the resources they have available to them.
Building a content-rich site was my first goal, then I started learning about SEO and made any changes that I could. I also promote on Facebook, Twitter, Google+, and Pinterest.
6. How did your earnings change after you took the course?
I can't give you a full month's report yet as I wasn't able to implement all the suggestions and ideas until the middle of last month when I had some time after the holidays. Nonetheless I was thrilled to see such a significant increase almost over night.
Before the course I was making around $250 monthly with AdSense, and after implementing the changes I expect my earnings will jump to over $1000 monthly (that's based on the numbers I am seeing for the first weeks).
7. What concepts and strategies you learned in the course that you liked the most?
I loved your personal review of my site and learning about, and how to use, the keyword tool. Ad placement and size was another big one and understanding the AdSense rules. The information also helped with SEO and with more organic traffic it helped to increase the AdSense earnings.
8. What tips do you have for those who want to get started with AdSense?
You need traffic to make significant income so focus on building content. (I know, that's what everyone says…) Also, read the AdSense terms and make sure you are compliant because AdSense can be pretty unforgiving.
9. What plans do you have for your blog, and how much do you expect to reach in terms of earnings?
I'll keep doing much of the same thing but will increase my native content and guest posts. I would love to at least double my AdSense income and possibly triple it. I'm also developing other income streams like books, other blogs, and classes so I'm not completely dependent on AdSense.
Do you want to start making some real money with AdSense as well? Then click here to join the AdSense Profits Course (doors stay open until Friday only).
Browse all articles on the Promotion category
20 Responses to "AdSense Profits Interview: TheCraftyCrow.com"
Web Designer, London

I am pleased to hear you are making good revenue from your site. I have been working on my blog for 3 years now. Unfortunately, I am not making money directly from my blog as yet but have been very successful in driving traffic to my company's website, which was my original intention. However lately, my focus has changed and I want to be able to make a full time income from blogging. I have been working hard towards this for the last two years. I think I am about half way there.

Lyrici

Thanks Daniel for the nice interview, by the way one more interview is pending i think i am waiting to read that too
the crafty blow its a wonderful idea and good niche, hope she can triple her earnings

leigh

I am excited to take this course. Crafty Crow was one of the first blogs I followed. I have my personal blog (linked to), but my nichless blog, once I started it, didn't resonate for me to make money. I am working on niche sites right now that will have different income sources, adsense being one.

I always look forward to your emails in my inbox 🙂

Leigh

Ehsan

Hey Daniel, It's thecraftycrow.net not thecraftycrow.com!

Joyce

Interesting interview! I would like to register this course before Feb. 21. Thanks for brining my attention.

James Gibson

Daniel,
I hope your new course covers the type of blog, the host etc.
Although I pay for my blog, I may have to shell out more
money and upgrade. Upgrading-means you get access to better
ads and where you place those ads.
Placing ads underneath a post makes a world of difference,
in terms of making money.
Looking forward to Feb. 21st,
Thanks!

Giannis

Another great interview, I'm very curious about these adsense courses!

Gaspard Dakora

Great content, i have gained something meaningful by reading it. Please keep it up

anita

i like your blog and i am a subscriber…i would also like your book…..the interviews are very helpful…..i want to be interviewed by you…..i am starting a blog but i am still collecting material…..not sure how to make $$$ from this but someone will and i want it to be me………

John

The site has such a nice logo but it's really diminished by that 728×90 ad right above it. I'd be really shocked if the CTR on that ad is significant as many people are immediately going to scroll down to look at quality content you have on site. If it was my site I'd move that ad to the footer and give people that have scrolled all the way down without finding anything of interest an ad to click on.

Mike @ Home Business Ideas

Daniel,

Wow! I like the crafty crow site, it has many neat craft ideas for kids. I never knew some of the niche people can make money in. I need to think out of box. It is great to know she is making more money with it. I am somehow skeptical of adsense is viable money maker. But then again, plentyoffish.com made crazy money in adsense. I think having big traffic is essential for adsense success.

Good to know more sites with success stories.

Daniel

Nice results, Cassi.

I still think you need a fair amount of traffic to make any decent money with Ad-sense. And that traffic needs to be targeted traffic that will convert.

Through the Lens of Kimberly Gauthier, Kimberly Gauthier Photography

I'm really excited about the course and looking forward to next week.

BPB

I don't know what kind of traffic you get but since I started my blog a little over a month ago I have 4000 impressions and not 1 cent for my adsense ads. I think it should be called adsenseless. A complete was of time so far.

Cyza

It's really good to read about people earning good income from adsense. I also earn from adsense each and every month. However, recently, I noticed my adsense income becomes like a yoyo. There were times in a month that the income is up and there were times that the income was down.

I hope this can be covered soon in the course. Many people have high hopes in a consistent and reliable adsense earning.

Thanks

Eddie Gear

Daniel, I am looking forward to joining this course. Please email me the process to register. I dont wanna miss out on this offer.

Jamie Northrup

I'm fine tuning a bunch of my websites, and because of several things going on I won't have time to join this session, but I think I will next time around.

Anshul

Great example guys but I just want to add that you don't need a flood of traffic to make decent income with AdSense, smart keyword selection and ad placement can also make you a decent income (the micro site model).

Ehsan

First time, I'm the first commentator on one of your post Daniel.
I also visited TheCraftyCrow.com blog.
It is one of best blog. When first time I visited that blog I thought it must be earning good income from Adsense.

Leif G.S. Notae

Huh, pretty cool. I didn't even know there was a children's craft niche. Great interview, more things to keep in mind! Thanks for sharing.
Comments are closed.