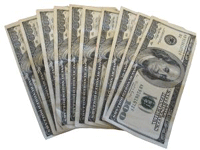 The Abundance vs. Scarcity Mentality model has been used in many different fields, from economics to management and personal development. Lately, however, I started to wonder if the Internet can be illustrated with it as well.
First of all we need a definition for the model, and I will borrow Stephen Covey's words here:
Most people are deeply scripted in what I call the Scarcity Mentality. They see life as having only so much, as though there were only one pie out there. And if someone were to get a big piece of the pie, it would mean less for everybody else.

The Scarcity Mentality is the zero-sum paradigm of life. People with a Scarcity Mentality have a very difficult time sharing recognition and credit, power or profit — even with those who help in the production. The also have a a very hard time being genuinely happy for the success of other people.

The Abundance Mentality, on the other hand, flow out of a deep inner sense of personal worth and security. It is the paradigm that there is plenty out there and enough to spare for everybody. It results in sharing of prestige, of recognition, of profits, of decision making. It opens possibilities, options, alternatives, and creativity.
Surprising as it is – given the size and growth rate of the Internet – there are many bloggers and webmasters out there carrying the Scarcity Mentality.
They will rarely link to other websites (and when they do they will make sure the link will open a new browser window…). They might, for instance, avoid mentioning the sources of the information they are writing about. And these are the moderate cases, I fear there are some people that will even joy if they see the site of some "competitor" hacked.
As if the Internet had a fixed number of users and one more Adsense click for someone else would automatically mean one less Adsense click for you. Forget it!
Develop an Abundance Mentality and you will create more opportunities, both for yourself and for others. This is about linking to people and giving credit where credit is due. It is about not fearing to send your visitors to some other site.
The Internet pie, after all, is pretty darn big!