A Favicon Graph Of The Top 1 Million Sites on The Web
If the title sounds confusing, here is what the guys from Nmap.org did: they scanned the top 1 million sites on the web, according to Alexa, retrieved the favicon of each one, and created a graph where the size of each favicon is proportional to the traffic of the website.
You can see the result on a post they call Icons of the Web.
You can zoom in and out, and it is pretty fun to keep looking around and identifying the favicon of websites you know. In fact if you have an Alexa rank below 1,000,000 you should be able to find your favicon there too. I spent some 10 minutes looking for mine. In vain.
Then I decided to cheat and use the search function, and bingo: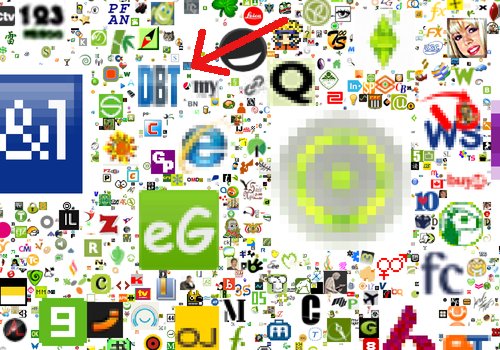 As you can see the DBT favicon has the same size of the Internet Explorer homepage one. How do you like that Microsoft!
Finally, hat tips to @johnchow, as I came across this site on his Twitter stream.
Browse all articles on the Blogosphere category
17 Responses to "A Favicon Graph Of The Top 1 Million Sites on The Web"
Alex Dumitru

Found mine too, though it took me a while.

Juan @ JB Cool

Found my favicon at 14.313, 31.153 and is 16 × 16 pixels. Too small if compared to DBT which is 192 x 192.

Christian Guico

Its funny, I have watched this on tv but I forgot the site, now I see this graph here.. Thanks for bringing it here and congrats. 😀

Customer Care Rep

Congratulations DBT! Your site will always be one of the resources I go to. I hope I can see mine in the future too 🙂

iTechRoom

It's interesting to view, Congrats to DBT, Wishing your icon to be more larger and hoping to see mine in the list, in future.

thelma harcum

This is exciting. This blew my mind. Amazing! Where do you get a favicon? This would make a great sticker for a mouse pad or anything else. Could be a chic Fad for us computer people.

I would run to the market with this one Daniel.

I've been sewing lately and, just thinking, can you imagine a shirt or skirt being made
of this design. Somebody better find out who owns the patent!

Thanks for the info. I'm glad you can see your site. Feel Proud!

Web Marketing Tips

Interesting ….

These days we are getting awesome websites and news from you Daniel and we really like it.

Gloson

Haha… I also cheated and used the search function 😛 . Thanks for sharing, Daniel. Very interesting.

Iwan Kus

Hi, Daniel

Its first time for me to comment here

Wow it's very cool site
I never thought of this before

Like you I cheated to find my favicon 😆

Thanks

Lee Ka Hoong

That's cool Daniel, IE home page is not as strong as yours, lol! I tried to search my blog, it shows the icon besides the search result, it even shows where's the location of the favicon (8.427, 5.120), but I couldn't find the favicon in the graph, too bad. Perhaps one day your favicon will be same or bigger size than Wikipedia, Yahoo or Gravatar. Keep it up Daniel!

Regards,
Lee

Dean Taplin

Found my icon too, pretty small mind you 🙂

Nima Heydarian

My site is not there 🙁

Hopefully one of these days it will be

Good job on your site being high up there

Tinh

I have not see most of them 🙂

Onibalusi Bamidele

This is really cool Daniel,

I just searched for your site there and it looks cool!

The tool is really cool ~ I will go and get a favicon for my site now.

Raghu

Awesome! I used the search without spending time scanning the image 🙂

>>The icon is at (2.273, 24.393) and is 48 × 48 pixels.

Robert @ Techinfo-4u.com

Ha Nice one, Congrats on being in the top 1 Million!

Alex Dumitru

He's in the top 5000 actually 🙂
Comments are closed.