71 Ideas for Blog Post Titles
It looks like this will be "Inspiration Week." Wednesday I mentioned a report I came across containing 212 blog post ideas. Today I came across a similar post. Instead of a report it's an infographic, containing 71 ideas for blog post titles.
The cool thing about the infographic is that it goes straight to the point. You can quickly scan it and get ideas for future posts. It was created by the design company Verve (link to the original post).
Enjoy.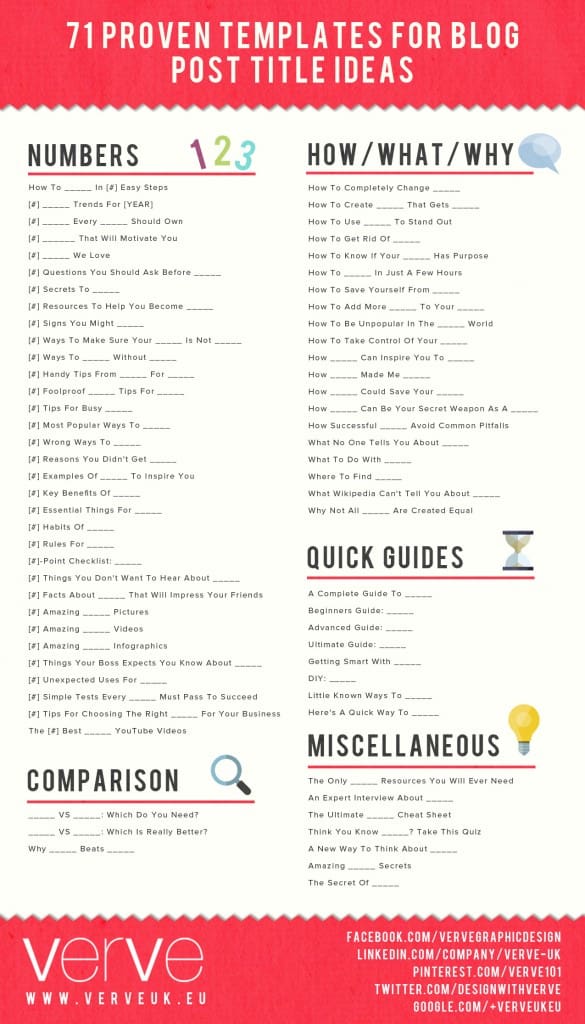 Browse all articles on the Writing Content category
15 Responses to "71 Ideas for Blog Post Titles"
John

You could also create based up on the latest trends i the industry.We can use googles free tools like Google trends to et topics and related searches and targeted geographic locations.

Peter

Thanks for the infographic Daniel.

This has come at a really good time for me.

I'm totally changing my internet marketing strategy (basically starting again from scratch!) and enticing headlines will no doubt play a big part in my articles being read.

Will print this out and pin it up in my office.

Keep em coming!

Peter

Markeyus Franks

These blog titles are simple, but effective. Your title is basically your book cover, and if your book cover design sucks then nobody will pick it up to read the synopsis. That's why I try to make the title for my books and articles memorable. I like the concept and I'm pretty sure I'll be back for ideas.

Manish Agrawal

Hello,

Thanks for sharing such a wonderful 71 ideas for blog post titles. Really appreciate your efforts. if you have any other related of this content please share on your blog i also bookmark that link.

Thanks

Aditya Antil

Hi Daniel,
Most of the people lack behind despite a good content because they somehow fail to attract the readers with their Title. And people will only come if the title is eye catching. You have shared some good ideas to write a compelling Title which people surely will adapt.

Kostas Chiotis

Thanks for sharing this Daniel, it is a great resource for coming up with blog titles at those times when the creative juices just are not flowing!

Samar Pratap

Really good information to choose best topic for your blog post. some topics are new and impressive which i don't know. thanks for helping us to choose topic.

Elvis Michael

Daniel, this is amazing. It's easy to forget about different title ideas because (a lot of the time) we're so focused on the SEO aspect instead. These ideas are great (better than an SEO-keyworded title) as it sparks a great deal of curiosity.

Elvis

Kevin Duncan

Hey Daniel,

Nothing like a good infographic.

I've had good success with "how to" and numbered posts titles, but my go-to titles are ones where I have a hook of some sort. For example, sometimes I use alliteration. My latest ("An interesting anecdote could be the antidote for your ailing blog post") uses a tiny bit of alliteration, and it's more memorable as a result.

A catchy title which promises the reader something is a title readers want to click.

Daniel

Very good post tile tips, Daniel.

The Numbers "best 10 – 100 – etc.' and the "how to ' style posts are very popular…..

Comparison posts are big, as people are always trying to decide between one product or the other, and are often having a hard time deciding.

Quick guides are great, as the web searcher, is looking for something "quick and easy "to get the info / and/ or job done, without any long and complicated explanations.

David Lane

Thanks Renard and Ryan, the positive feedback is much appreciated!

Also want to give a huge thank you to Daniel for posting this on his great site.

Have a good weekend 🙂

David.

Sophie Callahan

Fab!! Pinned it. I'll definitely be going back to this for inspiration.
Thanks for sharing.
Sophie. x

Ryan Biddulph

Hi Daniel,

Awesome information as always. Goodbye, dull post titles.

Big numbers work well for me. 12 tips, 13 steps, etc….in the beginning it's tough to write these posts because you may lack the knowledge to get 'em going.

With practice, and a bunch of research, you'll have few problems churning out double figure type list posts, to really rock things out.

People love information. If your title indicates you'll be delivering a ton of information you'll have few problems drawing in readers. Then you need to follow up on your promise and deliver through the post's content.

Again, practice simply makes better. The more you write, and the more you work off of awesome IG's like these, and the more you research, you'll draw in readers and grow a thriving blogging community.

I'd add, that when you find a title format which is working for you please stick with it. Sure you may change formats from post to post but if you're sticking to a proven formula your audience will dig it, and will return for their weekly or daily fix.

Thanks Daniel for sharing.

Tweeting in a bit.

Ryan

David Lane

Hi Renard,

I am glad you found the information useful, I also want to give a thank you to Richard for posting on the site.

Have a good weekend all.

David.

Renard Moreau

[ Smiles ] Oh, those are great tips for coming up with blog post titles.

Thank you for sharing!
Comments are closed.