70% Think That Business Skills Are More Important Than Technical Ones
Last week I raised the following question: For someone that aspires to have a profitable website or online company, what is more important: business skills or technical skills?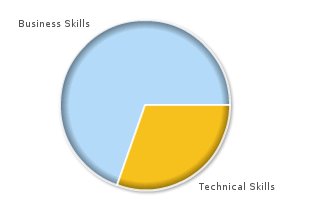 We had a small poll, and 112 people voted. 70% of those said that business skills are more important, while 30% said that technical skills were, and the graph above illustrates.
Personally I am a on the fence regarding this question. I have a business background myself (I studied International Economics and Business Administration), and while I think that business skills can take you far, I also believe that for specific types of ventures (e.g., Twitter or Digg) you need to be able to code yourself.
Some of these days in fact I am planning to get off my arse and start learning PHP (I know the basics, but I can't code anything with it…).
As many people mentioned on the comments there the ideal is to have both. That is a given. The trouble is to find time to acquire both skill sets.
Finally, as another commentator mentioned, and I agree completely, more important than skills and competencies are the attitudes. If you have the right attitude (i.e. if you are proactive, have persistence and so on), no matter what your background is, you have great chances of succeeding.
Browse all articles on the Strategy category
22 Responses to "70% Think That Business Skills Are More Important Than Technical Ones"
Business Skills

Of course we may lean too much on business skill but we can definitely overrate technical skill. In the end, we need to be able to work with people to make the sale!

r4i-dstti-itouch

really good post, thank you for sharing this information.

I finally Crack The Code on how to make money online

You need both skills to succeed online that's for sure no two ways about it man!

john laptop

good article

laptop

i agree with the above man that business is more important

traderMom

I think business is more important. I am a stock trader and I run a blog too. My husband is a programmer who helped me build up my blog. And he does all the maintenance work too. But I think my earning power has a lot more potentials than his

tacogirl

I think both are important, and I say this as someone with not as much technical skills. I wish I could do more in that area but I am not that way inclined luckily that is where tacoboy comes in.

xie mo

We know that the Internet has become the enterprises to promote products, increase the visibility of the necessary means to their business information in BtoB's Web site to log into a lot of business after the Internet will do; At the same time, relatively well-known site in order to enrich their own Data resources, has been the find this kind of enterprise customer base continued to increase their visibility.

Skaizer

Business skills are more important, i think. I am a founder of a prifitable russian web-project, so the time show that business skills are more important. But it's more important to work in a group.

redwall_hp

Business skills are virtually worthless in my opinion. Technical skills have real value, and have more demand than business skills. Anyone can pick-up some business skills when they need them.

Ahad Bokhari

Good article for debate-> Business skills are more important than technical skills. Why? Simply because you can be the greatest designer or coder in the world but if you can't market your product/services then what next?

The best place to be is the middle man -> all you have to do is "Connect the Dots." Try doing a bit of both in your online business, and if you all (techies) find someone who can help you out go for it. Just make sure you are getting a "fair" deal.

I speak from personal experience as i have done alot of technical work, but am now training a team so they can handle the views(Web Apps). This way i can stay on the business logic side, while the team pumps out the designs, and another partner brings in the business….TEAMWORK is where it is at.

http://resourcesandmoney.blogspot.com

Business Skills will give way to success while technical skills is required and shouldn't be removed from any business owners. 😀

workercomp

I believe a mix of Business and Technical skills is needed to be successful in any business.Ideally one should try to bring acquire the best technical skills to implement a business solution and at the same time one should try to create new business ideas out of the technical knowledge available.Neglecting either of the skills may prove to be suicidal for an organisation.Very often I have seen people giving less importance to technology…because they don't understand it.

I believe I have added some value to this conversation

joe gelb

i think the best is just the vital skills to effectively make money. unfortunately jobs, schools, internships etc seem to waste our whole life with superfluous skills that dont serve us well. like tech skills and business skills can be learned in about a year a piece with focused learning but few have the tools to be so fortunate in their life even in the over abundance of info and diy cultures i think that relevant knowlege is the most important.

VitaminCM

I have a pretty solid set of technical skills for my field. However, every big jump I've made in my career has been due to business/people skills.
You can learn just about any technical skill, but if you have teamwork, cooperation, analysis, problem solving, etc. than you will be able to succeed in most situations.

Ruchir Chawdhry

Business skills are irreplaceable, technical skills can be outsourced…

Kendall

The great thing about making a living on the web is that it takes "business sense" to a whole new level. SEO, affiliate marketing, and AdSense were never heard of before the internet arrived, and it's paved the way for many aspiring individuals and burgeoning companies. Classically "business" aspects like networking have a very different connotation/process in the web world as well.

While it's not necessary to know all things technical, you save money and are in complete control of your potential revenue if you can understand what goes on behind the scenes of your website or blog.

Jonathan Drain

With sufficient business skills you can sell sand to the Arabs. Without them, you may be talented enough to retire a millionaire at thirty-five but fail to live up to your potential.

Rarst

I am very technical so my policy is kinda "do my best and let money fall from the sky". Working not too bad in real life, wonder how far can it takes my blog. 🙂

andre

it probably makes more sense to have business if you understand technology, as you can hire a good programmer. 37 Signals seems to operate on this success.

If you are technical and can think of business problems, sure you can fix them, but then you need to know how to market and sell your product… that's harder in my opinion.

You have to wonder why twitter beat out many other twitter clones…

Linda

I think it should be a mix of both. I'm fairly new to blogging and the technical side has taken me far longer to work out than I have time available.

I eventually hired someone to do a few bits for me that would have taken me days to work out. Saved a few headaches!

CleanseBody.org

I think Business skills are easier to obtain and use than technical skills which would skew a survey like the one presented here. But at the same time I can see the ability to hire technical people is easier than hiring someone with unique business skills.
Comments are closed.