6 Useful FeedBurner Features that are Normally Ignored
This is a guest post by Mr. I. If you want to guest post on this blog, check out the guidelines here.
FeedBurner is the primary choice of most bloggers to deliver feeds. It has many good features to track, promote and personalize feeds.
However, there are some FeedBurner features that most of us ignore. Some of these are pretty useful and can help you to personalize and promote your feeds. Here are 6 such features:
1. Personal Message for Browser Visitors: Showing a Thank You or "Why You Should Subscribe" message on your feeds is good option. To enable it, Go to Optimize tab of FeedBurner dashboard, click Browser Friendly under Services and enable Personal Message. Enter the message and it will be displayed on your feeds.

Take a look at the message in feed: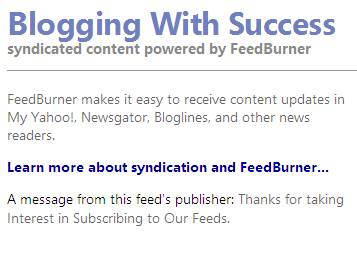 2. FeedFlare: This feature embeds links in your feeds for sharing and bookmarking. Apart from 16 default ones, 101 additional options are available that you can put on feeds(and blog) easily. Available under Optimize –> FeedFlare.

3. Link Splicer: This feature lets you share collected links from Delicious, Furl, Digg, Bloglines Clip Blog, My Web 2.0 and ma.gnolia with subscribers. You can access this feature from Optimize –> Link Splicer.

4. Headline Animator: Displays rotating headlines from your feeds. You can adjust the click through URL, colors, size and date formats. You can embed it on your blogs, social media profiles or e-mail signatures. Available Under Publicize –> Headline Animator

5. E-Mail Delivery Time: Last week, I read some comments about late E-Mail delivery on Google, Can You Fix FeedBurner by Daniel. I think this was just a problem with this setting. It can be accessed under Publicize –> E-Mail Subscriptions –> Delivery Options. Best option to set it is one or two hours after your regular publishing schedule. This will ensure that e-mails with new content are delivered on time.

6. MyBrand: MyBrand lets you use your own domain name to host your feed. To access it, go to My Account(in upper left corner) –>My Brand. You have to add CNAME records for domains and you will have a brand new address for feeds like feeds.your-domain.com/feed

These were 6 features and settings that you can tweak to promote feeds and personalize them. Have you found any other FeedBurner feature that is generally ignored? Do share them in comments.

Mr. I blogs about Blogging Tips and Resources on Blogging With Success. If you liked this post, check out 101.5 Free Tools and Services for Bloggers on his blog.
Browse all articles on the Web Tools category
27 Responses to "6 Useful FeedBurner Features that are Normally Ignored"
Medyum

The online brand feature looks awesome and doesn't seem complicated at all. Thanks!

Atul

Thanks for #1 point

Herbal Care

Thanks, I didn't knew about these… your blog rocks.

New Media Blogger

Great post, very useful

Bill

Great set of tips once again.

R Kumar

A very handy post indeed. These features of feedburner are actually the most ignored ones. No one actually understands the importance of these features and that is why it is mostly ignored.

Tom Bradshaw

Good tips, will keep in mind for the future!

scarface

Great tips I never use that before…Thanks for tips

Arun Basil Lal

The personal messages part and MY Brand! I had no idea about these before.

Thanks for sharing, a good read 🙂

btw, I really love the way you have decided to leave the by-line as a link to one of your best posts, that really works I guess 🙂

Cheers..

Tobias

thanks good stuff.

Drupal Ace

Good stuff. Working with Feedburner has been on my "do it later" list for quite a while. With this info, I just went ahead and applied all the tips.

I added a link to this article, too, to one of my online manuals for beginning Drupal users. Good info for any web site admin.

Shanna

Thanks for this information. It is very helpful.

I would enjoy seeing more information on Feedburner. I have looked around in there but some of the lingo is above my head and I am not sure what some of the information, stats, and options mean.

I feel like I am learning a new language and it's rough!

Thanks again!

Harrison

Great tips. I enabled subscribe by email and saw numbers jump.

Neal Schaffer

Thanks for the tips which I found from @Ceena on Twitter! I thought I had gone through all of the options when I set up my Feedburner account but apparently I missed some! Thanks!

John

Great post. I would agree that most of the time I don't pay attention to the detail settings. Thanks for the reminder.

Juscelino M. Acevedo

Great article. The interesting thing is that I did not bother to go through certain settings on my own, but I can see how useful they are once I read this. Good work…

Ruchi

Nice tweaks i will surely give it a try.

Fatin Pauzi

Thanks. I've wondering and try to get to know how some one's blog that I've subscribed do all that things. Now, I've already know that. Thanks.

Melanie Phung

I've actually been looking for alternatives to Feedburner. Ever since Google started forcing Feedburner members to integrate it into their Google accounts it seems buggier than ever. Anyone got tips on competitors to this product?

Mark, Feedburner and Google Reader are owned by the same company but are entirely different products. One is an RSS reader and the other is a publishing tool.

acidreflux

I will consider this articles, thank you

Writer Dad

The online brand feature looks awesome and doesn't seem complicated at all. Thanks!

Mr. I

@Melvin, @Online Banks Blog, @Tech @ InkAPoint Thanks for compliments.

@ Mark Harrison I guess Google Readers isn't competing with FeedBurner! Is it?

Boerne Search

This is good. I will check out the My Brand. I currently use RSS feeds for new on a separate site. But this could help alot.

mark harrison

I still prefer Google reader…

Tech @ InkAPoint

I am still thinking of using the MyBrand feature. Thanks for this post.

Online Banks Blog

Thanks for the tip about My Brand. I did not know that that was an option.

Melvin

great read. I agree this is ignored because I actually haven't thought of putting those ideas on my feeds.. Thanks.
Comments are closed.