5 Remarkable Things You Should Learn From Music (And How You Can Apply Them To Your Blog)
This is a guest post by Hans.
Everyone loves music. Some of you are fans of Pink Floyd, David Bowie or U2 while others may be fans of Mozart or Brahms. Moreover, some may love Blues music while others prefer Punk music. In fact, there are several aspects that may influence your relation with music. You may adhere to a music style or be an unconditional fan of a particular singer. No matter what your music preferences are, the fact is that you based it on precise and personal criteria.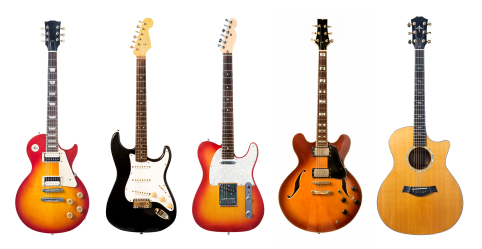 The same seems to be completely applicable to blogs. In this article, I suggest you to make an incursion into the music to find the criteria that would most influence your music preferences. These criteria will then be apply to blogs to better understand who your audience really is or what kind of audience you should target for your blog.
Let's start the list.
1. The Rhythm
Your blogging rhythm seems to be an important aspect for everyone. In fact, no beat mans no music! The beat generally gives a particular color to the music. It carries the emotions and influence how you feel. For example, listening dance music won't make you feel the same as listening to Celtic music. The fact is that the rhythm will influence your preference because it makes you feel like you are part of the music itself.
I personally think that readers will choose to follow your blog if you make them feel like they are into the beat. Of course, the beat itself may be difficult to conceptualize, but I personally see it with 3 main elements: your post frequency, your article structure and your level of activity in the community.
Your post frequency. The higher your post frequency is, the higher the cadence is. Whatever your post frequency is, the most important here is to keep a constant pace. Remember that publishing with a too high frequency may be difficult to follow and thus, sounds like something cacophonous!
Your article structure. When readers read your articles, they will feel the beat into the reading flow. If your article is well organized, they will feel a constant beat. You will also notice that some words or some writings may increase or decrease the beat of your articles. It is something that may be quite interesting to exploit, however, it is something really tricky to master. I think that your writing style will definitively define your article rhythm.
Your level of activity in the community. Of course, the more you are visible, the more people will know you. Again, the most important thing here is to be constant. Being very active in a community for some time and suddenly being almost absent may have a significant impact on the beat you are giving to your audience. Let's imagine a rock concert that will suddenly stops for no reason, would you stay for some silence listening? I guess not!
2. The Style
Everyone have its own style. Some are rock lovers, some are blues fans. In fact, there are actually enough music styles to satisfy every music listener. I think that the music style have some tight relation with the sound. Rock music sits on electric guitar sounds while dance music is based on electronic sounds effects. What sound do you prefer?
Your blog have its own sound. In fact, your web design and the way you write gives the sound and the colors to your blog. Recently, someone was recently commenting the new site design of a popular blogger by saying that she was thinking about Clannad when accessing his blog. There are several ways to present your colors and your sound; the more creative, the more impact!

3. The Image
Are you influence by the music CD labels? Are you influence on a particular song when looking at its video? Images always have a significant impact on perception. Why? Because images contains millions of information! Hearing alone is great, but hearing and seeing together is just delightful.
Adding relevant images and videos on each of your post may have a significant impact on their popularity. As for music, translating your words into images satisfy an additional part of your readers' mind. Of course, it could be any type of media. The key here is to be relevant. Presenting irrelevant information would be quite powerful on the opposite way!
4. The Engagement
I think that we all have high respect for engaged singer. Maybe we don't always share the same ideological thoughts, but being engaged inspires respect from others! The lead signer of U2, Bono seems to me like a great example of an engaged singer. His songs are engaged and the words are meaningful. In addition, he is personally a militant for many humanist causes. In fact, engagement carries values. Which values are you adhering to? Depending on your personal values, you may develop a membership to a particular group of music or a particular singer.
As for the music, your blog are carrying values. I recently publish an article titled Engaged Blogging: A Secret to Build a True and Engaged Readership. In that article, I demonstrate how being engaged may help you to build a loyal and engaged readership. There are several ways to demonstrate your engagement. It could be by taking position on a particular topic or by the actions your take within your community. It could be by your level of activity in your favorite social media or by your constant communication with your audience. Again, there are countless ways to express it. Just find the ways that better fits with your own personality. Your engagement and your values are the foundation of a true and supportive readership.
5. The Attraction
Sometimes we don't know why, but some music groups or some singers create a particular attraction around them. Some call that the sex appeal while other call it the charisma; whatever it is, the fact is that some popular singers or groups have the power to gather together terrific crowds. The behaviors, the personality, the esthetic and the voice are all aspects that may potentially influence the attraction you may have for your music idols.
In term of blogging, the attraction may take the same aspects. It is important to understand that attraction is based on something unique. For example, you may be very talented to make attractive headlines. This aspect may be very powerful because the headlines are the first sight people have on any of your article. You may also have an attractive web site design or attractive services for your readers. Behaviors are also very powerful. Taking the time to communicate with your audience, being kind and generous tend to demonstrate charisma. Try to be creative and think about how you could turn your web content into an attractive place! Note that humor and entertainment are always topics that may have high potential to attract new visitors.
In Summary
Developing a successful and popular blog is not something easy. Several bloggers get discourage after only few weeks or few months when they discover the effort it requires. Time is essential to be known as a blogger from the whole community. Every known personality passes by those essential steps. Celine Dion sang many songs before she gets where she is right now. The key is perseverance! Time is your best partner and your best friends! Time will allow you to be known and time will allow you to really find who you are. In term of blogging, what is your style? What are your strengths? Your weaknesses? With positive thinking and an open mind, time will lead you on the road to reach your goals. The five points we discuss above are maturing with time. Relevance, perseverance and constancy are the golden keys to reach your goals.
Hans is the author of www.catchtheposts.com .
Browse all articles on the Blogging Basics category
24 Responses to "5 Remarkable Things You Should Learn From Music (And How You Can Apply Them To Your Blog)"
Music School LA

I would like to thank you for sharing your thoughts. You are putting very good effort into the stuff you post. Keep up the good work.

Hans

@SBA: Thanks for your comments! I think we have the HARD responsibility to engage our readers. The problem is that every readers may need something different to be engaged. I think that best answer is to demonstrate your unique personality, experiment and try to implicate your readers. Posts like "Ask the Readers" may be an interesting way to do that… keep the communication flowing and constant with your readers! It's my opinion… 🙂

@Nantucket Artist: Thanks for the good words! I really appreciate!

@Poshi: Just keep it harmonious! 🙂

Poshi

Hoho…i can play Guitar….

Nantucket Artist

Love the metaphor – as a blogger it's always helpful take a new perspective and try to break down what you're trying to achieve and why – this is a great example!!

SBA

This is a very original analogy and totally on target. Your post further demonstates the points by presenting relevant content and provoking real and interesting discussion. This posts gives me a 'guidepost' for self-assessement.

I didn't know what I was getting into when starting a blog for my web design customers! Many of them struggle with learning and using the internet and don't have time for a new side of cyber communication and sharing. My biggest disappointment is not low readership but lack of engagement by readers I do have. I'll be sure to read the article you referenced. Thanks. (smiley)

Hans

@sonia: First thanks for your comment. Now, getting lots of traffic is not an easy thing; I agree with you! Personally, my main goals are the to write quality content and build great relationship with my readers. Concerning the quality content I would say this is critical to me. In fact, I better like to miss a post than posting irrelevant or not valuable content. The quality is a value everywhere in my life and my readers know about it. Now, concerning my relationship with my readers, I really enjoy helping them and being available to share few idea or some tips. Relationship enrich everyone who invest in it! This said, I would really enjoy doing further with you in this topic! 🙂

@Linda: You are totally right!!! 😉 I don't know where I was, but I really miss something there! Really hope I have some somewhere! 🙂 Thanks for you comment!

@Tom: Thanks for the great words! I really enjoy music too. 🙂

@Miguel: I took a look at your blog and you seem to be great in blogging! 🙂 Things are well presented and it is very usable! Just keep it up!

@SEO Genius: You comment sounds like music to my ears!! 😉 Thanks for the generous words and I hope I see you around my blog! 🙂 I always feel great with these comments! Thanks!

@Pink Ink: I really think that post frequency is a personal choice! The most important is quality. Daniel is publishing quality content each and every single day and I thank him for that. For myself, I have to live with several things in my life and time is limited. This is why I publish 3 times every week. As I said to @sonia, I sometime miss a post, but I better like this than publish duplicate or irrelevant content! By posting 3 times per week, you may find some time to create content for guest blogging; like this post! 🙂 Publish quality content and people will follow you! Hope that helps! 😉

@spostareduro: You are my first groupie!! 🙂 Wow what an honor!! 😉 You are very funny and I appreciate your presence around my blog miss spostareduro!! Thanks for all!

@Chuck: Thanks for the good words! 🙂 I really enjoy guitars too! I learn by myself and I think I'm pretty good! 😉 Hope to see you around my blog chuck! I'll always be happy to share about music!! Thanks! 🙂

@Daniel: Thanks for your generosity and I hope to have another place for a post on your blog!! 😉 You have lots of chance to those fantastic people as your audience!! Thanks!

Sorry for the wave of smile… hope this won't be too hard to read!! I really enjoy answering to comment… and I always appreciate too share with everyone! You are terrific! 😉

Chuck Anthony

As someone who writes a music-related blog on occassion, I can appreciate the premise on which this article was written. I also like the sunburst Gibson Les Paul (1st guitar on the left) depicted in this post. Thanks, Hans.

spostareduro

man, do you realize how good this was? can i be your groupie?

Pink Ink

@experienced bloggers: What do you think is a good rhythm/publishing frequency? I thought I'd post daily, but then it seems that it's almost too fast to catch lots of comments…

SEO Genius

Another great article and i like the way you related the topic towards musical instruments.

Very well done.

Miguel Cangueiro

I'm not that good in music 🙁 I hope I can be better in blogging 😉

Tom – StandOutBlogger.com

I love music! haha..great post.

Linda Bustos

Great post!

But how could you forget the groupies?

😉

sonia

I think, though, that if you start out blogging freshly and you expect to get a lot of traffic (no matter how diligently one follows all your wonderful advice)… you are going to be mostly disappointed. I have been a blogger for 3 years now and my traffic is very low. I admit to doing all the don'ts (sporadic posting, not a niche blog, don't nurture my few commentators), my main goal is never about generating traffic. It's about putting stuff up that I find interesting, or having fun w/ my writing. The sheer enormous possibility of interactiveness that a blog allows, makes it a great medium to have fun with writing. I'd say… as a fresh blogger… make sure you are having fun blogging, Without the traffic… otherwise what's the point?
Comments are closed.