5 Plugins to Boost Contact With Your Readers and Users
A blogger or admin who takes the time to answer visitor questions, engage commenters or interact with readers always gets return visitors.
If visitor loyalty is important to your blog, you should do all you can to solve their problems, answer questions, respond to comments and messages — and even let them call you from your website.
Here are a few great WordPress plugins that give you various ways to get in touch with your readers, streamline the communication process and answer some questions if need be.
1. FAQ Builder
FAQ Builder is a WordPress plugin that lets you create a FAQ (frequently asked questions) page for your users.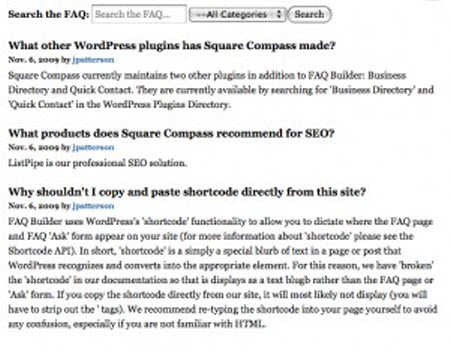 Once you install the plugin, you can add it on any page. You can use the simple plugin interface to add questions, answer user generated questions, and organize your FAQs for ease of access. You can also add a search field for users to search through your FAQs.
Google Chat Badge
Google's chat badge is a wonderful tool that lets you talk to your site's visitors using the familiar Gtalk.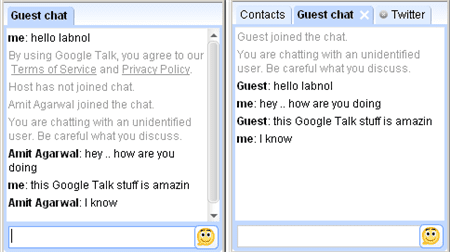 If you have a Gtalk account, you can create a custom code and paste it into your blog. This will create a chat window for your visitors, and it will show if you are available for chat. Using this system, you users can talk to you from your website.
Click2call Plugin
You can use the click2call plugin to allow users to call you directly from your website. You can modify the code to customize the design of the interface.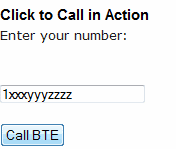 You can also download the optional Kermit app to setup a voicemail system that sends you an email transcription of your voicemails. Currently, you need a US or UK number to use this plugin.
Support Tickets
Support tickets are important if you are running a major website with an active help and support forum.
They let you track visitor support queries and respond to them in an organized and efficient manner. Support Tickets is a Multilanguage enabled plugin that lets you create support tickets for your visitors. It uses the Contact Form 7 plugin to let you answer your users' technical questions.
WordPress-to-Lead
WordPress-to-Lead is for bloggers or businesses that want to use the functionality of the Salesforce CRM and adapt it to their WP blog. It converts emailed contact info from your WP contact form into CRM entries that you can manage easily.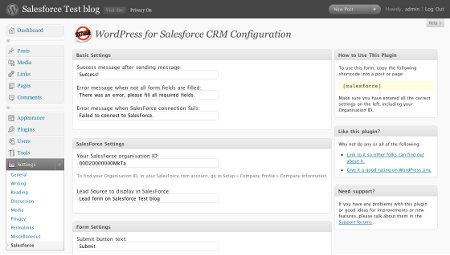 The plugin adds its own contact form for this purpose. Using the form will automatically convert emailed user data to CRM entries for you, and you will not have to go through the cumbersome stages of copy pasting this data into your Salesforce CRM.
About the Author: Loren Baker is a partner at Search & Social, a digital marketing agency with an emphasis on social media engagement and search engine marketing. He's also a professional blogger and the owner of Search Engine Journal, an AdAge Top 10 marketing blog.
Browse all articles on the WordPress category
23 Responses to "5 Plugins to Boost Contact With Your Readers and Users"
Shub Sam

Click to call. Thats a nice plugin.
Will surely try that on one of my blogs 🙂

Maya ada

I like the FAQ Builder most because its very friendly using plugin as we can easily modify questions according to our requirements.

Paisakamana

Great post.

I thought I would also share my favorite wordpress plugin and its called wpbook. It is a plugin that lets you integrate your wordpress blog on Facebook for Facebook users to read on facebook site through an application. The great thing is that it also shows adsense ads when reading blog posts on Facebook.

Blog Helper

Great information! I love the FAQ builder,

Julius

I'm particularly interested to learn more about Click2call. Thanks for introducing this plugin! I'm off to the link to find out more.

Roshan Ahmed

Hi Daniel,
Can you just tell me the total size of your blog and the bandwith consumed by the blog per month. It would be helpful for starters like me! Thank You.

Men's Online Magazine

My favorite is wordpress to lead because it allows you to have another form of communication with your raders

Pinoy @ How to blog

That click-2-call thing is really brilliant, the FAQ builder is helpful too

Jaydip Parikh

Intresting Plugins. I am planning to check few.

Loren Baker

Thank you everyone! If you have any other examples of WP plugins that boost communication, please feel free to share some in these comments 🙂

Glen

These are some really powerful plug-ins, I think I will adopt the Support Tickets for my business.

Thanks Loren

Pawel – Self Employed Cafe

Hmm, I wonder if anyone would actually use those plugins. I mean, FAQ builder or Support Tickets make sense to me but I wonder how the GTalk one or Click2Call would work in real life. Would anyone actually contact a blogger through them?

So in short, anyone here actually used them? To what result?

Mike Roosa

You can also just write a post and ask or shoot an email to your list.

Nabeel | Create Your First Website

I agree with the Loren.

Getting in touch with visitors is a must. The more you interact with your visitors, the better it is for you and your blog (and your web business)!

Great Plug ins you mentioned there. I did not know about them.

Kindest,
Nabeel

Web Marketing Tips

Now this I called a useful post.

Daniel nice to see that your Guest blogger also provide us useful posts like you do.

This post can be bookmark for future reference.

Stephen TBA

I haven't come across any of these before. They all look very useful. Thanks.

Damar

hmm…i like pluig in number two, google chat badge !

Josh Garcia

Hey Loren,

Thanks for these plugins. I going to check the Click2call.

Have a great day…
Josh

Dev | Technshare

I like Click2call and Faq plugin. Will Going to download Faq Plugin.
Anyways, other plugins are nice.

Thanks for sharing this great Plugins.

~Dev

Web Marketing Tips

Yes FAQ is really good one if you are providing any service and through this plugin you can easily clear their doubts.

Loren I think you should also add best contact form plugin.

If you have any suggestion for that please let me know.

Pankaj

I liked the FAQ part most as my blog doesn't need Tickets and Click to Call facilities at all.

Web Marketing Tips

Yes tickets are good if you are providing some kind of services.

That will be boon for service provider.

Farouk

That click to call thing is brilliant!!
i really like this post
Comments are closed.