3+4 Tips for the Traveling Blogger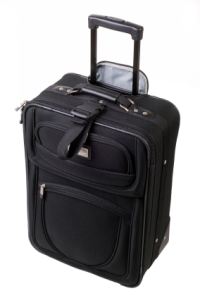 Writing and travel broaden your ass if not your mind and I like to write standing up. (Ernest Hemingway)
When you travel, your blog doesn't have to be the last thing on your mind. Make it your first and take your readers on a journey with you. Whether you're going on a hectic business trip or a casual vacation, here are a few ways to bring your blog along for the ride.
View every new experience as a potential blogging topic. People you meet, sights you see, foods you eat, observations about the local culture, noteworthy events during the trip… the list goes on. Absolutely everything you experience on your trip has the potential to be a new blog post. With every new experience, just ask yourself, "Would my readers like to hear about this?"
Share the sights. Whether through pictures or video, nothing adds a feeling of authenticity and connectedness more than a few visuals of your trip. Carry along a digital camera, snap a few shots with your picture phone, or just pick up a $5 disposable camera. Your readers will appreciate the opportunity to see the world from your perspective.
Add personality through anecdote. Even if your travel experiences aren't suited to your blog's topic, an anecdote is a great way to frame the context of your writing. It gives a sense of realism that helps readers relate with you and promotes conversation. You can spin the anecdote into a relevant point, casually mention it as an aside, or make it a full-blown post like a true pajama blogger. However you do it, your readers will be able to think of you more as a person than as a faceless voice in cyberspace.
Of course, finding content on the road is the easy part; actually blogging while you travel is often much more difficult. Here are a few tips to make blogging on the go a breeze.
Seize every opportunity to blog. Depending on the circumstances of your trip, you may have a lot of free time or virtually none at all. Be sure to set aside what time you can to fill your blogging quota. Time spent in transit (e.g., sitting on the bus or a plane) is especially good for this purpose. If you don't mind eating at the same time, meals are also a great opportunity to fit blogging into a busy travel schedule.
Keep your laptop charged at all times. If you've got one, a laptop is ideal for blogging on the go. It won't do you a lot of good, though, if it doesn't have any juice. Be sure to keep the battery charged. If possible, bring along a spare battery or two just in case.
Don't be afraid to use pen and paper. You may or may not have access to a computer on your trip. As it turns out, though, it's possible to manually etch your writing onto paper with a stylus. I know it sounds crazy, but it actually works. Sure, you can't actually post to your blog, and there's no automatic spell check, but you can always take care of those details later. The important thing is to write, so don't be afraid to break out a pen and paper when the need arises.
Use a voice recorder for notes on the go. Credit for this tip goes to my friend Adam Schultz over at Lagers and Loungers. While sampling beer at an Atlanta bar, he noted his reviews into the voice recorder on his phone. Sure, he looked a bit silly, but he got all the notes he needed for a thorough review in a matter of minutes.
Browse all articles on the Writing Content category
12 Responses to "3+4 Tips for the Traveling Blogger"
Ryan

Wonderful info here! I actually can blog direct from my BlackBerry to my WP site using a plugin called Wapple Architect. It's phenomenal and allows both desktop and mobile users to see the same styling based on the theme being used.

I also keep paper and pen around because sometimes you never know when that computer or smartphone may not be able to come through for you.

Aurelius Tjin

Keep an open mind when traveling. Take keen notice of the places you go, the people around, practices, customs and way of life.

Blogging on an all-new experience can be fun!

Happiegrrrl

Yeah! I already do all these things! As a climber, my blog is actually about(as my byline reads) "Where I've been and Things That Have Happened While I Was There." While almost all my content stems from experiences I have had while on the road(even for the weekend), one interesting aspect of the thing I do is to connect the physical stuff I see with my inner life(or my – very active – imagination). It's surprising how many things can jog one's memory about an idea they had recently, or way back when. It's a great way to impart the bloggers personality into the writing.

blogstheme.com

It's always important that you carry at least a pen and a notebook with you all the time.

Today I've had a really great idea on how to improve one of my website, while I was driving, and until I got home, I forgot what it was all about.

PS Great Tips!

Kadir

Wow…This is really a nice tips for a blogger who ravels a lot. Hope I'll follow those tips to gain more posts in my blog…

Daniel

"Keep your laptop charged at all times"

I wish my Toshiba would last more than 1.5 hours on battery :).

I guess the Pentium 4 3.2 GHz processor is to blame.

60 in 3

I use my cell phone for notes on the road. When I see something I find interesting and which might be a blogging idea in the future, I simply send myself an SMS which I can later put in an actual to do list.

For example, I write a blog about health and fitness. Last time I was on a business trip, I found myself struggling to eat well and exercise. I sent myself a very brief SMS "how to stay healthy while traveling." Two weeks later, when I came back home, that became one of my blog's most popular posts.

Gal
Comments are closed.